My current "long term" crypto portfolio - BTC, ICX, AXP, OMG, EOS, VEN, BTCP, EXP, LAB, NXS, KIN, DRGN, TRAC, STEEM, TKY, PIVX
As it has been some time I figured I would share an update and my current holdings. At present, I have retired and I am no longer working on any crypto projects in any form whatsoever and I have zero interest in doing so as far as I can imagine into the future. That said, I have become even more interested in investing, or holding to supplement future retirement payments.
Bitcoin (BTC)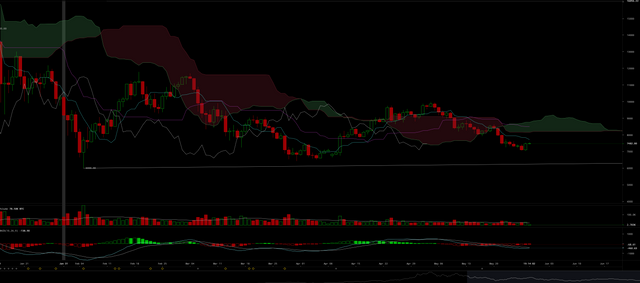 Main holding is good old fashioned Bitcoin, BTC. I am sticking with my 27k prediction for BTC this year that I made last year. Fundamentally everything is way stronger now and all the massive technical risks from last year are gone. Once it starts rising for real it will be much harder to FUD. Institutional money is also coming. Of course it could just go sideways or decline, but my bet is it will be going higher and starting in June. Soon enough that I am sharing now.
Icon (ICX) - South Korea should go positive on crypto, this is the key crypto for Korea. Way underpriced for what it is and I see this substantially higher once Korea goes positive on crypto again, and they will take the rest of the market up as well IMHO.
Axpire (AXP) - This is my #1 long-term pick based on how massively undervalued it is. 4 cents each, 270 million tokens, real company, real plans, real backing. Everything is legit, extremely undervalued. Should at least go to $1+ a token in time. Roger Ver is also an advisor, controversial, but Roger was also connected to Ripple, Qtum, Bcash, Dash, and whatever he is connected to tends to end up with a very high market cap no matter how hard people FUD it.
Omisego (OMG) - Still holding for the same reasons as in the past. Great plan on Asia, interesting solutions for scaling and a great chance at massive adoption over time. DYOR, this one is very obvious, but no reason not to bet on obvious winners.
Eos (Eos) - An ETH challenger by one of the best Blockchain devs, I have done very well with Eos and I think I will continue to do well with it. Lots of FUD about now, but as long as you are diversified I think this is a solid play.
Vchain (VEN) - My favorite China coin. This is about tracking products in detail and has masternodes akin to Dash. Very well marketed and should do exceptionally well in the long run, especially if China goes a bit more positive which might happen. They are forming a Blockchain council for China now.
Bitcoin Private (BTCP) - My fav brand heist, has a great brand name since they took it from Bitcoin and added another obvious word to make it simple to understand, great tech from Zcash. Not insanely overpriced compared to some. I love the simplicity of the name, and as a long-term play if this works out it could be substantially higher in the future.
Nexus (NXS) - Great dev, original ideas, bold plans and a loyal strong community make for a great long term hold. Tends to have some amazing news and spikes now and then as well, just check the charts. Combined I see this as safe, and safe is also good for the long run.
Expanse (EXP) Tokenlab (LAB) - I worked on these projects in the past, and I am not going to be "that guy" that sells something he put his blood, sweat, and tears into, and then misses out like some fool. Now, I am no longer a part of the team, but if they do something that impresses me objectively, really impresses me, I will share it. I do hope they rise to the occasion and truly win. Any questions about those projects, ask them, since I do not work for them and I no longer have up to date information.
Kin (KIN) - Real social network, great plans, and the data on coinmarketcap is wrong, fundamentally this is stronger than it appears at first glance.
Dragonchain (DRGN) - This solves a lot of problems businesses have, very clever architecture, but complex. If you want to understand it read the papers and spend the time as I won't even attempt to summarize, if you want a shortcut version of why I see a lot of value, they are directly connected to Disney, and when Disney goes Blockchain it is obvious this is what they will use.
Origin Trail (Trac) The Key (Tky) - I had a group poll of 30k investors in the Cryptocurrency Collectors Club Vet group, and while AXP came in number 1, these came in number 2 and 3 for a poll on undervalued projects. Based on that alone I bought a little of each. Not my person picks, but by people that I respect.
Pivx (Pivx) - Huge community, friendly inviting people, lots of first for various technical implementations. This is the best Dash alternative, and as Dash will be staying POW this POS alternative is quite interesting as a long-termm play.
Steemit (Steem) - Whatever little Steem I earn posting now and then, I keep and hold. I see no reason to cash out and tons of potential here.