DAN'S DAILY AIRDROP: Get 10 EOS!
Here is my favorite Airdrop available today!
Follow me to get a daily rundown on how to grab yourself some free crypto!
TODAYS AIRDROP:
EOS BOUNTY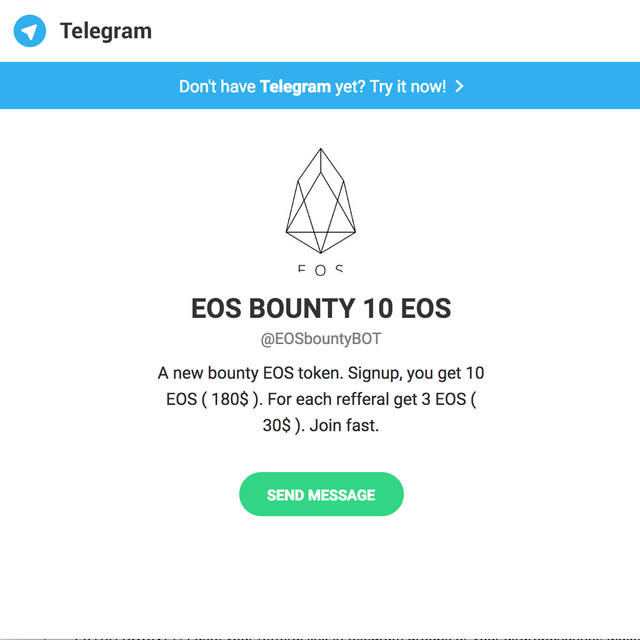 ---
Here is all you need to know to grab this Airdrop:
So this is an Airdrop available on Telegram.
To get in you'll need go to
EOSbountyBOT on Telegram
Download Telegram (it's a messaging app like What's App)
Join the group - this will connect you to the bountyBOT
Step links will appear in the message feed to add your public ETH address ( I recommend MyEtherWallet for the most secure), Join the cooperating channel, and finally collect your Bounty!
Estimated value: $100
Bonus! - You can also earn 3 EOS if you get referrals!
---
Want to know more about Cryptocurrency Airdrops?
Yes Airdrops are legitimate and real.
You can read more about them at the following links:
https://hackernoon.com/all-you-need-to-know-about-crypto-airdrops-aka-free-money-243e60b22493/
https://venturebeat.com/2017/09/06/the-latest-crypto-pr-craze-airdropping-free-coins-into-your-wallet/
What may be required for airdrops?
Airdrops may require that anyone who wants to participate have one or more of the following:
Bitcointalk account
A Telegram account
A Waves wallet or other ERC20 wallets
A Facebook account
A Twitter account
A LinkedIn account
A Medium account
Others can require accounts like Discord or Github.
Enjoy!