Join Us In Denver For The Proof of Steak Dinner!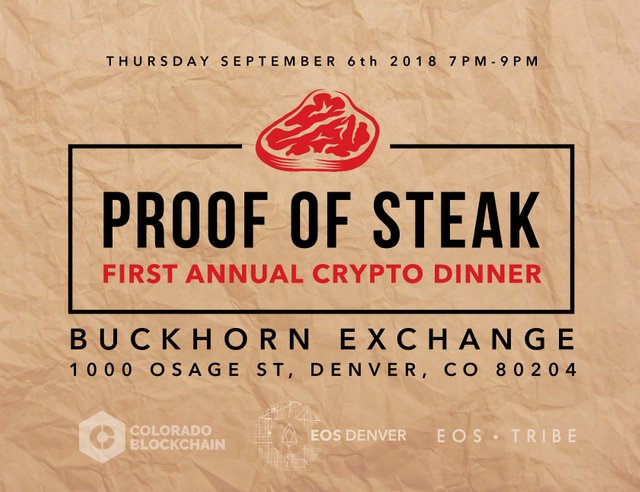 Ever get a funny look from your friends and family when you talk about crypto? You were going on for 20 min about this amazing new consensus mechanism called Delegated Proof of Steak and they thought you were talking about the sirloin the whole time.
We feel you.
Are you in Denver Colorado?
Let's get together and commiserate... over some steak.
EOS Denver with support from Colorado Blockchain and EOS Tribe is excited to announce the First Annual Proof of Steak Dinner at Buckhorn Exchange (just southwest of Downtown Denver).
Here are the details:
Who:
EOS Denver, Colorado Blockchain, EOS Tribe
When:
7pm-9pm
Thursday September 6th, 2018
Where:
>> MAP <<
Buckhorn Exchange
1000 Osage St, Denver, CO 80204
Why:
Because steak.
How:
We have a limited group of 25, so it's first come first serve. First 10 people to RSVP here get their plate paid for!
*This event is not catered, it is a group dinner of DPOS and blockchain enthusiasts in the Denver area. If you don't make the first 10 you will need to pay your tab!
Connect With Us
---