Making It Right: Giving Back To The Token Holders Effected By Scams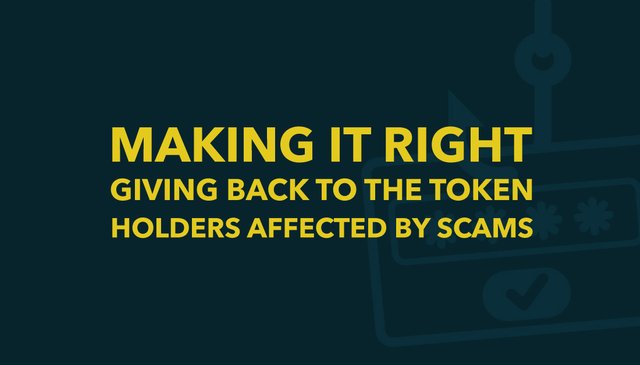 There has been a lot of confusion and negativity recently around ECAF and the process for governance. We ask that token holders are patient, as many of these systems are being simplified, refined or done away with as we speak and when the dust settles, we will be stronger for the effort.
During this time of uncertainty it is important for the EOS community to not lose it's culture. We have accomplished some amazing things together over the last year, and we shouldn't let the turmoil upend all the hard work we've done up till this point.
A Message To The Token Holders Affected By Scams
We can understand the pain and grief that comes with getting your property stolen. To address the current frozen accounts, things seem slow moving right now, but do not worry - the foundations are being poured for a better way to handle these problems in the near future.
The efforts of other BPs up until this point to help those affected by scams was relentless and should be praised. Such as the EOS911 group by @eos42. To be frank, everyone has been between a rock and a hard place since the mainnet launch. Many involved in these have done the best they can to make things right with the time and resources they had.
The Valor Genesis Fund
EOS Tribe is taking the initiative to make these token holders whole, and invite all to help, especially BPs. We are launching the Valor Genesis Fund for those token holders that are in limbo waiting for more information while the system for dealing with this is being put in place.
Why Create a Victims Fund?
Steve Floyd, the co-founder of EOS Tribe has mentioned this solution since the issue at hand happened, June 17th 2018, see the following video interviews...
1. Steve Floyd and Richard Heart on EOS, Bitcoin, altcoins, icos, ethereum and more
2. EOS Accounts Hacked - How Was It Fixed?
After not getting any feedback about this suggestion, we thought it must not have been the right answer. We were wrong. It was precisely the right answer according to @dan

Let's clear up some of this FUD and show the world what EOS is all about! The responsibility of being a thoughtful BP is community service. We believe this should have been the first step, not the last, but here we are.
We believe taking action for the affected token holders that can prove evidence in the ECAF forums is the only option as a community we have at this point to make them whole.
Token holders deserve what belongs to them. It was one of the main value propositions the platform was built on. We ask that everyone help as much as they can to get the word out about this initiative while ECAF, governance, and related issues are being sorted out.
Bring The Culture Back
Everyone is invited to participate in whatever way they can, and little by little, we will then reach the goal! Also remember that anyone can be prone to these kind of attacks, and that if it were you in their shoes, you would want to be made whole as well.
How Do You Get Involved?
We are working behind the scenes to put the wallet and collection of funds in the hands of the appropriate organization within the EOS ecosystem. Look for an update soon on the next steps. Until then, help us get the word out about this initiative and comment below on how you think this should work.
Something like this has to be handled with the utmost care and attention to detail and we will need the best and brightest from our community to execute it correctly.
Our next goal is to search the EOS Blockchain for the data and have that assessed by a trusted third party.
Contact
If you want to help, leave a comment below, then join this Valor Genesis Fundraiser Contributors on Telegram to learn the latest details on this initiative.
---
Connect With Us
---