EOS Airdrop Coming - Everipedia Drop Scheduled "Towards End Of February" - Must Move Tokens To Receive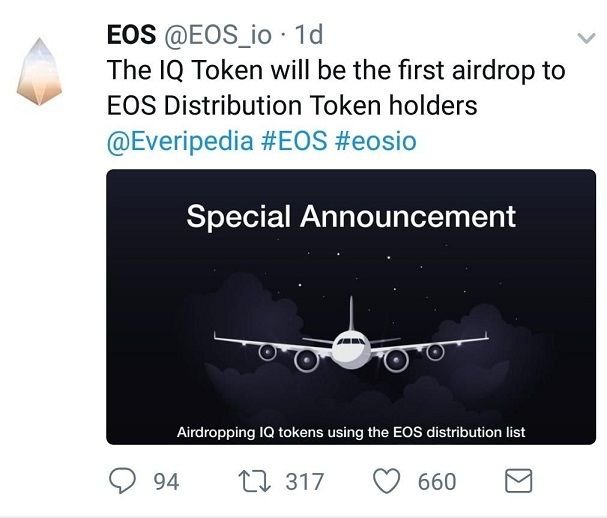 EOS, the increasingly promising "alternative" to the Ethereum platform, is about to have its first air drop this month. Reportedly, this is going to be a regular phenomenon, as several other companies have also tentatively planned air-drops. However, for now, it is only Everipedia, who will be dropping their "IQ" token to all EOS address held in an Ethereum "wallet" at some time "near the end of February." Numbers and value remain unknown variables.
Everipedia is a block-chain based encyclopedia that will run entirely on EOS, and unlike Wikipedia, it is not intended to be free and run off donations. It will be interesting to see how such a project pans out, but they have already received $30m in funding for their "Wikipedia fork started in 2015" from "Galaxy Digital's EOS.IO Ecosystem Fund."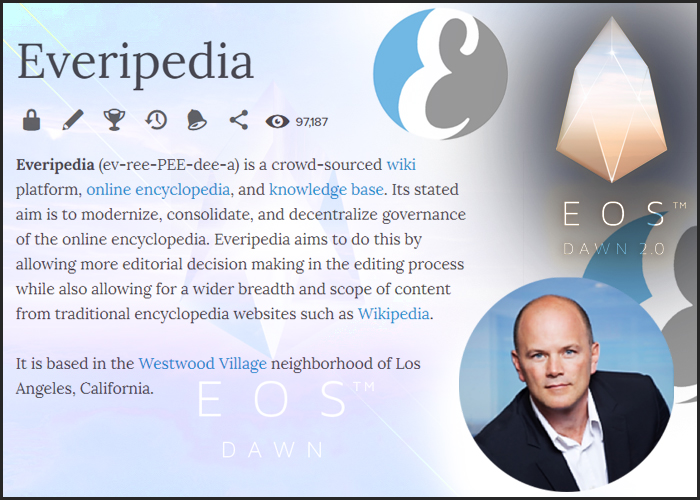 LA...we'll try not to hold that against them.
First, and most importantly, EOS holders will only receive their airdrops if they are holding EOS in an Ethereum address currently (since they can't be held on-chain yet).
This means the following locations will NOT receive air-drops
Exchanges
Exodus Wallet
In order to receive the air-drops, you will need to hold the EOS on a standard Ethereum address. Use MyEtherWallet if you want a way to also secure those EOS tokens under hardware wallet authentication, as MEW supports both the Ledger and the Trezor.
Furthermore, and not directly realted to the air-drops, EOS tokens must be registered before they can be transferred to the final blockchain. This is very important, as there are murmurs that coins could be lost if not registered. Statements have been made that there will be alternatives for those who do not register their EOS, but I'd prefer not to tempt fate.
Here are instructions for registering EOS via Exodus (not recommended for holding): http://support.exodus.io/article/65-register-eos
Here is a better post from Stellabelle highlighting the public-key mapping for EOS: https://steemit.com/eos/@stellabelle/can-i-send-my-eos-i-bought-on-an-exchange-to-my-ethereum-address-which-is-registered-to-eos-infographic\
Also, if you are on the fence about EOS, and looking for a reason to pick some up before the airdrop, perhaps you'd be interested to know that they have partnered with Bitfinex to create a trustless, decentralized exchange on EOS technology: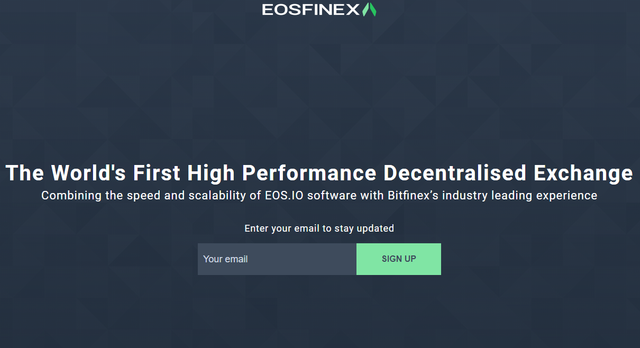 Can I finally leave my coins on this one in limit orders?
I'll more fully discuss this exchange development in a future post, as this is huge. Finally we could have the security of something like Bitshares without the need to use an interface most closely resembling a digital Egyptian abacus. I look forward to the glorious day I no longer must harp on the need to remove one's coins from exchanges!
Try SteemFollower today and get rewarded for every vote!
See my explanation of SteemFollower here.

Join us at the Minnow Support Project! (click me)
We also have a Radio Station! (click me)
...and a 5000+ active user Discord Chat Server! (click me)
Almost 80% of Steemians do not vote for witnesses, who secure the Steem blockchain! If you wish to make me your witness voting proxy, I will attempt to vote in Steem's best interest based on the information in my witness reports. You may set me as your proxy by clicking here and scrolling to the bottom of the Witness Voting page. Proxies are instantly revokable at any time, and witness voting does not use your voting power.

Join the Steemit Poker League! (@spl)
World's Largest Cyptocurrency Freeroll Poker Site, open only to Steemians!
Sources: Exodus, EOS, Google, EOS.io, The-Blockchain.com, Stellabelle
Copyright: Exodus, EOS, Everipedia, RTTNews