Ethereum Push Notification Service Partners With Armor to Enable Push Notifications for its Users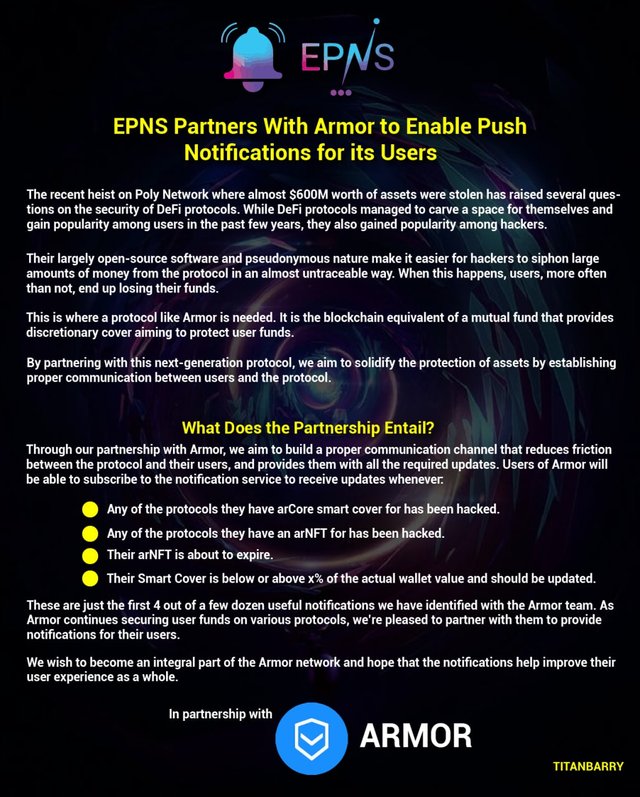 Ethereum Push Notification Service Partners With Armor to Enable Push Notifications for its Users
Armor and EPNS join hands to provide users updates on #DeFi protocol security.
By partnering with this next-generation protocol, Ethereum Push Notification Service aims to solidify the protection of assets by establishing proper communication between users and the protocol.
Through our partnership with Armor, EPNS aims to build a proper communication channel that reduces friction between the protocol and their users and provides them with all the required updates.
Deep dive into partnership: https://medium.com/ethereum-push-notification-service/epns-partners-with-armor-to-enable-push-notifications-for-its-users-daa70b4f172d
EPNS is building the world's first open communication layer for the Web3 ecosystem, first for Ethereum and then for L2s and other blockchains. The protocol enables any smart contracts, dApps, or traditional servers to send notifications tied to wallet addresses of a user in a platform-agnostic fashion (i.e: notifs can be integrated and shown on any crypto wallet, mobile apps, extension, or dApps).
#DAPPS #CRYPTO #pushnotifications #web3 #blockchain #cryptocurrency #ethereum #security #fintech #iot