On working together: Teamwork
A team, simply put, is a group of people who work together to achieve a common goal. Most times, this "Common goal" is what binds the team members together. Working as a team, brings about the word "teamwork" which is defined by wikipedia.org as the collaborative effort of a team to achieve a common goal or to complete a task in the most effective and efficient way.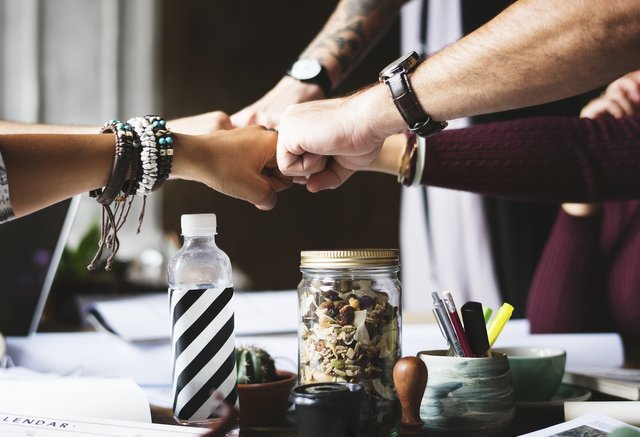 From the above definition, it can be rightly inferred that team work is present in ANY context where a group of people decide to work together (collaborative effort) to achieve a common goal, presumably in the most effective and efficient way (though this might not always be the case).
Basic practical requirements for an effective teamwork
Size of the team
The size of a team is a key factor for an effective teamwork. It is very important to strike a balance in this aspect as teams that are too small risk having a skill gap in an important area while teams that are too large risk a loss of productivity.
Goals, rules and roles
Efficiency of any system is often as a result of the smooth running of a system, and team work is not left out in this. The smooth running of a team is assured when: the goal of the team is clearly defined so that every member of the team has a clear purpose, there are clear and agreed upon rules/procedures for handling teamwork problems, and every member of the team understands his/her role as a team member.
Resources
Like a student without a pen or a farmer without implements, a team cannot work efficiently if the resources needed to achieve a goal are not readily available. The word "Resources" is used as a contextual word here and may mean funds, a meeting place for the team, informed guidance or even a goal post for a football team.
Other requirements for an effective teamwork
In addition to the Basic practical requirements mentioned above, team members must also practice the following to ensure smooth working of the team:
Respectful communication
Teams thrive when members are courteous to each other. Team member should be allowed to express themselves freely as long as it's done in a respectful manner. Team members should form a habit of listening deeply when fellow team members are speaking rather than forming rebuttals.
Collective decision making
Decision making should be a collective procedure for effective teamwork so as to ensure the support and commitment of every member of the team.
Interdependnce
Dependence of one team member on the other can only happen if every member of the team has shown him/herself as been trustworthy in performing his or her roles. The dependability of team member encourages commitment and dedication to the team and even encourages team members to take risks on behalf of the team.
In conclusion, it should be noted that good teams (and in turn effective teamwork) don't happen by accident, dedication, hard work and commitment is usually required of every team member.
Thanks for reading!