THAI GREEN CURRY 🌿🥦🌿
Hello My Dearest Foodies,
So here I am with my first recipe since the surgery, although I am not quite recovered yet. Also, my left hand is getting worse now, so I have a BIG ANNOUNCEMENT to make regarding the FRUITS AND VEGGIES MONDAY CONTEST.
As many of you know, our Dear Katie @plantstoplanks have been hosting it since my surgery and she is doing incredible job!!! She is not only great blogger, foodie, fitness coach, leader, well established member of the Vegan Steemit community and Steemit community in general, but also a wonderful friend. This is why I new that she will take her role of the host to her heart so I asked her if she would like to take the hosting completely.
She said YES so the BIG ANNOUNCEMENT is that Katie is taking over the FAVM Contest and I am retiring, lol. However, I will be around reading, commenting, upvoting and reposting your entries, so the change will be hardly noticeable.
And now before I go, I must say, this CURRY is absolutely dreamy, easy to make and highly nutritious. You should definitely try!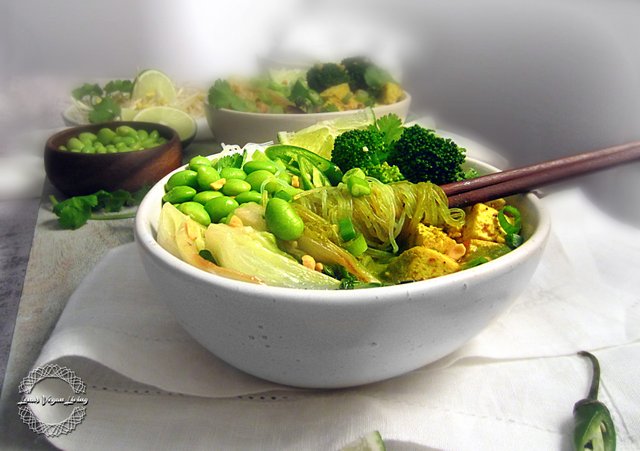 GREEN CURRY THAI
Thai inspired Mung Bean Vermicelli with Green Curry Sauce
Vegan – Gluten Free – Refined Sugar Free
Author: Lena's Vegan Living
INGREDIENTS for 2
• Mung bean noodles (follow the instructions on the package)
• Firm tofu 150gr (cut in cubes)
• Coconut oil 1 tbs
• Low sodium Tamari 2 tbs
• Cilantro leaves to garnish
• Scallions sliced to garnish
• Crushed peanuts (optional)
• Veggies of your choice
• Edamame beans
TOFU
• Preheat oil on frying pan on, add the tofu and drizzle with tamari.
• After few seconds add ¼ cup of curry sauce and lower the heat.
• Stir well to get the sauce on all sides and take it off the heat.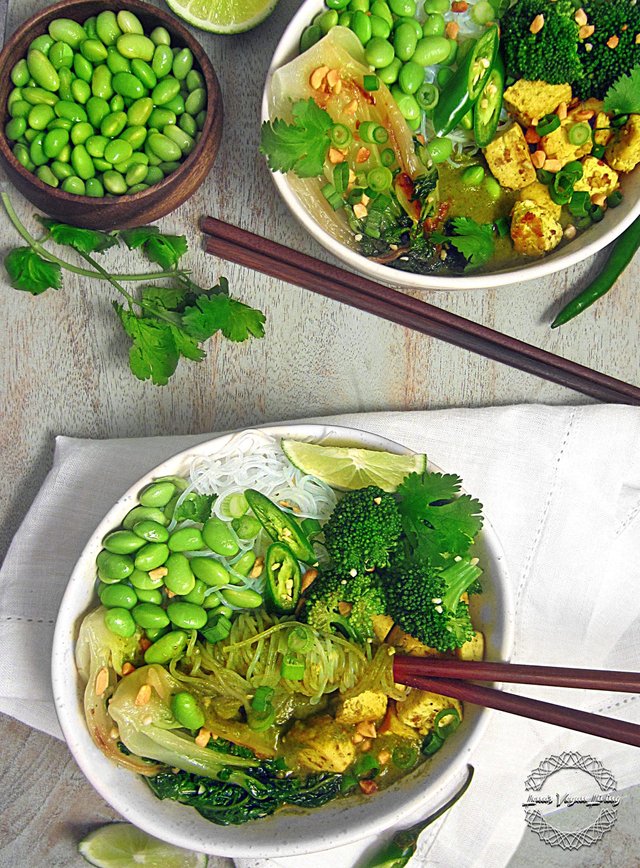 CURRY SAUCE
• Fresh Cilantro 2 cups
• Onion 1 medium size (minced)
• Garlic 4 cloves (minced)
• Lemon grass 1 stick cut into small pieces (1inch length)
• Turmeric powder 1 tbs
• Cumin powder 1 tsp
• Ginger fresh or powder 1 tsp
• Wakame flakes or Nori sheets 1 tbs
• Green chilli pepper to taste
• Coconut cream ¼ cup
• Veggie broth 1 ½ cup
• Low sodium Tamari 1 tbs
• Himalayan pink salt to taste
• Agar Agar 1tbs (or Arow root or corn flour)
• Virgin coconut oil 1 tbs
PROCESS
• Heat up the coconut oil on a frying pan and add the onion.
• Stir well and add the garlic, stir well again and add the turmeric, cumin, ginger and few slices of chili peppers.
• Lower the heat and keep stirring until you get soft mushy texture.
• Take it off the heat and let it cool for 5min.
• Transfer the mixture to a blender, add the cilantro and veggie broth and blend until smooth.
• Transfer the mixture to a pot.
• In a small dish, blend the Agar Agar with ¼ cup of water and add to the mixture in the pot. Stir well and add the lemon grass. Bring it to the boil, stir well again and take it off the heat.
• Add the Wakame or Nori at the end and stir again.
NOTE
Ideally, it's best to make the sauce one before is served, so all the ingredients have time to distribute into one delicious flavour.
Also, make sure to remove the lemon grass pieces before serving.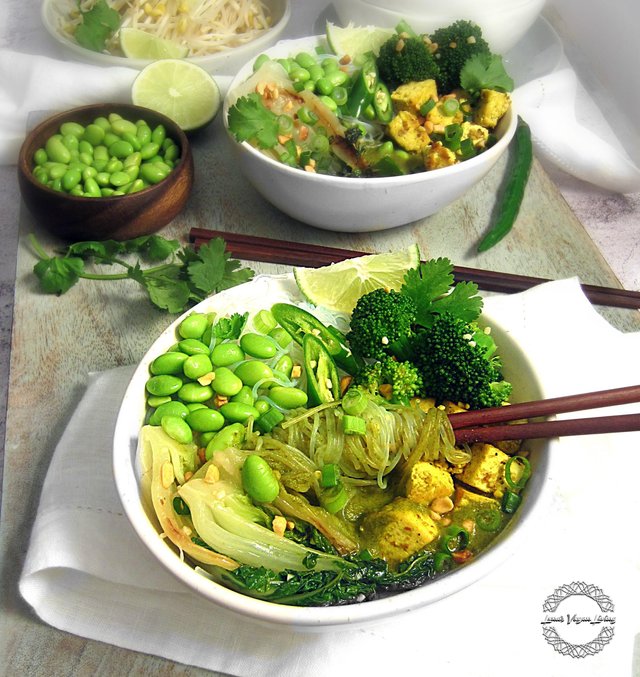 THANK YOU FOR VISITING & BON APPETIT
FOR RECIPES PLEASE VISIT MY Lena's Vegan Living Blog