BUNGA KENCANA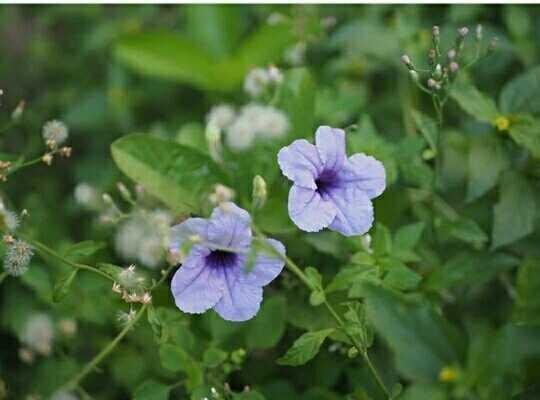 ---
---
Good night steemian friends all on this night I re-create a post about macrophotography which became my post object tonight is wildflowers in my opinion but the people here call it purple kencana flowers for me more familiar as one of the brand of love penchant emak-emak. The distinctive features, quality materials and the right price make this brand daster a bestseller to the invasion of the complex mothers.
Steemian friend. This time I want to tell you a little about purple kencana flowers. This plant is categorized as a wild plant, usually thrives in the yard empty house neglected. No need special care, this plant can grow quickly and reproduce
The flowers have a rather pale purple color that is beautiful, not flavorful, and the duration of the bloom is not too long.
After flowering, then this plant will produce fruit. The shape is small and elongated, like a chili, but a mini version. And the name of the fruit people call it petekan.
So, remember the fruit of the wild plants that are brown when hit by water will explode? If your childhood like to play in the surrounding fields or home yard must be familiar with this plant.
I myself just know if this flower is named purple kencana because gak-accidentally click an article. Though the flower is very much encountered around the house complex, but its existence is often ignored.
---
---
Selamat malam sahabat steemian semua pada malam ini saya kembali membuat postingan tentang macrophotography yang jadi objek postingan saya malam ini adalah bunga liar menurut saya tapi orang-orang disini menyebutnya bunga kencana ungu bagi saya lebih familiar sebagai salah satu merk daster kegemaran emak-emak. Corak yang khas, bahan yang berkualitas dan harga yang pas membuat daster merk ini laris jadi serbuan para ibu-ibu kompleks.
Sahabat steemian. Kali ini saya ingin bercerita sedikit tentang bunga kencana ungu. Tanaman ini tergolong tanaman liar, biasa tumbuh subur di pekarangan rumah yang kosong tak terurus. Tak perlu perawatan khusus, tanaman ini dapat tumbuh dengan cepat dan beranak-pinak
Bunganya memiliki warna ungu agak pucat yang cantik, tak beraroma, dan durasi mekarnya tak terlalu lama.
Setelah berbunga, maka tanaman ini akan menghasilkan buah. Bentuknya kecil dan memanjang, mirip cabe lah, tapi versi mini. Dan nama buah itu orang menyebutnya petekan.
Jadi, ingat kan buah dari tanaman liar yang berwarna cokelat kalau kena air bakal meledak? Kalau jaman kecil kalian suka bermain di sekitaran sawah atau pekarangan rumah pasti familiar dengan tanaman ini.
Saya sendiri baru tau kalau bunga ini bernama kencana ungu gara-gara gak sengaja klik sebuah artikel. Padahal bunga ini banyak banget ditemui di sekitar kompleks rumah, namun keberadaannya sering diabaikan begitu saja.
---
---