FOODPHOTOGRAPHY NASI GORENG JAMAN NOW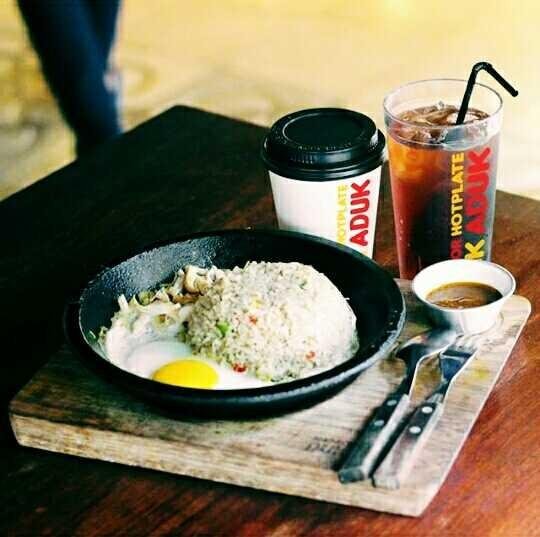 Nasi Goreng Jaman Now
---
---
Steemian friends are all a little story about culinary! What food is always loved by a million people in Indonesia ranging from children to adults all like? the answer is fried rice! let alone served warm .. fragrant mixture of spice rice and egg ceploknya it make not hold .. But if the fried rice can choose toppings and contrived on the hotplate .. wahh more curious not?
Nasi goreng JAMAN NOW.
Choose the toppings, select the sauce, then stir the rice ... Yesterday sempet curious when you see the ad. and finally kesampainn also make cobain there ... First come, green nuasa lush trees already make us fall in love because adem really .. and it turns out right here fried rice select topping own, ranging from standard topping eggs, sampe kickil squid mozzarela there there are many variations ... and the sauce there are 3 macem that is kare, matah, and black pepper .. eitss besides the sauce can choose, pedesnya level can also choose .. because curious as black pepper, finally we cobain the black pepper same curry which he said super hits there.
Harganyapun not expensive? there is a start package of 15 thousands, meals can be fancy, but the price of the fifth ... really sip!
So first a little information about fried rice now
---
---
Sahabat steemian semua semua sedikit cerita tentang kuliner! Makanan apa yang selalu dicintai sejuta orang di Indonesia mulai dari anak-anak sampai dewasa semua suka? jawabannya adalah nasi goreng! apalagi disajikan hangat.. wangi campuran nasi rempah dan telur ceploknya itu bikin gak tahan.. Namun kalau nasi gorengnya boleh pilih topping dan dibikin diatas hotplate.. wahh makin bikin penasaran gak?
Nasi goreng JAMAN NOW.
Pilih toppingnya, pilih sausnya, lalu aduk nasinya... Kemaren ini sempet penasaran waktu lihat iklannya. dan akhirnya kesampainn juga buat cobain kesana... Pertama datang, nuasa hijau rimbun pohon udah langsung bikin kita jatuh hati karena adem banget.. dan ternyata benar disini nasi gorengnya pilih topping sendiri, mulai dari topping standar kaya telur, sampe kikil cumi mozzarela ada banyak banget variasinya... dan sausnya ada 3 macem yaitu kare, matah, dan black pepper.. eitss selain sausnya bisa pilih, level pedesnya pun bisa pilih.. karena penasaran sama black pepper, akhirnya kami cobain yang black pepper sama kare yang katanya super hits disana.
Harganyapun gak mahal ? ada paket start dari 15 ribuan, makan boleh mewah, tapi harga kaki lima... sip banget kan!
Demikian dulu sedikit informasi yang tentang nasi goreng jaman now!
---
---