MESJID AGUNG AL MAKMUR KOTA BANDA ACEH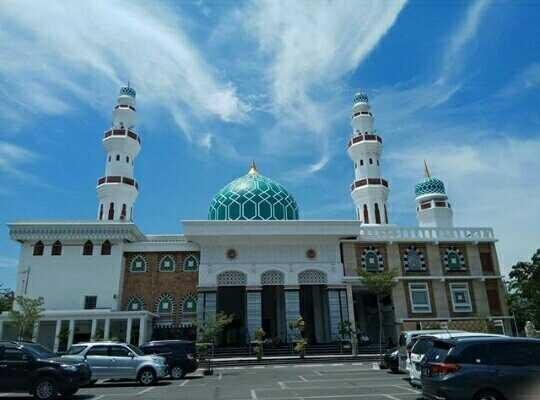 Mesjid Agung Al Makmur Kota Banda Aceh
---
---
Assalamualaikum wr wb... Berbicara mengenai Masjid Oman atau Mesjid Agung Al Makmur Kota Banda Aceh, Mesjid Oman kerap menjadi destinasi wisata religy bagi pelancong muslim. Masjid Agung Al Makmur, Lampriek-Banda Aceh menyimpan sejarah tersendiri di belakangnya. Mesjid yang menampung sekitar 2.000 jamaah tersebut merupakan hibah dari Sultan Oman, Qabus Bin Said. Setelah musibah Gempa dan Tsunami yang meluluh lantakkan Bumi Serambi Mekkah pada 26 Desember 2004 yang lalu. yang membuat Kesultanan Oman tergerak mengulurkan tangan.
Tak tanggung-tanggung, rumah Allah bergaya Arcitektur Timur Tengah itu menelan biaya hingga Rp 17 miliar. Lantai dalam masjid dilapisi permadani dan dindingnya dihiasi dengan kaligrafi ayat Al Quran dan lainnya. Menariknya lagi mesjid ini dibangun memenuhi persyaratan respon gender di mana disiapkan kamar berwudhu dan bersuci khusus untuk kaum hawa dan juga penyediaan tangga naik bagi penyandang cacat. Saat ini rumah ibadah tersebut sedang dalam proses perluasan. Dirancang ala masjid di Timur Tengah yang memiliki 2 menara dan 1 kubah.
Demikian dulu sedikit informasi yang dapat kami sampaikan tentang Mesjid Agung Al Makmur Kota Banda Aceh.
---
---
>Assalamualaikum wr wb.... Speaking of the Oman Mosque or Al Makmur Mosque of Banda Aceh City, Oman Mosque is often a religious tourism destination for Muslim travelers. Al Makmur Grand Mosque, Lampriek-Banda Aceh keeps its own history behind it. The mosque, which houses about 2,000 pilgrims, is a grant from Oman Sultan, Qabus Bin Said. After the devastating earthquake and Tsunami devastated Earth Serambi Mecca on 26 December 2004 ago. which made the Sultanate of Oman moved to reach out.
Unmitigated, God-style home Arcitektur Middle East that cost up to Rp 17 billion. The inside floor of the mosque is covered with rugs and the walls are adorned with calligraphy verses of the Qur'an and others. Interestingly again the mosque was built to meet the requirements of the gender response in which prepared a special ablution and washing room for women and also providing rising stairs for people with disabilities. Currently the house of worship is in the process of expansion. Designed a mosque in the Middle East that has 2 towers and 1 dome.
So first a little information we can convey about the Great Mosque of Al Makmur City of Banda Aceh.
---
---