PEMBUAT KULIT KETUPAT DI IBU KOTA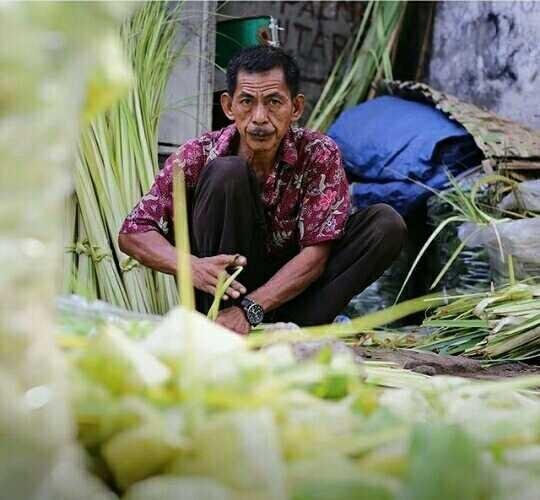 Pembuat Kulit Ketupat
---
---
Good evening steemian friends all hope we keep the spirit in the work on the post tonight I want to tell you about the life of the seller's skin seller in the nation's capital, his age is more than half a century, but his spirit never faded.
His name is Muhaimin, a rhinocerk maker in Palmerah - West Jakarta. His eyesight is not prime, but his finger is still skillfully weaving coconut leaves into diamonds.
Muhaimin is one of the many seasonal sellers of rhinoceros that usually start crowded in H-3 to Lebaran is also one of the collection of photos in the month of Ramadan this year. Learn to weave the leaves of coconut from his neighbor in the village 4 years ago and start a seasonal business anyway since then.
Muhaimin always hope, every Ramadan always bring blessings for himself and family, this year also hope the same, "Let blessings, alhamdulillah", he said.
So it used to be a little story about life in the nation's capital, in the hope that they can prosper life in the nation's capital.
---
---
Selamat malam sahabat steemian semua semoga kita tetap semangat dalam berkarya pada postingan malam ini saya ingin bercerita tentang kehidupan penjual kulit ketupat di ibu kota negara, usianya sudah lebih dari setengah abad, tapi semangatnya tidak pernah luntur.
Namanya Muhaimin, pembuat kulit ketupat di wilayah Palmerah - Jakarta Barat. Penglihatannya memang sudah tidak prima, namun jarinya tetap terampil menganyam daun kelapa menjadi ketupat.
Muhaimin adalah satu dari banyak pedagang musiman kulit ketupat yang biasanya mulai ramai di H-3 menuju Lebaran ini juga merupakan salah satu koleksi foto di bulan ramadhan tahun ini. Belajar menganyam daun kelapa dari tetangganya di kampung 4 tahun lalu dan memulai usaha musiman pula sejak saat itu.
Muhaimin selalu berharap, tiap Ramadan selalu membawa berkah bagi dirinya serta keluarga, tahun ini juga harapannya sama, "Biar berkah, alhamdulillah", ujarnya.
Demikian dulu sedikit cerita tentang kehidupan di ibu kota negara, dengan harapan mereka bisa sejahtera hidup di ibu kota negara.
---
---