Earn up to $50 of Stellar lumens
Coinbase Earn
For anybody who hasn't used coinbase recently, they have a section that allows you to earn small amounts of their different coins through taking quick and easy video tutorials.
From using this, I've managed to earn:
$3 Zcash
$10 BAT
$3 Ox token
$10 Stellar Lumens (XLR)





They are really quick and easy to do. Usually involving a few 2 minute videos and a question afterwards.




Stellar Lumens Offer




The latest offer on coinbase earn is for XLM which has only been recently added to the site. The way it works is that I will get you to join through my referral link here.





Once you sign up to coinbase earn there is a waiting list as a lot of people are interested in taking this offer. I've done the previous ones and it was quick and easy. It will take a good while to get through the waiting list for this one. A few weeks in my case, but once you do you can earn the first $10 immediately from taking the short courses.







After that you will need to invite four other people through your own link and will earn another $10 for each of them that completes the course as well.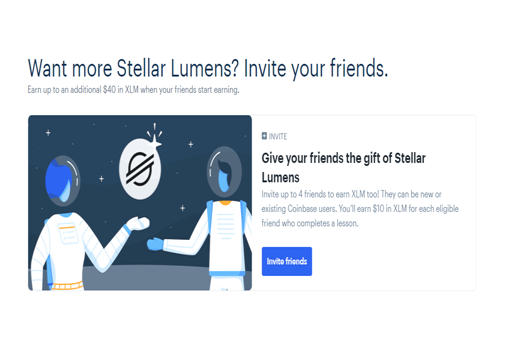 They will be running other offers over time as they add more coins to the site so I would highly recommend that you sign up to coinbase earn and be ready when they come up. I think it's brilliant and hope that everybody takes advantage of these deals when they come up.