BEAUTY OF ISLAND TEUPAH
Good night my friends esteem all. Hopefully we are always in good condition this happy night wherever we are.
Teupah Island, An Exotic Little Island in the Southwest of Simeulue
Teupah Island is a small island that is still part of the cluster of Simeulue Islands, the island has a beautiful coastline charm and underwater panorama that is not less than Siumat Island.
Teupah Island, An Exotic Little Island in the Southwest of Simeulue.
Simeulue District is an archipelago consisting of many large islands and small islands. Of the many small islands that are part of Simeulue, there are several islands that hold maritime t
ourism potential nan riveting. One of the islands is Teupah Island which has the beauty of charming beaches.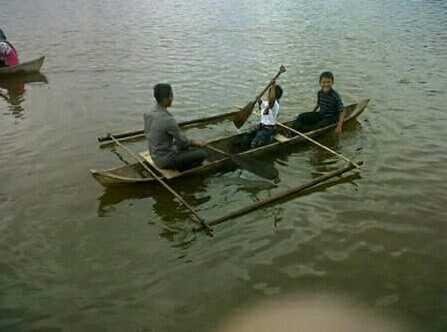 Teupah Island is a small island located in the southwest of Simeulue Island. The island only has an area of ​​about 780 hectares only. Directly adjacent to the Indian Ocean, this tiny island offers a row of unspoiled virgin beaches and untouched by outsiders. Condition of the island was still very beautiful, clean so it is suitable for a holiday destination.
Teupah Island
Geographically, Teupah Island is located in Teupah Barat District, Simeulue District, Aceh Province. For tourists who want to enjoy the natural beauty of this island, it takes extra effort. At least the visitors have to cross two times if coming from outside Simeulue. Crossing from Simeulue to Teupah alone can use the boat with a travel time of about one hour.
But first the tourists must go to Simeulue
efore heading to Teupah Island. To get to Simeulue district itself, tourists can choose sea transportation routes ie sea lane or air path. If you choose the sea route, visitors can use the ferry crossing boat to the port in Sinabang. But if you want more quickly and efficiently, you can choose to use the air path.
The charm of Teupah Island
The natural beauty that Teupah Island has to offer seems to be a rare phenomenon to encounter. On this island, tourists will find a variety of beautiful beaches, with ham ...
Coastline in Teupah Island itself reaches 88 kilometers, so tourists can freely explore every inch of the natural beauty that is on this small
island. Directly adjacent to the Indian Ocean, the majority of the beaches have strong waves. However, tourists can still play water or swim in the sea.
Teupah Island
Most of the beaches in this place are dominated by reef beaches like the ones on Siu Island.
On the coastal areas, tourists will also find a lot of coconut trees that grow soaring. On this island, indeed not found mangrove plants that play a role in preventing erosion and also abrasion. This is also why Teupah Island is very vulnerable to the tsunami disaster.
But unfortunately, this beautiful island is still not managed properly by the local government. And if you see the potential of tourism offered, Teupah Island can be a new destination in Indonesia that can attract interest from foreign tourists. The difficulty of transportation to the island is also a hindrance for tourists who want to visit.
Thank you for visiting my block.
Upvote dan follow @ s1d1n01