CONTENTS AND BENEFITS ON THE PAPAYA FLOWERS
Good afternoon my friends esteem all. Hope we all always in good health walafiat.
On this occasion I want to discuss about the megunaan of papaya flowers.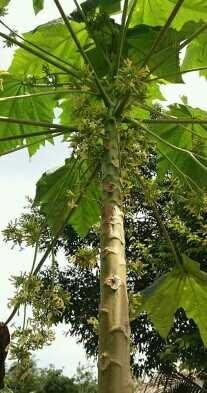 apparently papaya flowers also have health benefits. However, this is not many people know. In fact, the efficacy of this papaya flowers lies in its abundant nutritional content. In every 100 grams of papaya flowers, there are energy, protein, fat, carbohydrate, calcium, phosphorus, iron, vitamin A, vitamin B1, vitamin
C.
It's a bitter make people reluctant to consume this flower, but the efficacy of papaya flowers for health a lot.
Content and Benefits On Papaya Flowers
Content and Benefits On Papaya Flowers
Radiating the digestive system
The content of tannin in papaya flowers can help the digestive organs in the body to perform its function optimally. Nutrient content can make the body's metabolism becomes more fluent.
Improve your appetite
The use of papaya flowers for this purpose, has been done for a long time by the people of Indonesia. And the results also proved very powerful to make the appetite again.
Smooth blood circulation
If you have a high blood pressure disease, break the papaya flowers on the diet regularly, can help to normalize blood pressure again. The content that is in the papaya flowers is very useful to regulate the blood circulation in the body, and re-circulate blood circulation.
Prevent cancer
Antioxidant content is useful to prevent entry of free radicals that enter the body. Free radicals that come from environmental pollution can cause various diseases. In addition, flavanoid compounds in papaya flowers can also serve to ward off and prevent the entry of free radicals in the body as a cause of various cancers such as laryngeal cancer for example. Flavonoids and antioxidants also have other functions such as to maintain the stability of our body's immune system.
Lowers cholesterol
Papaya flowers also proved rich in folate and antioxidants that can also be used as a drug to lower cholesterol. By consuming papaya flowers, the body will increase the intake of folate and antioxidants that can fight bad cholesterol in the body.
Prevent Stroke
Content in papaya flowers with high levels, very useful for as a preventive of stroke that can be caused by poor blood circulation in the body.
So that's some content and efficacy to eat papaya flowers for health. Hopefully with this article can help you in finding solutions and increase your knowledge.
Terimakasih telah mengunjungi blok saya
Upvote dan follow s1d1n01