Ramadhan Ceria | Cheerful Ramadan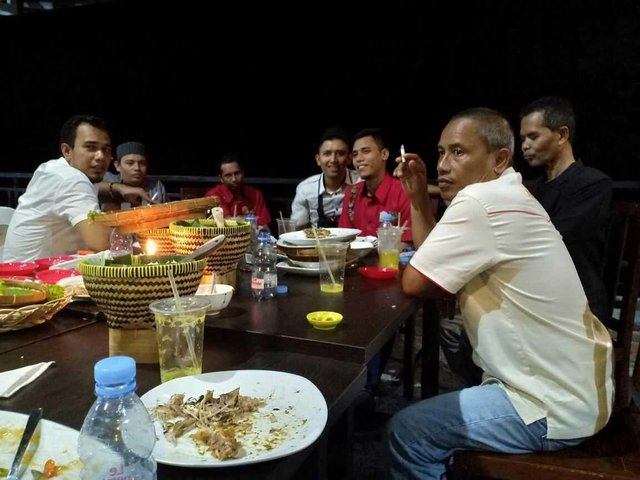 Berbuka puasa bersama adalah suatu kesenangan tersendiri. Dimana kita saling berkumpul bercanda bersama dan saling cerita. Bersama kolega di kantor berkumpul bersama sambil menunggu tiba waktu buka puasa sungguh sangat indah karena bisa melepas penat setelah seharian di sibukkan dengan jam kerja kantor.
Breaking the fast together is a pleasure in itself. Where we gather together joking together and tell each other. With colleagues in the office gather together while waiting for the time to break the fast is very beautiful because it can take off tired after a day in busy with office hours.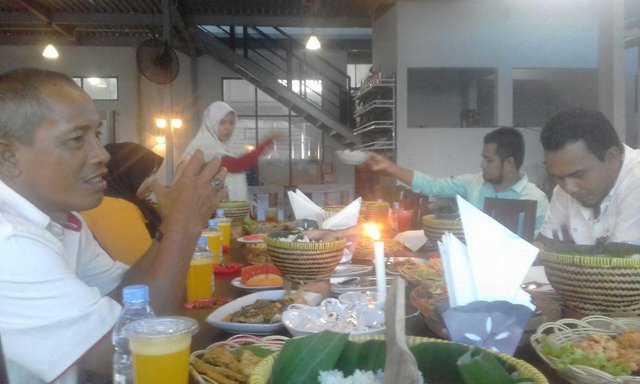 Untuk melepas penat dan kejenuhan kerja lebih mantap bersantai di sebuah villa yang pemandangannya tidak terhalang dengan gedung - gedung sekitar. Ya tempatnya kami memilih di seputaran jalan syiah kuala tepatnya di syiahkuala villa. Sebuah villa atau resto yang di bangun diatas tambak yang di kelilingi oleh hutan bakau.
To release the fatigue and saturation of work more steady relax in a villa whose views are not blocked with the surrounding buildings. Yes the place we chose in seputaran Shiya way kuala precisely in syiahkuala villa. A villa or restaurant built on a pond surrounded by mangrove forests.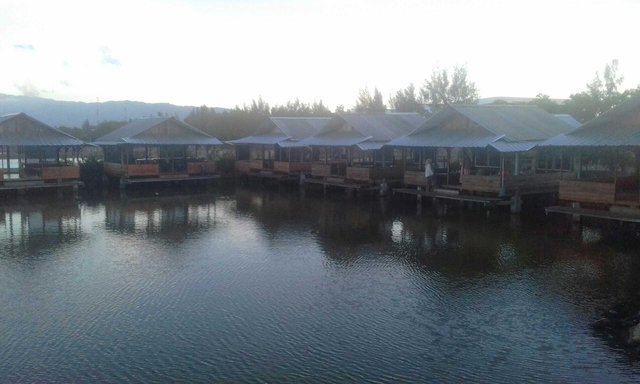 Selain hutan bakau terlihat juga deretan bangunan shelter tempat bersantai bersama keluarga. Bahkan di dalam kolam tersebut mata kita di manjakan oleh beraneka ragam ikan yang asyik berenang di dalam air tersebut.
In addition to mangrove forests also seen a row of shelter buildings where to relax with family. Even in the pool our eyes are pampered by a wide range of fish that are engrossed in the water.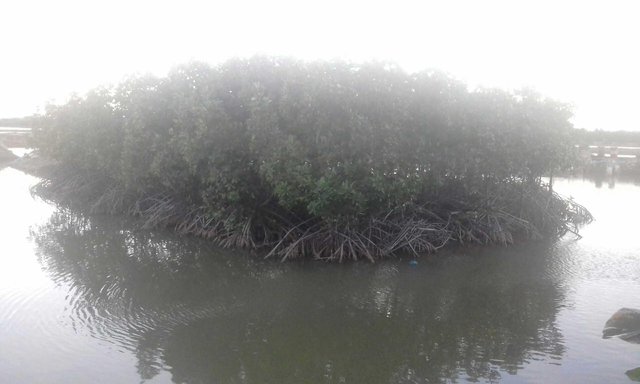 Di situlah kami hari ini melepas lelah sambil berbuka puasa bersama. Tawa dan canda terlihat asri karena begitu senang bisa berkumpul bersama karena tidak lama lagi liburan panjang akan datang. Semua akan balik ke kampung masing - masing untuk lebaran bersama orang tua serta sanak famili. Maklum kami hampir rata - rata adalah perantuan, jadi setiap lebaran kami semua mudik.
That's where we today unwind while breaking the fast together. Laughter and jokes look beautiful because it is so happy to get together together because soon the long holiday will come. All will return to their respective villages for Eid together with parents and relatives. Understandably we are almost the average is perantuan, so every Lebaran we all going home.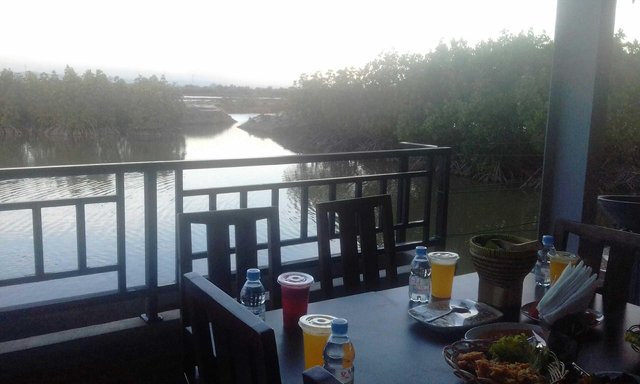 Jadi sebelum mudik datang kami laksanakan buka puasa bersama dulu karena dalam 2 minggu ini kita sudah tidak bertemu lagi karena sudah libur. Selamat menunaikan ibadah puasa dan selamat menyambut hari raya idul fitri bagi yang muslim.
So before going home we do break fasting together first because in 2 weeks we have not met again because it was off. Congratulations to perform the fast and welcome the holiday of Eid al-Fitr for the Muslims.