I'm Giving Away 10 SBD & Copies of My Book, to Celebrate 1,000 Followers :)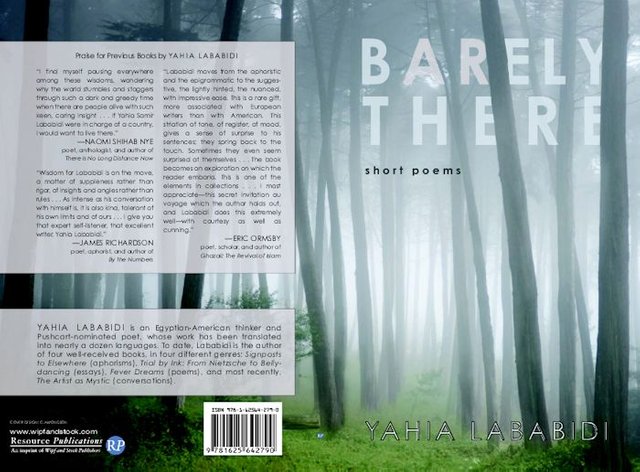 It's been a little over six months since I began this mind and heart-expanding journey on Steemit and I'm grateful to see I've surpassed a 1,000 followers! Thank you, kind folks for your attention and interest _/|\_ I believe artists are as good as their audience and, because of you, I've dared to try new things as a writer: blogging, daily, being at the top of that list :)
As a small thank you for your support, I will be gifting 3 copies of my book, Barely There, a collection of short poems inspired by the constraints of social media. All I request is that you resteem this post and tell me in as little as a line or two (or more if you prefer) why you might like a copy. The best answer receives 5 SBD along with a book, 2nd best gets 3 SBD and a book and 3rd 2 SBD and a book. This contest/giveaway will be open until Monday morning (in Florida, USA) when I will announce winners.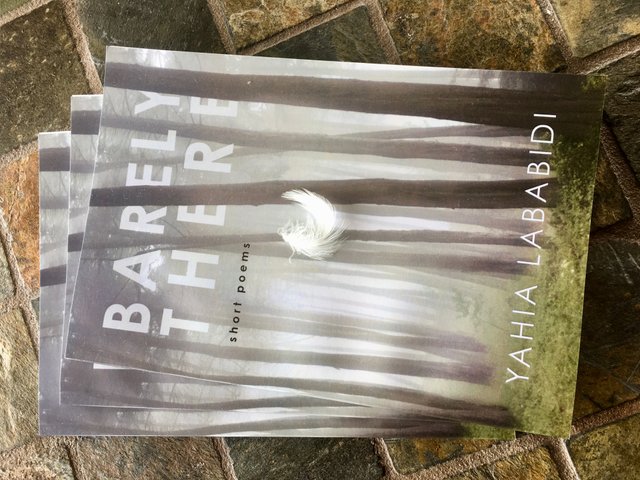 Small clarification: If you live outside the USA, you're still eligible for the SBD prizes, but I shall send you an e-copy, instead of a paperback.
Here, is the opening poem in "Barely There":
---
Breath
---
Beneath the intricate network of noise
there's a still more persistent tapestry
woven of whispers, murmurs and chants
It's the heaving breath of the very earth
carrying along the prayer of all things:
trees, ants, stones, creeks and mountains alike
All giving silent thanks and remembrance
each moment, as a tug on a rosary bead
while we hurry past, heedless of the mysteries
And, yet, every secret wants to be told
every shy creature to approach and trust us
if only we patiently listen, with all our senses.
---
For further reading, please, see this warm review of Barely There or listen to a feature on National Public Radio. Lastly, below are generous endorsements by writers that I admire.
Many thanks, for playing along, and I do hope that you win _/|\_

'Lababidi moves from the aphoristic and the epigrammatic to the suggestive, the lightly hinted, the nuanced, with impressive ease. This is a rare gift, more associated with European writers than with American. This striation of tone, of register, of mood, gives a sense of surprise to his sentences; they spring back to the touch. Sometimes they even seem surprised at themselves. . . . The book becomes an exploration on which the reader embarks. This is one of the elements in collections . . . I most appreciate this secret invitation au voyage that the author holds out and Lababidi does this extremely well, with courtesy as well as cunning.''
—Eric Ormsby, poet, scholar, and author of ''Ghazali: The Revival of Islam''
''I find myself pausing everywhere among these wisdoms, wondering why the world stumbles and staggers through such a dark and greedy time when there are people alive with such keen, caring insight. . . . If Yahia Samir Lababidi were in charge of a country, I would want to live there.''
—Naomi Shihab Nye, poet, anthologist, and author of ''There is No Long Distance Now''
''Wisdom for Lababidi is on the move, a matter of suppleness rather than rigor, of insights and angles rather than rules. . . . As intense as his conversation with himself is, it is also kind, tolerant of his own limits and of ours. . . . I give you that expert self-listener, that excellent writer, Yahia Lababidi.''
—James Richardson, poet, aphorist, and author of ''By the Numbers''
''Lababidi knows that fables and metaphors overcome resistance more readily than facts and position papers. His half-smile becomes our own, changing our self-estimate, and then who knows? the choices we make as well.''
—Alfred Corn, poet, essayist, and author of ''Tables''
''Brilliant. . . . think of the wild mind of Blake and the calmly collected Wallace Stevens, with a touch of Franz Kafka s hammer inside a velvet glove.''
—Duff Brenna, novelist, author of ''Murdering the Mom: A Memoir''
''Yahia Lababidi s aphorisms are elegant, thoughtful, and wise, written proof that the art of the aphorism is still very much alive.''
—James Geary, author of ''I Is an Other: The Secret Life of Metaphor''