The Critical Mass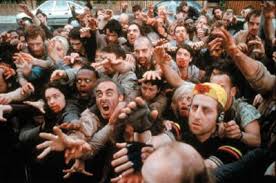 I was a little bit taken aback when a buddy of mine asked me whether he should buy Ethereum, Litecoin, or Bitcoin with his newly acquired Coinbase acct.
"However much money you put in, I hope you can afford to see it disappear almost entirely." I told him.
"Yeah, but the interest from my mutual fund is basically nothing so I decided to go for it." he tells me.
There seems to be a gold rush right now. After flying under the radar for almost 2 years now I guess the word got out about Ethereum. College kids are pouring their money, their parent's money, and even student loan money into exchanges and mining hardware in hopes of getting "lambo's" and the like.
The beauty of it is that Satoshi's vision has truly gone viral now. Hardware configured to support blockchain transactions is coming online at an unprecedented rate. AMD and Nvidia are making video cards as fast as possible and still can't keep up.
It is almost a foregone conclusion that, withstanding a spectacular crash, this burgeoning network will overtake the centralized banking's data centers in raw transaction handling, verifying, and computing ability very soon if it hasn't already.
And there is nothing the Legacy Banking cartel can do about it. They will be usurped by the same human emotion that created their own institutional dominance. GREED.
How awesome is that?