Ethereum Is forming an inverse head and shoulders pattern! :)
Hey y'all it has been a while since checking in with steemit and actively looking at cryptocurrencies and technical analysis. I just wanted to make a little post about the price action of Ethereum!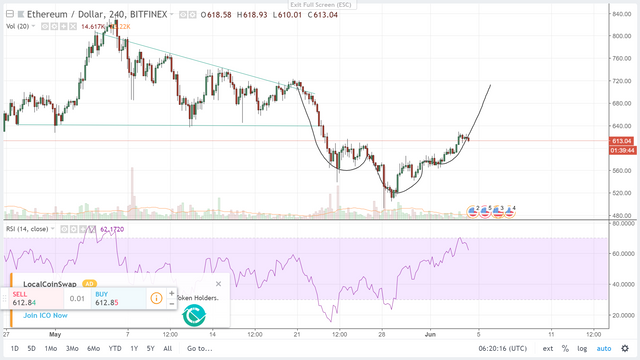 Ethereum broke lower through support at $640 on May 21st. After plummeting all the way down to $500, Ethereum finally found a bottom! :) Since then, Ethereum has rallied all the way back up to $600. Ethereum has formed an inverse head and shoulders pattern during the recovery! This a very bullish pattern that looks like a head and shoulders , but flipped around. Usually the pattern ends with a rally back up to the original price prior to the fall. In this case, Ethereum could rally all the way back up to $700! That is a potential of 15% profit from the current levels! If Ethereum can hold above the $600 level and keep the uptrend intact I believe Etheruem could rally just as quickly as it collapsed.
Happy trading! :)
Disclosure: I am long Steem and Ethereum