Ethics Are What The Majority Invent in Order to Keep Themselves Enslaved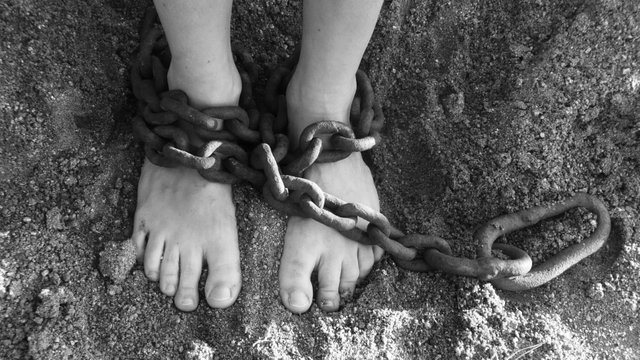 Every time there is a situation or argument about human endeavours, morals come to the scene. Thing is, morals, much like religion are subject to interpretation. Everyone has their own version and understanding of the term and everyone applies them differently. Any person that acts immoral from our point of view, feels they are very much moral considering their own narrative.
Human societies flourished because they managed to set some ground rules about how people should behave. Sometimes those rules were written down in stones much like it was in the case of Hammurabi in Middle East. Other times those rules were written down by old men that acted as priests. Eventually those agreed rules created a basis so that people could live. Generation after generation those rules became morals and for the newcomers it seemed like they had always been there.
Much like the "5 Monkey Experiment", people will believe and adopt to whatever is in front of them. Children for example believe in the morals and narrative of the Santa Claus universe. Santa works with the naughty or nice narrative. Adults know that these rules/morals do not apply, yet, the children are baited to act nicer if they want gifts. Thing is, the parents that control this narrative, brake their own rules and allow the children to get a present anyways. Nobody considers this immoral. What is more ironic is that the poor kids around the world don't get any presents and they do appear to be the immoral ones.
It is clear that the metric in the Santa case is money and privilege of birth, not morals. Yet, the narrative that is widely believe from the kids of that age is very different. It is so different that no revolution or mass uprising from the children can change it back. It is what it is because succeeding generations decided it would be so.
Moving the same story about morals into our own "grown up world" we see humans believing in their own version of the Santa Universe. Even though the stories about religion and politics are much the same as in the Santa case, most people choose to believe that those morals given out by the state and the church are sacred and owed to be respected. The religious heroes are as awesome as Santa. The state heroes are as brave as cartoon heroes.
Even if we see on a daily basis that those on top of those institutions do not follow the same morals as they preach, most people bow down and live by them anyways, believing the absurd stories as if they were real. Much like the Santa narrative, instead of parents dictating morality we have politicians and priests. Much like the Santa narrative the masses get fooled while the puppet masters roam freely.
Thing is, anyone can escape from this moral prison others have set for them. If one chooses to do so though they will be scolded from the rest of the crowd, not directly by the puppet masters. The herd will take care of itself with minimal effort once the morals are in place. They won't even needed to be repeated or reminded. They become the de-facto truth. Denying their existence would be ludicrous. This is also why atheist and anarchism are feared. They both imply luck of religious and state morals which makes one immoral. You can try convince others that this is not the case but you are going to have a hard time. They will keep their distance just to be on the "safe side".
Ascribing to moral truths is nothing more but giving out to fear. Anything we know to be true or real was created from people that lived before us. As we grew up those morals were fitted in our brains and became our reality. We do see the moral glitches from the masters but most are afraid to act. We learned to fasten the chains in our feet.