REVIEW ON THE GOZO
Traveling is a great form of relaxation for many. Many people do travel for different reasons and as such takes different types of routes to reach their destination but in recent times, people have been faced with countless difficulties while they make their journey, hence the need to find a lasting solution to these menace.
The world they say has become a global village and with the recent invention and innovation of the blockchain technology, almost all spheres of life has keyed into this new technology and the travel and tourism industry is not left behind.
The blockchain technology is known for its seamless, decentralized, transparent, secured and fast nature of executing transactions. It is on this premises that Most sectors/industries now employ the use ofyptocurrency as a mode of payment for goods and services.
GOZO PLATFORM
Gozo platform is an ecosystem designed with th integration of the blockchain technology built on the Stellar platform (because of its robust, secure, fast, scalable, transparent design and it has also proven itself to be an upgrade of the already existing blockchain) to erase and eliminate the menace being encountered by travellers especially those using cryptocurrency as a form of all transaction being carried out.
Gozo platforms aims to provide a better and sustainable travel experience for all its users by providing a competent, reliable, liquidity, secured and low cost of traveling expenses for its users.
The GOZO platform developers understands the place of client relations as such has made provision for a service which will enable a greater discount on each purchase made on the #gozo platform, part payment is also welcomed for goods and services.
For traveling enthusiasts and cryptocurrency holders who are subscribers on the GOZO platform, GOZO will be a standard cryptocurrencyand for usand also holders of GOZO will save between 15% - 50% comparable rates found on typical hotels or OTA (online travel agencies) sites.
The GOZO market place aims to be the one stop shop for all forms of bookings to be carried out by its users like international and local airline bookings, hotel reservations, tour bookings, car hire bookings, cruise bookings, and all things travel.
GOZO WALLET
The Gozo platform made provision for a Gozo wallet for all its users. The Gozo wallet is user friendly and has got an easy to use interface. The gozo wallet can be downloaded from Google Play Store (for Android users), iOS (for Aple users) and also from the web (for desktop users). Having the Gozo wallet by all subscribers of the Gozo wallet will afford the users the ability to hold their cryptocurrency tokens and loyalty reward points and the Gozo wallet news can be downloaded by everyone interested.
As seen on the Gozo Whitepaper: https://www.gozo.io/Gozo-Whitepaper-V2.0.pdf wallet Holders can now Hold Tokens, other cryptocurrencies and travel loyalty reward points in any secure app. They are also opportuned to Send Tokens to other blockchain wallet addresses for forms of transactions. Wallet holders can also send GOZO tokens, ETH, BTC, LTC, XLM, and 100+
other cryptocurrencies and tokens while they can also Receive Tokens, GOZO or any of the100+ other major tokens and cryptocurrencies in their wallet. The Wallet
holders will receive from any other blockchain wallet, exchange, fiat
conversion, or as loyalty reward or member rebates from the Gozo
platform not restricting them to a particular wallet alone.
Also, the users of the Gozo wallet can Earn Tokens for participating in certain activities being carried out on the platform for example referring new members, social media promotions and similar Gozo positive activities. Worthy of note also is the fact that Gozo PLUS Wallet holders can earn GOZO tokens,automatically as a member, in the form of monthly rebates or incentives and/or when booking wholesale through the Gozo PLUS wholesale booking engine. The users of the wallet can also
Exchange Points for Tokens or vice versa. This particular feature allows users to convert travel loyalty rewards into GOZO tokens, and then into any other supported cryptocurrency, token or fiat currency if so
desired by the users.
There is a provision for Affiliate Rebate where Wallet holders can continue to book on Booking.com, Expedia, Priceline, and other travel portals, and in turn earn GOZO tokens in the form of affiliate rebates. This particular privilege applies to members
and non-members.
TOKEN ECONOMICS
TOKEN NAME: GOZO
TICKER: GOZO
TYPE: UTILITY
NETWORK: STELLAR COMPLIANT
TOTAL SUPPLY: 3,000,000,000
TOKEN PRICE: $0.02
SOFT CAP: $5 MILLION
HARD CAP: $16 MILLION
TOKEN DISTRBUTION
SEED INVESTOR: 2% (60,000,000)
AIRDROP: 3% (90,000,00)
ADVISORY BOARD: 5% (150,000,000)
PLATFORM OPERATIONS: 6.67% (200,000,00)
TEAM: 12% (360,000,000)
ICO: 33.33% (1,000,000,000)
COLD STORAGE & FOLLOW ON INVESTMENT: 938% (1,140,000,000)
ROADMAP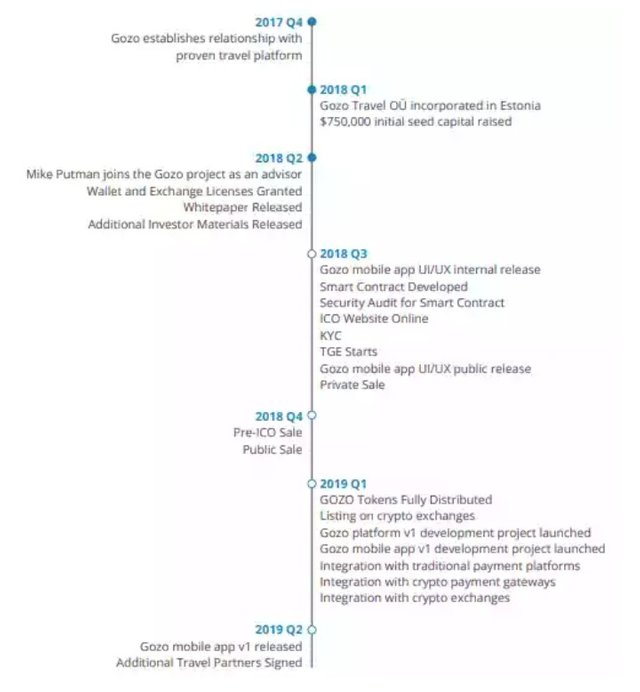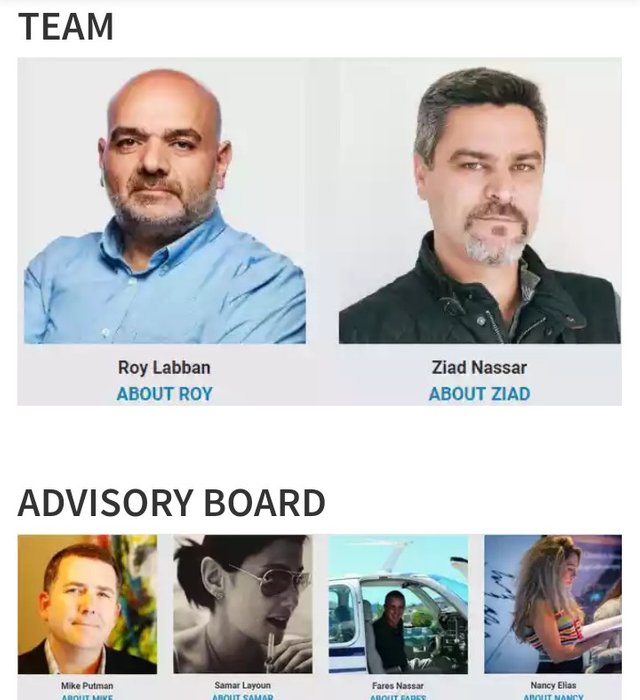 For More Information:
Website: https://www.gozo.io/
Whitepaper: https://www.gozo.io/Gozo-Whitepaper-V2.0.pdf
ANN Thread: https://bitcointalk.org/index.php?action=profile;u=2316822;sa=summary
Twitter: https://twitter.com/Gozo_io
Facebook: https://www.facebook.com/gozo.io/?view_public_for=1938287966214957
Telegram: https://t.me/gozo_io
Reviewed by:
Bounty0x Username : Joygalz