HydraX- the next generation financial marketplace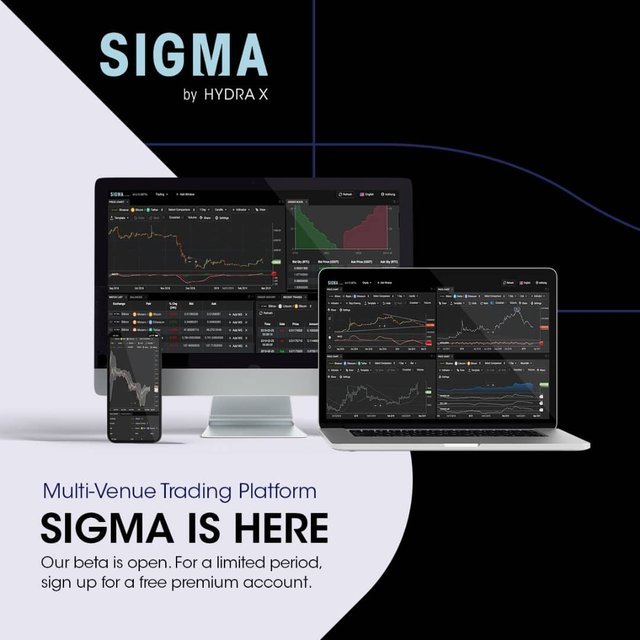 HydraX is a digital financial provider with headquarters in Singapore. It specializes on designing highly technological professional trading solutions that integrates digital and prominent asset categories in the financial marketplace.
It uses the latest technology like distributed ledger technology (DLT), professional experience, legal knowledge to build a rich, strong, and practical tech solutions all over the financial services transaction channels- future generation solutions doable in this present dispensation.
HydraX aimed to establish a financial market that is asset classic and trading channel; the platform offers an hassle-free user experience thus, it brings about a real consolidated cross-asset and cross-channel environment.
Due to the incessant lack of efficiency in the portfolio market and overseeing procedures, and lack of customer experience satisfaction which is mainly as a result of fragmented financial landscape. In essence, HydraX brings about sincerity, acceptability, and better experience to the financial industry. Its available trading solutions suites cut across all the transaction channels of multiple asset classes which include, exchange traded, off-exchange traded, pre-trade, post-trade, and portfolio management.
HydraX Solutions and Sigma
HydraX specializes in building top-notch solutions for Financial marketplace to promote competition, performance and adaptability. HydraX offers market technologies that enhances the next-generation financial markets.
What is Sigma?
Sigma is a robustful high-performing platform, that's highly personalizable, to achieve the needs of customers, retail, and experienced traders, respectively. Sigma offers a genuine and diverse channel for easy connectivity. Transact tokens, stocks, CDFS, and FX in your preferred digital asset exchange and e-brokers. Sigma enables you to trade several asset classes.
What are the features of Sigma by HydraX
• Efficient Portfolio Management
Oversee your account with consistent monitoring and accurate performance metrics, in all the available asset channels.
• Social Trading
Trade amidst multitudes. Network, associate, communicate with fellow trades and sharpen your skills.
• Professional suite of Trading Tools
Trade with style. Get equipped with professional trading suites like scanner, arbitrage etc.
• Accurate News Feed
Stay updated with live news and develop your market strategies to have an edge in the market.
• Diverse Channel, Diverse Asset
Connect with your personal accounts with ease on the authentic digital asset venues. Upcoming connectivity include institutions-only liquidity pools, future channels, CFDS, and FX.
• Absolutely Customizable
Design your workspace to suit your trading flow by removing, editing, adding, and placing various modules.
• Excellent feature-inclusive
Transact and transfer your digital assets in all over the available channels; immediate price trades; accurate intelligent algorithms, orderliness, and several other provisions.
• Portfolio Management and Aggregation
Accurately manage your portfolios on various channels all within a consolidated portfolio functionality dashboard.
• Integrated News
Design a personalised news feed through social media platforms and RSS feeds.
• Strong Security
Protect your user details natively: no confidential information reaches the cloud and server.
• Upcoming Features
Digital trading, social trading, regular alerts, arbitrage metrics, designable scanners, unique mobile apps, etc are coming soon.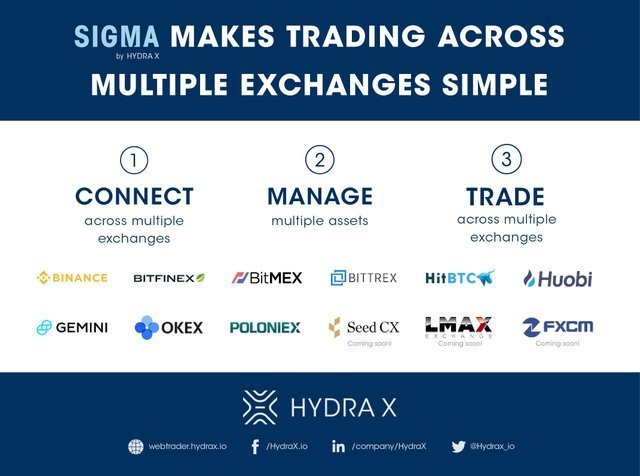 Conclusion
HydraX is a foremost digital financial marketplace in Singapore, with top-notch experience in financial market regulation and latest technology. HydraX platform offers a simple and faultless user experience.
Other important information on Sigma by HydraX
Website: https://www.hydrax.io/
Sigma link: https://sigma.hydrax.io/
Twitter: https://twitter.com/Hydrax_io
Facebook: https://www.facebook.com/HydraX.io/
Telegram: https://t.me/HydraXOfficial
Writer's Information:
Hydra X: [email protected]
Bitcointalk username: Novusordo
Bitcointalk profile link: https://bitcointalk.org/index.php?action=profile;u=51831