Henry Ford on Failure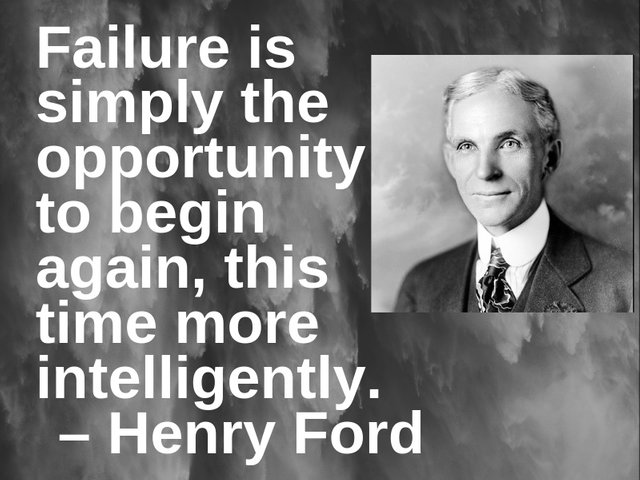 I love this quote from Henry Ford
You don't have to regret failures.
You don't have to give up when you encounter a failure.
Yes, it hurts and when we've put in a lot of time, money, and energy into something it hurts to fail.
But, you don't have to view failure as the end. It is a learning experience. Those who succeed are those who take each failure, analyze what happened, think about what went wrong, and figure out ways to be better in the future.
I've experienced many failures in many areas of life.
Yes, it hurts. Yes, it costs time, money, and energy.
However, if we learn from it and take time to understand what happened and how we can improve next time we face a similar situation.
Get back up when you're knocked down.
Learn from the failures.
This is how you get ahead. It is what Henry Ford did in his day.
It is what you and I can do in ours.
Thank you for stopping by. Please share this with your community so they can improve and get better when they experience a failure. Let's let failures become our best teachers.
Terry
Terry L. Brock, MBA, CSP, CPAE
Member, Professional Speaker Hall of Fame
Certified Speaking Professional
Council of Peers Award of Excellence
2018 Recipient of the National Speakers Association's Highest Award, The Cavett
Master of Ceremonies
Professional Video Coach
Chief Retail Advisor - Ace Hardware Global Solutions Academy
Training Ace Retail People around the world, online training
See some wonderful (!) videos on my YouTube Channel!
https://www.youtube.com/user/TerryLBrock/videos
My TEDxBocaRaton presentation.