Fake News Confirmed: China Banning Bitcoin Exchanges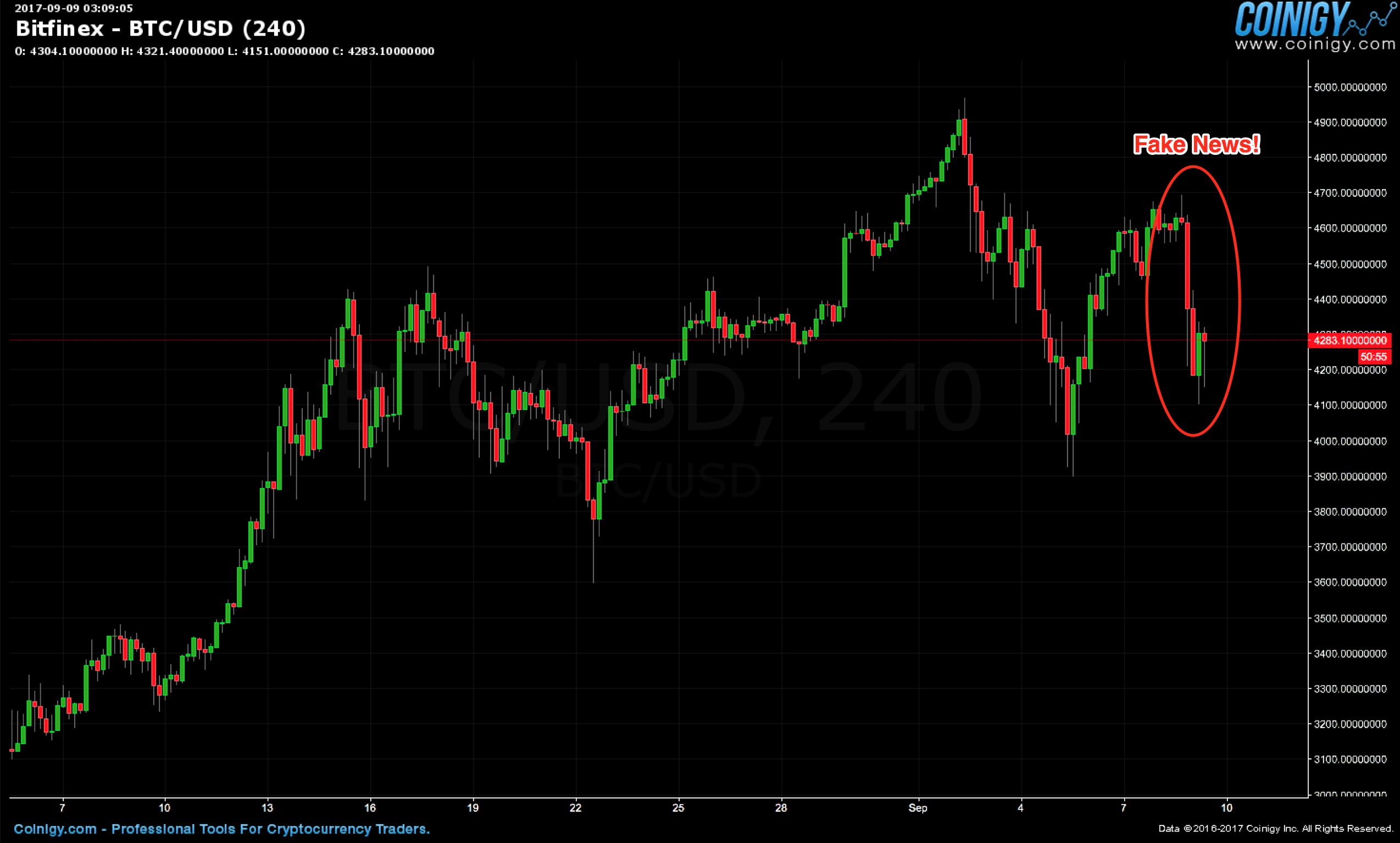 Hi Everyone!
This is my first Steemit post, please forgive my noob-ness. I live in Asia, and woke up this morning to a sea of red. Seems that through the night Crypto went through another sharp sell-off this weekend.
Turns out it was caused by fake news and panic. Yea it's fake, and well-timed too. Let me convince you.
It all started with this news article from a China news website. Basically the website states that the Chinese government considers Bitcoin to be a fake currency used for money laundering, and will freeze all Bitcoin exchanges. http://finance.caixin.com/2017-09-08/101142797.html

After this article was published, forexlive.com picked it up, and the story went viral. http://www.forexlive.com/news/!/caixin-china-is-said-planning-to-shut-local-bitcoin-exchanges-20170908 and then more silly people re-tweeted it http://coinivore.com/2017/09/08/fake-news-rumors-swirl-around-china-banning-bitcoin-introducing-regulations/

I took to twitter to check the news, seems it was fake, with BTCC reporting that they had issued no directive from PBOC to shutdown their operations. https://twitter.com/yourbtcc/status/906181802548539393

Here's another tweet from a Bloomberg Tech News Reporter, Lulu Chen, based in China. https://twitter.com/luluyilun/status/906163511658557440

Finally, the real Chinese Officials woke up this morning (yes they were asleep when all this was going on), and posted an official statement. http://www.pbc.gov.cn/english/130721/3377816/index.html and now some sanity has returned to the news feeds too http://www.livebitcoinnews.com/china-not-suspending-cryptocurrency-exchange-activity/

Why is it well-timed fake news? Here's an opinion from an experienced stock-trader.


This is obviously an attempt to manipulate the market into panic selling, and it worked! Seems this is the 16th time now (
). For some rationality, do also read this article about China's future roadmap for Cryptocurrencies.
https://bitcoinmagazine.com/articles/op-ed-chinas-ico-ban-characteristic-not-catastrophic/
The long and short of it is: "The Chinese government is not stupid, they are really smart people. They know that if they ban ICOs and cryptocurrencies completely, this will do more harm than good. It will set them back technologically, and prevent their culture and society from progressing forward economically. In addition, the genie is out of the bottle, if any country chooses to ban ICOs, they would see a massive capital outflow to countries that do have ICOs, and this is opposite to what the Chinese government would want. Regulation (and probably taxation), is the surest route that the Chinese government will take."
Have fun with investing with cryptocurrencies, and do send me some Steemit!
Remember: Weekends are fun for crypto (supply-demand equilibrium is the weakest, easy to manipulate)
For latest news, follow me on twitter: @tsangyoujun