Family Court 2015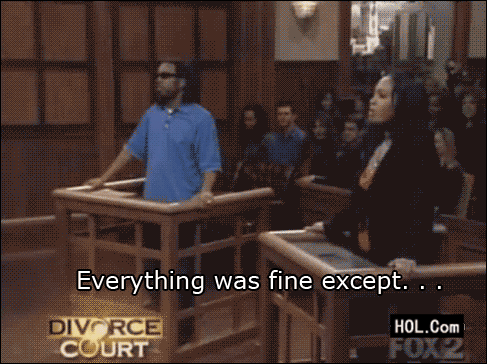 I was blindsided before I even stepped foot into the courtroom. Shantra and her lawyer had waited until the last possible day to file their lie filled affidavit that was hundreds of pages thick. In fact they were scolded by the judge for being so late, which was another tactic that was meant to prevent myself from knowing their defense.
Their affidavit was filled with too many accusations for myself to afford to fight in court. The child porn accusation was enough to make my lawyers head spin and stutter each time he talked to the judge. All he could argue for was my clean record to lock up Shantra for her warrants for prostitution in 3 different states; against my wishes.
The judge saw my lawyer had failed me. She started talking directly to me at a certain point. She stated that I didn't have the time or money to fight all the accusations in Shantra's affidavit and that she needed no counseling from her life as a teenager/ young 20 year old insisting she was rehabbed because of me. Yikes! She refused my lawyers request of arresting her for her outstanding warrants. All she ruled was for child support and health insurance. She said Shantra and I needed to mediate before this court case would make us broke. She also made it clear that despite my lawyers failure and how he let me down, that I still needed a lawyer no matter what if I were to make it back to her court room.
My mind was blown. I just saw justice served but not fully understanding how extreme Nevada is for woman's rights and how prostitutes are victims who don't need any form of therapy or rehabilitation to society. This is still a pretty sore point for me. The hypocrisy in our justice system knows no bounds. Police trying to extradite people for warrants in Texas for 1/8th of weed possession but not 4 warrants for sex crimes in 3 different states? Eh…
There was nothing left to do but admit defeat and mediate. It took nearly 4 years to fully comprehend how people can do such things like lie and defame others just to get ahead or save face or that it's perhaps living in Las Vegas left me surrounded by criminals and psychopaths who are willing to do anything just to get what they want.