A Family Tradition of Cutting Firewood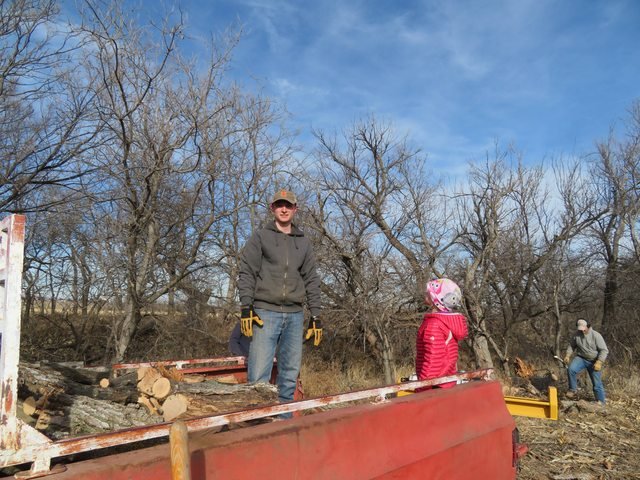 A quote for the read:
"Splitting firewood, mending fences, cutting hay – I have never done more fulfilling work than what's essential to country dwelling."
— Scott Avett
         Every year during the holiday season, we make a ten-hour drive to Kansas to visit some family. The drive ultimately sucks, as it is very long and boring, but the trip is well worth it. My grandparents and uncle, who live out there, warm their houses with wood-burning stoves. Because winter is obviously cold and snowy, they go through a lot of wood keep their houses up to temperature.
         To replenish their supply of logs, every time we visit we try to work it out so that we can have a big wood-cutting family gathering. My uncle and grandparents own a lot of land, and on that land, there are dried-out creeks with timber alongside it. After packing up plenty of food for lunch, we all get in a couple pickup trucks and head out to find fallen trees that have not yet rotted. Once we spot some quality wood, we unload and startup the chainsaws. We also light a nearby bonfire to keep us warm and to cook the hotdogs later on. The outing takes an entire afternoon as we always bring two huge trailers to fill up with split logs – one for my uncle and one for my grandparents.
         The day of hard work usually ends with some target shooting and then unloading the trailer full of wood once we get home. This new load of firewood should last the rest of the winter for my grandparents, and will keep their house warm without having to use the furnace. Almost everyone in my family has a wood-burning stove, and I plan to have one too. Not only the efficiency, but the smell and look of a stove make it appealing to me. Our tradition might not seem fun to many people, but it's a different kind of fun that everyone should experience if they can.


Post #32, Published January 3, 2018 by Elijah Wasson
---

I'm a 16-year-old junior in high school. I've figured out that Steemit is a great way to express my feelings about certain topics and get paid for it! I like to start all my articles with a quote to get the reader to understand the 'feeling' of the article before they start reading it.
See more of my posts here!


---

---