Fishing on the Pontoon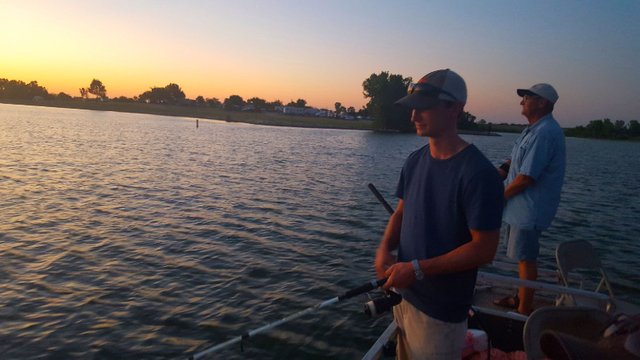 A quote for the read:
"There's a fine line between fishing and just standing on the shore like an idiot."
— Steven Wright
         A couple weeks back we drove out to Kansas for a weekend on the lake and to visit my grandparents and uncle's family. It was a short trip, only two and a half days, but it was nice considering it's was the first trip I've been on during this summer vacation. My grandparents brought along their pontoon and jet ski to Glen Elder State Park, right next to Waconda Lake. After a sunny day of tubing on the waves and wake of the jet ski, we all got ready to go catfishing with a guide my had uncle setup for us. We loaded up our poles, a few snacks, and drove over to the other side of the lake where the guides met us. Their pontoon we were going to use really had nothing but side rails, a steering wheel, motor, and several metal folding-chairs. And, I can't forget to mention the bait. Of course you need it to catch catfish but since this was a widely-used guide boat, anywhere you would look was a glob of sun-dried, au naturel stink bait. To help in describing of much of it there was, I'll just say that neither of the guides warned us to be careful of where we sat and we ended up with a few dirty bottoms.
         The fishing was slow at first until I caught the first catfish, a tiny one. We moved from spot to spot and gradually more people began to catch fish. When it became dark enough in the evening, we moved to new water where the White Bass swam. There we caught some Walleye, Bass, and Drum Perch. Overall, I'd say it was a successful night for most of us; some were not so lucky. We'll just blame that on the guides. 😉
Post #36, Published July 29, 2018 by Elijah Wasson
---

I'm a 17-year old senior in high school. I've figured out that Steemit is a great way to express my feelings about certain topics and get paid for it! I like to start all my articles with a quote to get the reader to understand the 'feeling' of the article before they start reading it.
See more of my posts here!


---

---