SIGN PETITION -STOP THE FEDERAL FUNDING TO CHILD PROTECTIVE SERVICES - TO KIDNAP OUR CHILDREN!
Did you know that money being funneled to states and child protective services encourages them to accuse you of child abuse and to take your children, even though they have absolutely no proof that you harmed your child? Child abuse has become a business that pays states to legally abduct children and put them up for adoption! Some states are putting it into their general funds to help balance their budgets. Local governments are accumulating billions of dollars in annual reimbursements, in exchange for the ability to legally abduct children. Counties are bringing in thousands of dollars in revenue for each child in foster care. This means they have more incentive to remove children from their families than to keep families intact. County government are a major factor in ripping families apart and destroying children's lives.
.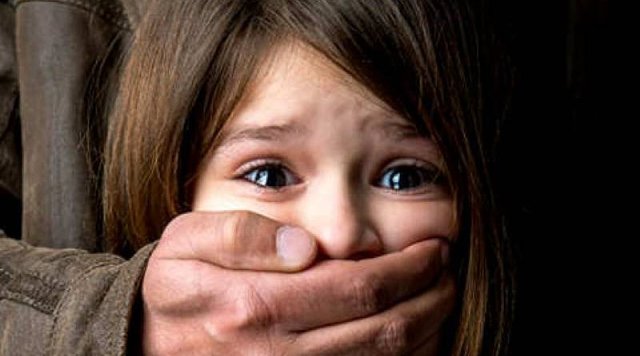 .
CPS gets a bonus every time they remove a child from their home. The children that make the news are the ones that have been killed, molested, tortured and treated worse than animals,. These are damaged children and CPS can not place them in homes. They look for healthy children emotionally and physically in families that don't have the means to hire an attorney to fight CPS. The lives, health, and well being of our children are in danger as long as CPS has the power to remove them from our care without cause, without warrants or justification.
Here is copy of the HHS.gov website pdf file of the money earned on the state by state adoption incentive statistics from 1998-2014. https://www.acf.hhs.gov/cb/resource/adoption-awards. Over $500 million at that time was earned by adopting our children out since the Incentivized adoption policy Title IVE & IVD federal funding (SIGNED INTO EFFECT THROUGH THE "SAFE FAMILIES ACT" of 1997 by FORMER PRESIDENT - BILL CLINTON) was installed.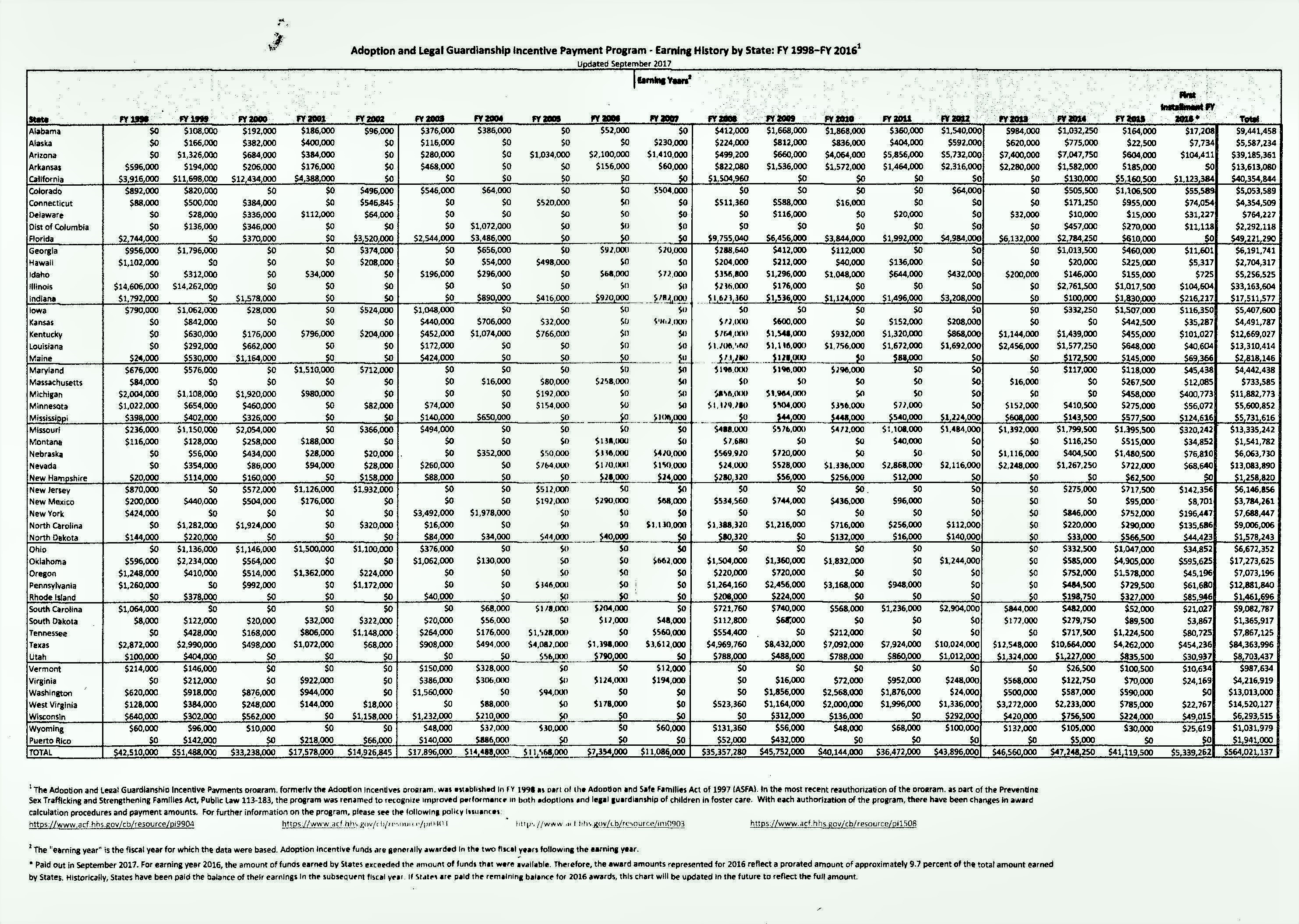 .
Here is a copy of the U.S. Department of Health and Human Services, Administration for Children and Families, Administration on Children, Youth and Families, Children's Bureau, https://www.acf.hhs.gov/cb
The AFCARS Report
Preliminary FY1 2016 Estimates as of Oct 20, 2017  No. 24
.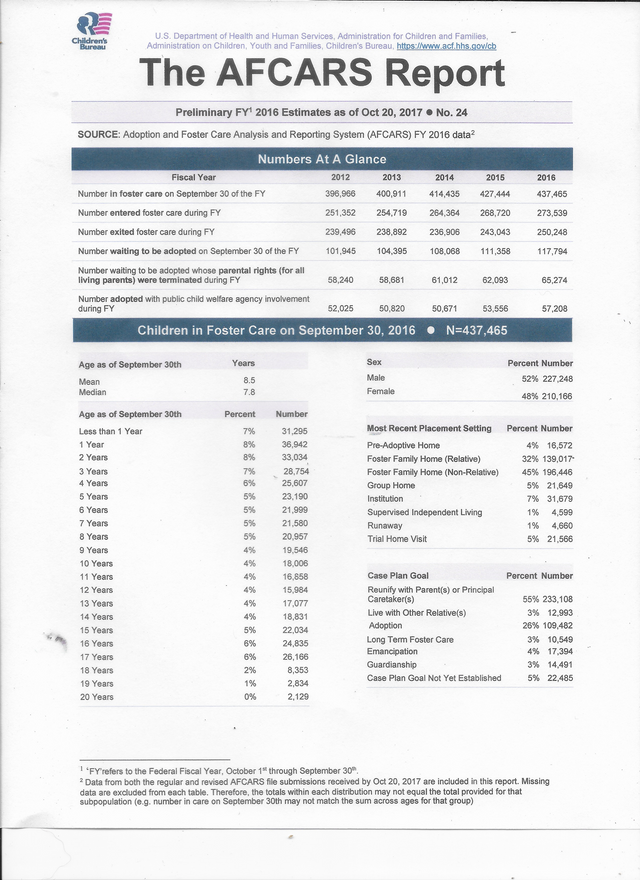 .
How do we STOP THE FEDERAL FUNDING TO CHILD PROTECTIVE SERVICE?
MAD ANGELS ARMY started this petition to United States Department of Health and Human Services, Donald Trump, Federal Bureau of Investigation, United States Department of the Interior, United Nations Office of Drugs and Crime, and the U.S. Senate. Please take the time to sign this petition at this link:
SIGN PETITION -STOP THE FEDERAL FUNDING TO CHILD PROTECTIVE SERVICES - TO KIDNAP OUR CHILDREN!
WE THE PEOPLE DEMAND THAT OUR FEDERAL GOVERNMENT:
#1. STOP THE TITLE IVe & Ve/IVd FUNDING - PROMOTING these CRIMES.
#2. Open a NATION WIDE INVESTIGATION into these AGENCIES.
#3. ACCOUNTABILITY for CORRUPT CPS AGENCIES & FAMILY COURTS.
#4. To IMMEDIATELY RETURN the CHILDREN (WHO WERE WRONGFULLY STOLEN) to THEIR FAMILIES.
#5. To IMMEDIATELY ABOLISH CPS and the FAMILY COURT SYSTEMS.
Groups:
Mad Angels Army, Our Children Have a Voice,
Our Children Have a Voice (Oregon), We're
Watching, Kids for Cash, Victims of CPS,
The Coalition for Children and Families, Fight CPS
Americans Against Tyranny, Child find, Opexpose
CPS-California, OpexposeCPS-Washington,
OpexposeCPS-Arizona, OpexposeCPS-Arkansas,
OpexposeCPS-Oregon, OpexposeCPS-New Jersey,
OpexposeCPS-Alabama, OpexposeCPS-Texas,
OpexposeCPS-Colorado, OpexposeCPS-Massachusetts,
OpexposeCPS-Missouri, OpexposeCPS-Michigan,
OpexposeCPS-Ohio, OpexposeCPS-New York,
OpexposeCPS-New Hampshire, OpexposeCPS-Iowa
OpexposeCPS-Alaska, OpexposeCPS-Hawaii,
OpexposeCPS-Mississippi, OpexposeCPS-Louisiana,
OpexposeCPS-Illinois, OpexposeCPS-Tennessee,
OpexposeCPS-Georgia, OpexposeCPS-Nebraska,
OpexposeCPS-Nevada, OpexposeCPS-Wyomming,
OpexposeCPS-Oklahoma, OpexposeCPS-Virginia,
OpexposeCPS-West Virginia, OpexposeCPS-Idaho,
OpexposeCPS-Maine, OpexposeCPS-Vermont,
OpexposeCPS-Kentucky, OpexposeCPS-Kansas,
OpexposeCPS-North Carolina, OpexposeCPS- S.C.
OpexposeCPS-North Dakota, OpexposeCPS-S.D.
OpexposeCPS-Florida, OpexposeCPS-Utah
OpexposeCPS- Pennsylvania, OpexposeCPS-New Mexico, etal
SOURCE:
www.change.org
.
Year of Saving Children 2017 ( Please Share )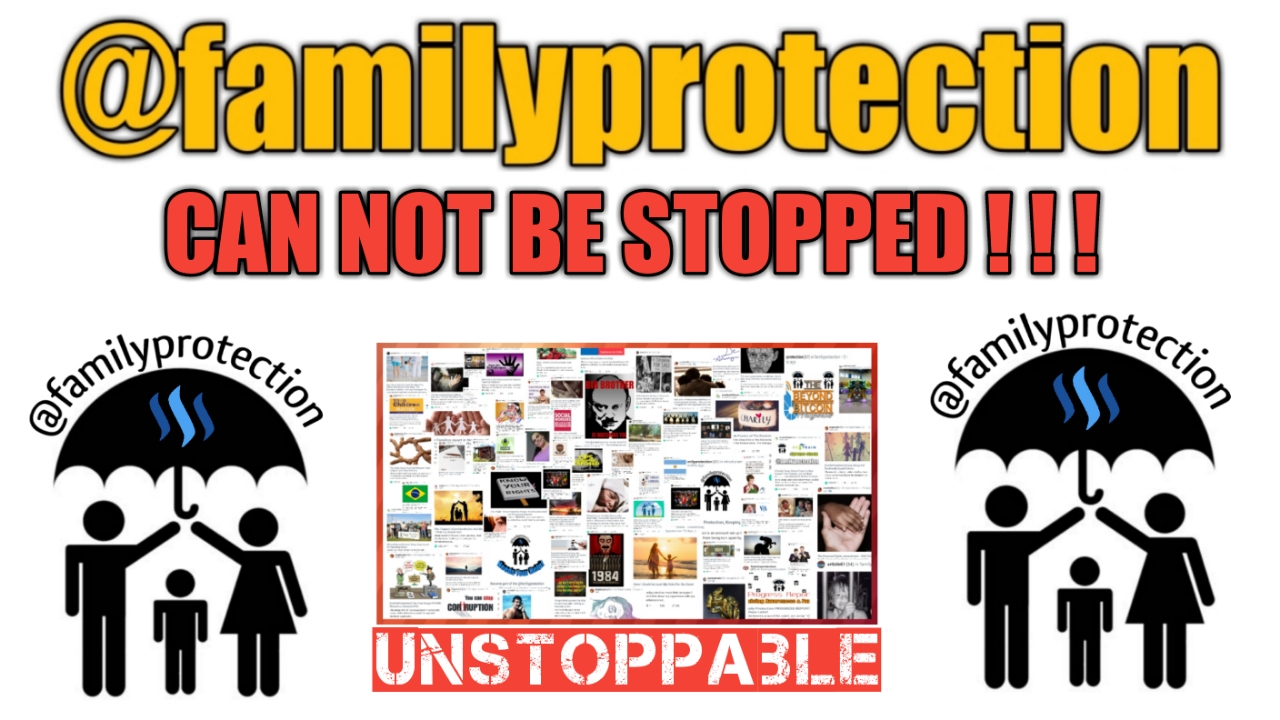 What Is @familyprotection? What Are The Rules? How Do I Donate?
@familyprotection was started approximately 3 months ago. If you are concerned about where these funds are going, please take the time to read this post:
We are Family Protection, Keeping Families Safe, Together
@markwhittam grew up in the care of CPS and then many years later he and his family had to flee their country under threats from the state to take their child because they home schooled.
Linda, @canadian-coconut, started @familyprotection because she has helped several families who have been torn apart at the hands of the legal kidnappers aka. Child Protection Services.
...
It is up to us as a Community to uncover the truth and spread this truth worldwide!
If you or someone you know have children that are now wards of the state and/or government, we encourage you to share your story. If you are an underage youth caught up in this insane cycle of abuse and control..Please share your story..If you have friends in abusive situations..Please have them share their story. We here at steemit.com have caring people that that are willing to help you in anyway we can.
If you wish to donate in support of this project, please do so by sending your donations in the form of Steem, Steem Power and or SBD to @familyprotection
Show your support for @familyprotection, @markwhittam, and @canadian-coconut by visiting their blogs, leaving comments revelent to this most worthy cause, upvoting and resteeming as many of these posts as you feel drawn to do.
Before-using-the-familyprotection-tag-please-read-this
...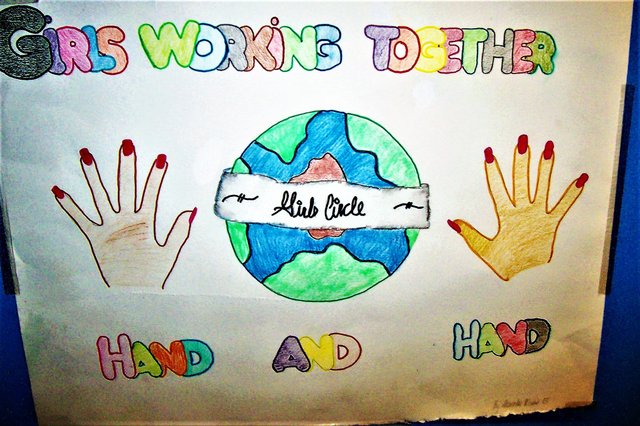 ..
"Girl's Circle" was created by here @thethreehugs on Steemit for the purpose of empowering females. 40% of the proceeds raised from this series of articles will be donated to @familyprotection in support of this more than worthy cause. 10% of the proceeds will be used as rewards for our writer's. This will be split between the "chosen articles" which will be featured in a new article after the payouts for each of #thethreehugs posts. Each week we will feature what we consider "the best" posts in our articles. All "worthy" posts in this category will be upvoted and resteemed by @thethreehugs. If you wish to write "female empowerment" articles, please tag your articles #girlscircle. When you are writing these articles please keep in mine that @thethreehugs stands for the joining together of mind, body and spirit.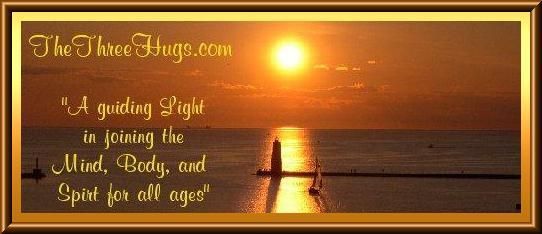 ...
MAHALO FOR YOUR SUPPORT!!
.