What Makes A "Good Dad" And "Bad Dad"?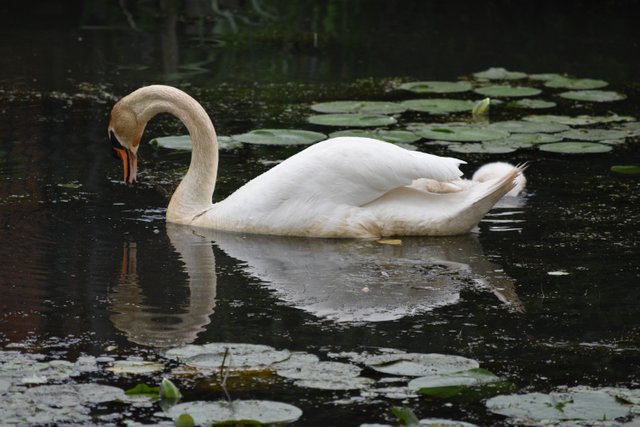 Father's Day is lurking around the corner and is being advertised on a daily basis. Posters of reminders are also everywhere. They're like - screaming; "Don't forget to buy a card or a gift!" It's been commercialized, too but what is not, these days?
Yesterday, I went on my usual stroll and having spotted this family of swans resting peacefully on the side of the road, I decided to take the route with my D Eye.
Despite the bike path being so busy with plenty of kids and parents alike walking or on their bikes, since they're observing a mini - 4 Day Walkathon, the couple rested on the very side of the road. I thought it was odd and curious enough, I went there to take a few shots.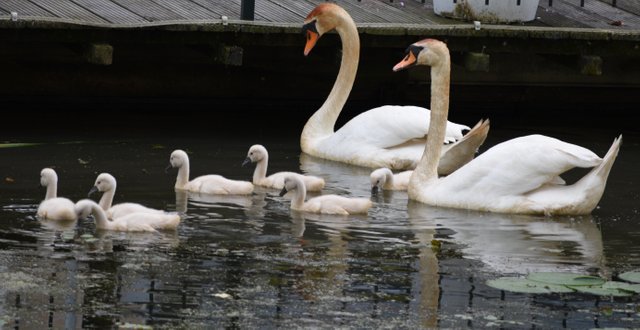 When I got there they were no longer on the grass, all of them were in the water being fed with bread and I eagerly watched. Dada swan was waddling excitedly in the water, being the tallest, he grabbed the bread with his beak and gobbled it all up. He's too big and tall, the cygnets, nor Mama swan got no chance for a bite.
; says that tiny voice in my head. How could he bully his seven cygnets over some bread? Of all three breads in the plastic bag, he must have swallowed one and a half and the rest were shared by Mama swan and his seven cygnets.

After the bread break, they headed for the middle of that mere and he sank his browned head into the water. It seems that he took some water plants from underneath and let his cygnets feast on them.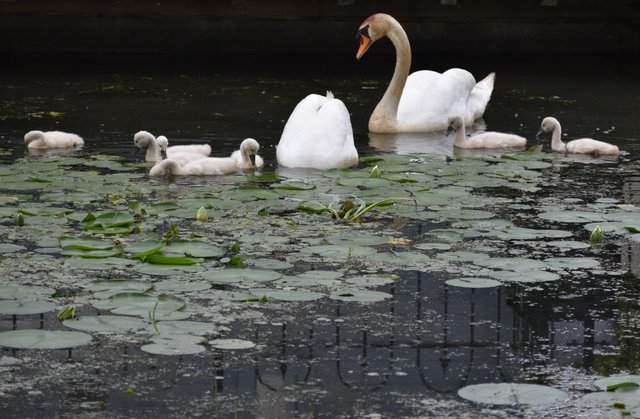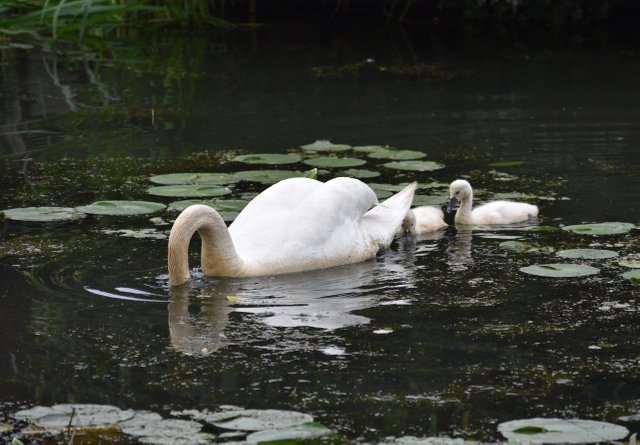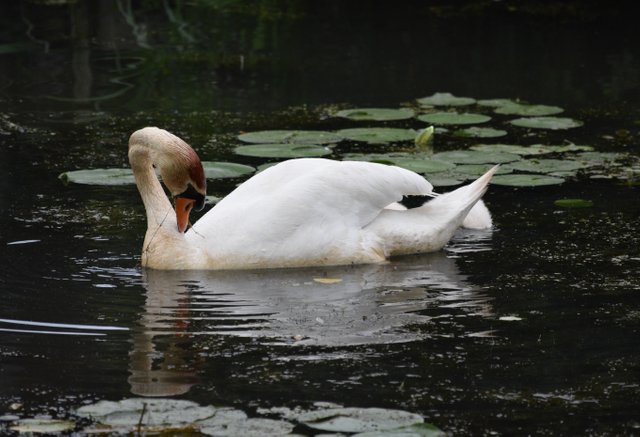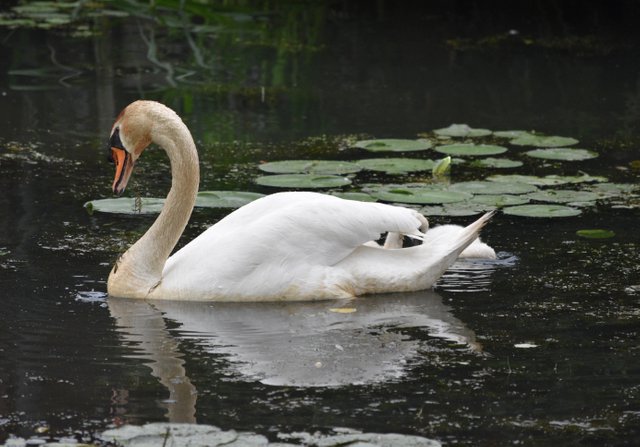 I saw some of the cygnets do the same meaning, they could already dive for their own food but Dada swan went on and every now and then he'd give it to one or two of his seven cygnets.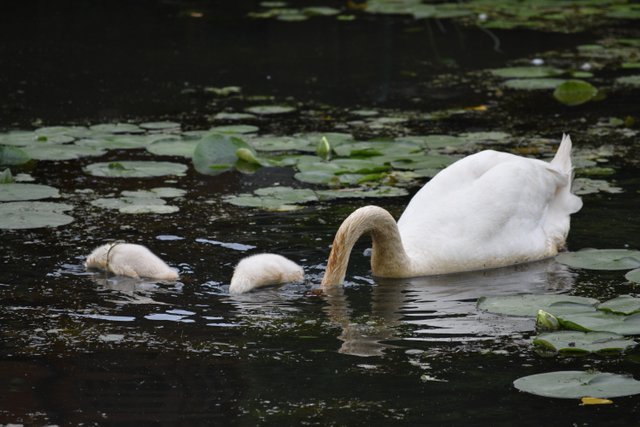 Waiting for them to get back on the grass seemed forever so I went on my stroll. On the way back, I saw them all on that road side again and I took more shots. The road was busier than ever, bikes after bikes and people on foot came after the other. I, on the other hand, slowly and carefully approached the resting party.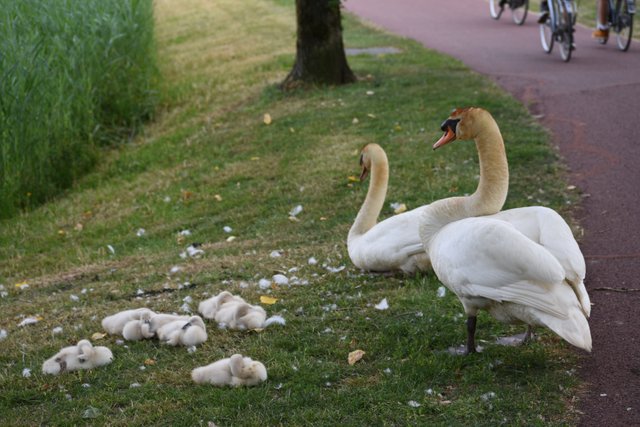 Dada swan would hiss and threaten to peck on each passerby on foot and on bike whenever they get near them. I had to call a little girl on a bike to take the grass instead, since she looked so tiny and was curiously really heading for the resting party. I don't think I would be able to rescue her if Dada swan goes on defense mode for his cygnets.
While he and Mama swan were busily drying up their feathers, he never missed to hiss at any passerby who'd come close enough to just near the edge of that bike path. His cygnets, lay there safely, oblivious of the danger of being snatched or run over. Dada swan is huge enough to fend away any nuisance who'd dare try, they went on their nap.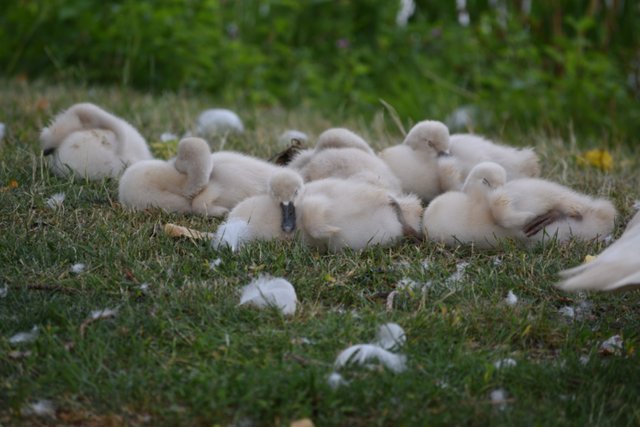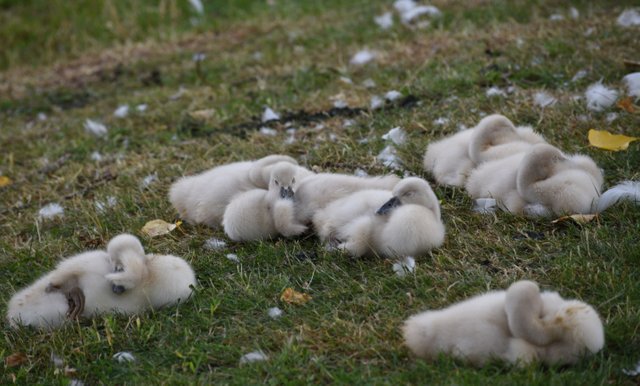 Though he didn't hiss at me for I have kept my distance, he kept his eye on me when I dare stood near to take a few shots. Perhaps he could sense, I mean no harm so he went on grooming his beautiful feathers.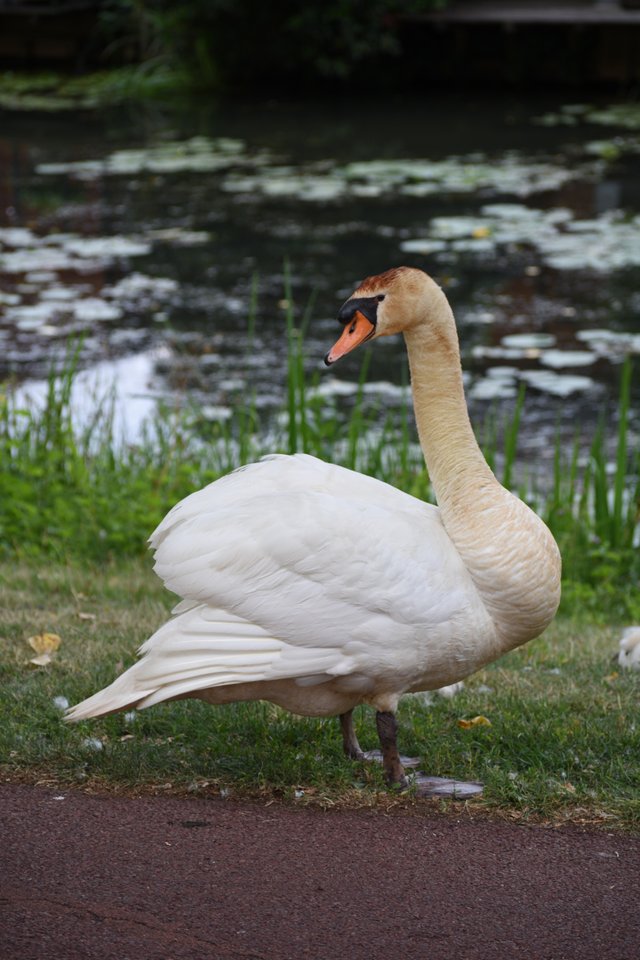 When I got home, I showed my pics to my husband who noticed how brown their heads are specially Dada swan. I actually thought they were just from a different species but then having seen him poke his head in that murky water, several times, I realized how much effort he's been doing to dive for food for the little ones at the same time fend anyone who'd attempt approaching them off.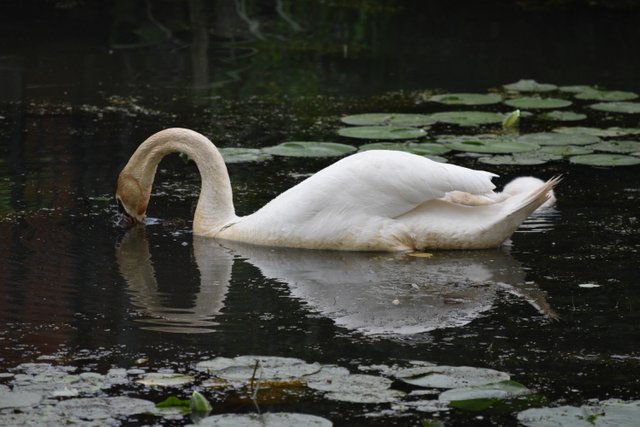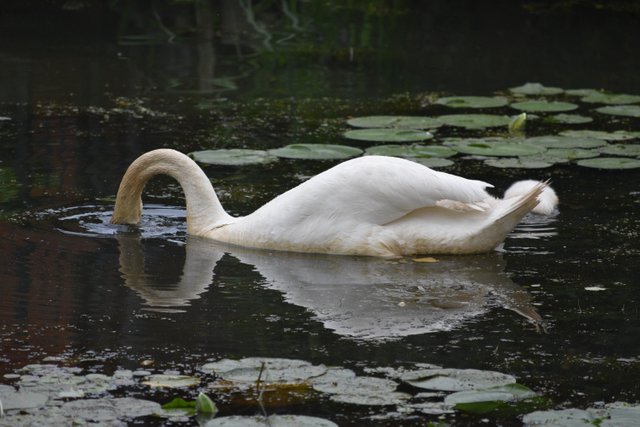 I can't imagine how much neck ache he must have to keep doing all that daily. After all, they were smaller than what they are now and seven cygnets to dive for food sounds a lot!
... I thought. That's when I realized, I judged him a "bad dad" earlier on because I was expecting him to do something he didn't. I thought of him a bully to his own cygnets not realizing how secure and clingy those tiny ones are, to both him and Mama swan.
I only thought he's a "good dad" when I finally saw him do what we humans expect dads to do. Am I the only one who thinks this way? I doubt it! I wonder how many would dare admit though.
I don't have children so I can't call my husband Dada nor greet him on Father's Day which is not a shortcoming for both of us because we are like so by choice but I have a dad and I have to admit that when I was young, I had exactly the same thoughts I had against Dada swan towards my dad specially when I was in my puberty.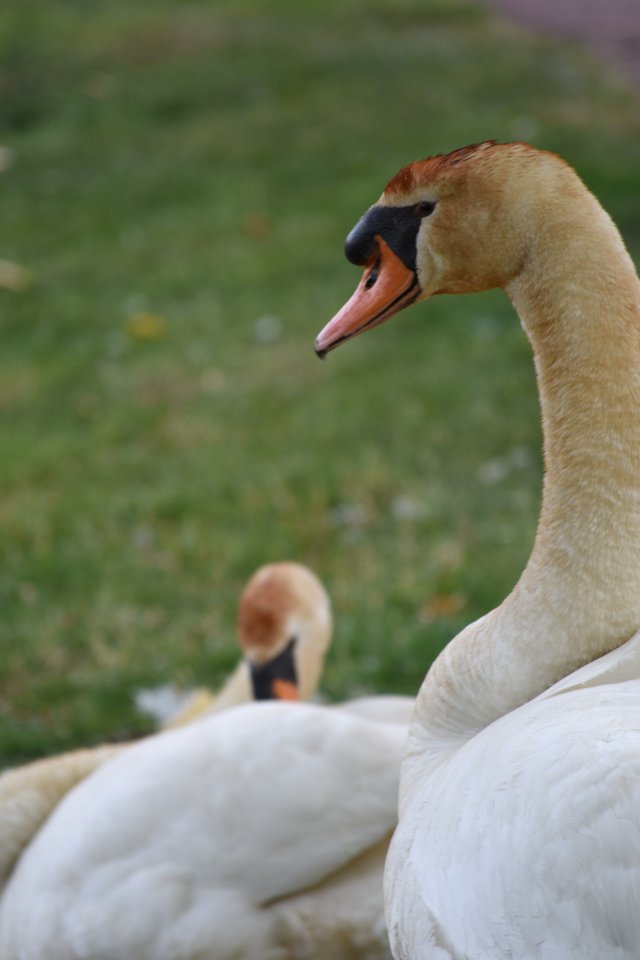 You a dad? Then perhaps you can answer my question, in your perspective, what makes a good dad and a bad dad? Is there such a thing as a bad dad or is it all just a matter of met and unmet expectations that defines one?
Not a dad but have or had one? In your opinion, what makes a "good dad" and "a bad dad"? Which one is your dad?
Btw, I used to write it on my social media, "Happy Father's Day to the GREAT Dads in the world"; but who knows who's a great dad and who's actually trying his best to be? So don't forget the date, 17th of this month ;)! It's still early so let me hold that greeting yet.

This content's 100% mine . I took the pics with my D Eye .. Right click on the pic to open it on a new tab.
---
---
**TIP :
ONLY Upvote POSTS THAT ARE 6 DAYS OLD below to earn yourself curation rewards.
---
---