#FeatureFriday challenge - "Father Time" - Open verse(s) for anyone to rap on! Be featured on an exclusive Steemit mixtape!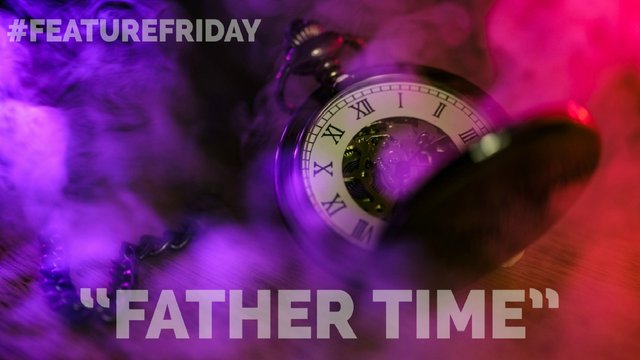 What is #FeatureFriday? It is a weekly Hiphop song that has an open verse for anyone who wants to write something and record on it. Every week I will be posting a new song with an open verse for anyone to participate if they want. This doesn't just have to be rappers, it could also be singers or whoever feels like they could do something with the open verse. Once there are enough songs made, I will be releasing a "weSteem" mixtape (working title).
So yea, that's basically it. Drop a verse to a song every week and get featured on the mixtape. If not interested in participating, come through and listen to the verse(s) that I have put up or other people drop.
If you are interested
You don't need to make another post about it if you don't want to, BUT, you do need to post your verse here or in any of the other #FeatureFriday posts. Do not mess with the instrumental in any way and just spit in the open verse provided. Also, when you post it, make sure you post it an embedded format i.e. youtube or soundcloud. Thanks!
About this song
This is called "Father Time"... The idea is to BE Father Time. Write as if you are watching the history of man unfold before your eyes. I got this idea while I was making this instrumental, the same one that is being used for the song. The sample is from Ocarina of Time, a video game that I played as a child. I just felt this idea went really well with the instrumental, so I wrote a verse and now the rest is up to you guys!! Hope you enjoy!
Hope you enjoy!
Lyrics
I'm father time cousin of abbot divine
God's lavish design, Thread of life in the fabric of time
Tic-toccing on my tablet you'll find
A blank canvas, clean as soap and seemless
An artist paints it with his strokes of genius
I've seen species erased by the grim reaper
To amphibians sprouting limb features
Exctinct creatures, meteor rock collides
Dinosaurs, forever are fossilized
Mammals then shine, now the lands prime,
Primates stand up, giving way to mankind
then they grew up, now they are declaring laws
So many flaws, the questing for turf
Money invented, tainting the essence of worth
Put down the spears and went to war with muskets
It was like mankind, a force to fuck with
Are you a music creator or just love music?


Steem Music Alliance. Singers, producers, everything.