Cucumber Display Smart and Final San Diego #feedme Post
I buy cucumbers as part of my healthy diet and will eat one a week usually. This is the display at my local Smart and Final recently where I will get one of the long English variety.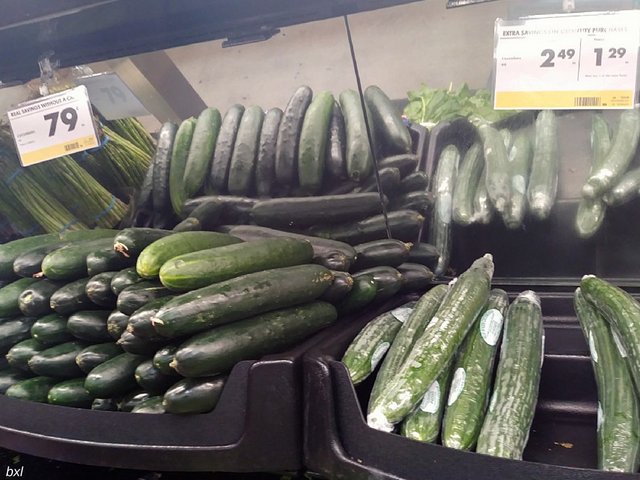 Cucumbers are an alkaline food which is said to be good for reducing inflammation. This benefit is high on my list since I have headaches and I am possibly in the early stages of Rheumatoid Arthritis like my mom, @fitinfun. They are also good for detox and have high water concentration that I am glad to have. I love the taste and use them on sandwiches and salad for the most part.
I am posting to the #feedme challenge by @oleg326756. I am already in on his #MinnowsFeed weekly challenge and now this is a new one. Go over and visit Oleg, and you can get in on this too.
More of my Healthy Food Posts on Steemit
If you add some of these things to your diet – you will perk up!
Healthy and Colorful Food
Organic Dates
Bananas
Oranges
Radishes Green Onions Cilantro
Purple Cabbage
More Purple Cabbage
Orange Peppers
Red and Green Peppers
Limes
Oatmeal
Pinto Beans
Raw Sunflower Seeds
Fresh Eggs from the Homestead of @mariannewest
Juice Bar
Healthy Juice
Black Beans
Onions
Cheese
Organic Black Beans
Add for Nutrition and Taste
Dulse Seaweed
Nutritional Yeast Flakes
Hemp Oil and Hemp Seeds
Raw Cacao
Turmeric
Spirulina
Sriracha Hot Chili Sauce
More Sriracha Hot Chili Sauce
Cumin Black Seed Oil
Chlorella
Vegan Milks
Miso and other healthy ingredients
Dried Oregano
Powdered Roots
COOKING
Healthy Vegan Dinner Easy Quick Delicious
Produce to Cook into Vegan Curry
Roasting Sunflower Seeds
Soaking Quinoa Before Cooking
Cooking Quinoa
The Saga of My Thai Food Vegan Meal
Whole Vegetables to add to my Thai food
Chopped Veggies for Thai food
More ingredients
Sriracha Hot Chili Sauce
Opening Cans of Coconut Milk My Experience
Cooking Coconut Milk for Thai Curry
Spice Mix for Thai Food
Milk and Curry Cooking Down Vegan Thai Food
Spiced Up Coconut Milk and Veggies Mixed for Curry
Thai Food Bubbling on the Stove
Not food but excellent for everyone!
Food Storage Organization
My Refrigerator Food Storage Organization
My Dry Food Storage Organization
Supplies and Spices Storage Organization
How do you feel about cucumbers? Are they part of your diet as well? Please let me know in the comments :)