SLAY QUEEN - Concluding part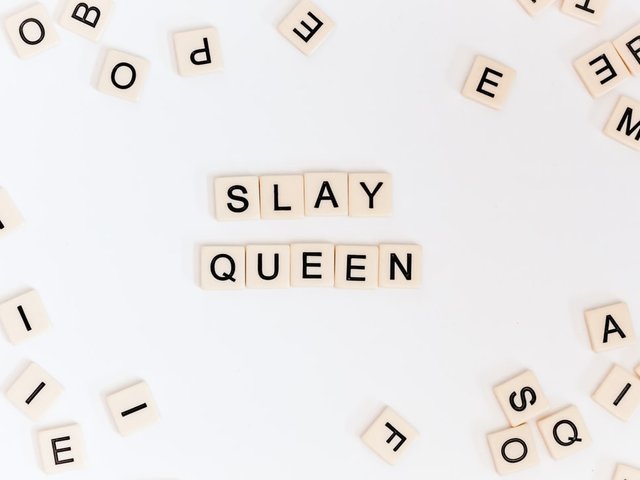 source
"Look who we have here." Daina remarked. Adeola's refusal to hug her made her smirked. "You aren't looking bad." She faced Jude and proceeded to take his handshake.
"Okay. Let's all calm down, sit down and talk." Jude protested when he noticed the uneasiness in Adeola.
"I'll like a bottle of champagne please," Daina shouted. She checked around to confirm if any of the attedants heard her. "You look good, too." She looked at Adeola and gave her a wink.
Jude held his date's right hand to calm her down. He signaled to the woman on their way to their table to walk faster. Daina looked back and noticed she actually fastened her footsteps.
"Seriously?" Daina remarked. "So you didn't know you were suppose to walk fast?" She popped the champagne almost immediately as it landed on the table, poured some of its content into a glass cup and pushed it down her throat.
"The lady is the manager, you know? She's not just an attendant." Daina said. He faced Jude and observed his hands on her friend's. "You two are a thing now?
"You talk too much." Adeola replied. "What the hell are you doing here? And yes, we clicked."
"Easy, woman. I'm just here to have fun with your ex. You can enjoy the fat boy."
"Well, there is no difference between you two anyway. This fat fine man is mine now." Adeola hissed and took the bottle of champagne.
Daina took time to process what she really meant. She didn't want to jump into conclusion, so she popped the question.
"What do you mean by there's no difference between us?" She stood up.
"Relax!" Tunde said, "she's just jealous." He stood up too and tried to calm her down.
"Jealous?" Adeola laughed. I dumped you, remember?
"I actuall dumped you a long time ago." Tunde and Daina laughed this time. Tunde stopped when Jude gave him the "are you for real?" look.
"We are all adults here. Let's act as one." Jude said and signaled to another attendant to bring another bottle of champagne.
"How do you do that? You are just a customer. Don't act like you own the place." Daina said with a disgusting look.
"I'm sorry. Are you talking to me?" Jude asked.
"He actually owns this place." Tunde said. All eyes were on him immediately. Jude was pissed at his reply while Daina and Adeola looked surprised.
"When are you going to tell me that?" Adeola asked.
"Yes, when are you going to tell me you own a place like this?" Daina fired, too.
"That's not all woman. This fat boy is also your new boyfriend's boss."
"That's okay. Let's leave, Adeola." He stood up and faced the manager with a sign known to both of them. "We will meet tomorrow, Tunde."
"Going where?" Daina fired. "This isn't a real date, is it? She just came to represent me. I'm your real date and I'm here now."
It all became clear to Adeola. Her best friend rejected Jude because she thought he was broke. She held her hand, smiled at her and made to move. Daina watched on as both of them left the restaurant. Tunde followed suit few seconds later. She was about standing up when she felt the presence of someone beside her. It was Adeola.
"I've always wanted to tell you this; stop this life. It's meaningless and doesn't suit you. Be real, friend."
---
Three months later...
Daina was busy chatting with one of her boyfriends when a message popped up. It was from Adeola. She opened it quickly hoping to see an apology letter asking to be friends again. The message was short.
Jude asked the question and my answer was yes. We can still be friends if you want to. Come to my engagement party. I'll be glad to receive you.
She couldn't tell if she wanted to be friends or she wants to rub her perfect relationship on her face. She checked her Instagram page to confirm if it is true. Her relationship status had already been changed to engage and she could see the smile on her face as she flashes her ring on the first picture on her timeline. Jude even bought her car.
She closed the Instagram page, switched to WhatsApp and texted her sugar daddy. The only way she will win is to continue slaying. It's time she got a car, she concluded in her mind.