Enshroud (Mosaic Chronicles Book 8) Book Review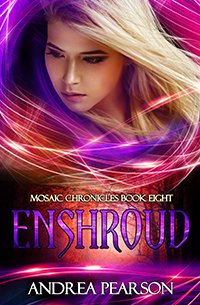 I have finished Enshroud Book 8 of the Mosaic Chronicles by Andrea Pearson, http://andreapearsonbooks.com
This installment starts with Nicole finding out that the talisman that she just risked her life for is a fake. Keitus is way ahead of them, he fooled Jacob's Time-seeing by using a 2-month loop, so the team has no idea where he is. On top of that, a Fire Pulser, a guardian who has been corrupted by Keitus, has taken over Shonlin and Nicole has to overcome her fears to save the magic items stored there. She must learn to fight.
Nicole goes back in time to find the instructions for building the necessary setting for the talismans to function which means finding the book in Keitus's castle when he was still a human king. During her time in the past she learns more of who Keitus was before he became the evil he is now and how he is related to certain team members.
I think the theme of this installment is Nicole coming into her own, working independently gaining new skills to overcome obstacles. While growing into adulthood and making decisions for the greater good, the direction of her relationship with Austin becomes clearer.
The ending of this installment sets the table for the final book in the series. Not so much a cliffhanger as is a tolling bell for the end is coming and things don't look promising for the team. I am definitely looking forward to Book 9.
FAIR USE BOOK COVER PHOTO:
Copyright Disclaimer Under Section 107 of the Copyright Act 1976, allowance is made for "fair use" for purposes such as criticism, comment, news reporting, teaching, scholarship, and research. Fair use is a use permitted by copyright statute that might otherwise be infringing. Non-profit, educational or personal use tips the balance in favor of fair use.
Copyright 2018 @altportal