Chasing the Thrill of Fenn's Treasure (Fiction, Part 1)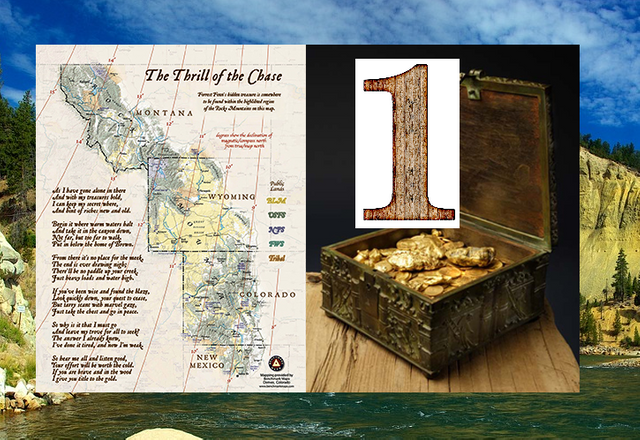 This is Part 1 of a work of fiction. Please check my blog for the next parts.
This could be the dumbest thing I've ever done, thought Brody Blanton. It was 7:30 a.m. and his ride would be here any minute. But he couldn't leave without having one last smoke. And a thunderstorm the night before had left the roof wet.
Late last night, Brody had vowed to quit smoking (again). Cold turkey was the only way to go, so he threw away his last pack of cigarettes to deprive his body of nicotine. It wouldn't be pretty. It never was. He had thrown his smokes onto the roof to let the rain take care of them.
Now here he was, the next morning, having climbed onto the second floor railing of his apartment building, hoisting himself up onto the wet roof. Where were his smokes? He knew they'd be soaked through by the rain, but if he could just light one up and take a drag before his ride arrived, he'd feel a lot better. Then he'd quit for sure on this trip.
Goodbye, Alabama
Brody's handsome Irish face squinted in the harsh morning sun. He wiped the dark hair from his forehead, smiling and taking a moment to enjoy the view from the roof. Beneath him spread a meadow that led to the swamp. In the distance behind his apartment building, he could see a small rise covered with scrubby trees. In a way, it was not all that different from where he was going next, but those similarities were superficial: it would be very different. He took a deep breath of air.
"Mr. Blanton, what are you doing on the roof?" shouted a woman down on the ground.
"Oh, hey, Mrs. Talbot," replied Brody. "I was just admiring the view one last time. Getting ready to leave."
"Well, don't slip up there. And remember to put the key in the mailbox when you leave."
"Aye Aye, Mrs. Talbot. And thank you."
But his landlady was already off in a huff. She would not be too upset to see him go, Brody guessed. He'd almost burned down his kitchen one time and had to pay for the repairs. Young men were nothing but trouble.
One last look across to the trees. "Goodbye, Alabama," he thought.
Here in the deep South, the morning air was still cool, but it would get oppressively hot and sweltering soon enough. By then, Brody would be at the airport and on a flight. And he'd trade these loblolly pines for pinyons, the switchgrass for sagebrush. Just as he'd traded his landscaping job for this chance to find gold.
His girlfriend had traded him for a former college quarterback-turned-real estate agent, so she'd saved him the trouble. Brody had to admit that losing her had made this decision easier. He was making a clean break with the past, heading into the great unknown.
Brody's mind flashed back to the present and he saw the pack of cigarettes on the roof, just a few feet away. Yes! The rain hadn't washed it down yet. Crawling hand in front of foot, he reached it, grabbing the wet pack of cigarettes just as his right foot slid out from under him.
"Damn it!" shouted Brody as his knee smashed into the hard tile roof.
He couldn't afford to get hurt. Brody had quit his job. He had sold or given away his stuff and vacated his apartment, all except for the large backpack and the cigarette lighter he had downstairs. He had spent most of his remaining savings buying the equipment he would need for backcountry hiking: good boots, a tent, sleeping bag, detailed maps, and other supplies.
Fenn's Poem and Challenge
Brody had gone "all in" on finding Forrest Fenn's legendary treasure. The eccentric millionaire had placed or buried it somewhere in the Rocky Mountains and had left several clues, which narrowed the search area only slightly. Brody was going to find that treasure. Everything he had was riding on the next few weeks and he needed to be able to hike. A busted knee would set him back.
As he had many times before, Brody recalled Forrest Fenn's poem, published in his book The Thrill of the Chase (One Horse Land & Cattle Ltd. Co. 2010). The poem was said to contain nine clues about the location of Fenn's treasure in the spot where he'd hid it in 2010:
As I have gone alone in there
And with my treasures bold,
I can keep my secret where,
And hint of riches new and old.
Begin it where warm waters halt
And take it in the canyon down,
Not far, but too far to walk.
Put in below the home of Brown.
From there it's no place for the meek,
The end is ever drawing nigh;
There'll be no paddle up your creek,
Just heavy loads and water high.
If you've been wise and found the blaze,
Look quickly down, your quest to cease,
But tarry scant with marvel gaze,
Just take the chest and go in peace.
So why is it that I must go
And leave my trove for all to seek?
The answers I already know,
I've done it tired, and now I'm weak.
So hear me all and listen good,
Your effort will be worth the cold.
If you are brave and in the wood
I give you title to the gold.
WWWH
Sliding back down to the railing, Brody limped to the bathroom. The knee hurt, but only at the cap, which meant it was probably a bruise. It would heal soon and he could walk on it for now. Brody took out the only cigarette from the pack that was still in one piece. It was soggy from the rain, bending and threatening to break in two.
Carefully, he squeezed the tip over the bathroom sink to remove some of the moisture without squeezing the ground tobacco out of its wet paper tube. Then he held the flame from his lighter underneath it. The flame sizzled and threatened to go out as the cigarette sputtered with drops of boiling water. He'd hold it as long as it took to dry out the cigarette so it would light. Then he'd smoke it and be off.
Seconds later, the thing was still sputtering and his finger was getting red hot on the lighter. Then it started to burn. He smelled tobacco; it was almost dry at the tip. Brody watched the tip of the cigarette, expecting it to catch at any moment.
"Damn it!" His exclamation was followed by the sound of a crack and then the sound of his phone ringing. The Uber driver must be here.
His lighter had dropped in the sink. Brody turned on the water to cool his burnt finger. In the stalemate between wanting a smoke and wanting to save his hand from burning, the hand finally won. Now he was dousing everything with water: cigarettes, lighter, and hands. Dang it, why was the tap water here always so warm?
A minute later, he had cleaned up his mess, locked up the apartment, and dropped the keys in the mailbox as instructed. He threw his pack into the back seat of the car, going in after it. The driver had his radio tuned to a classic rock station, which made Brody think briefly of WWWH, the music station in northern Alabama which shared that happy collection of letters with his next quest.
WWWH was not just the call sign of an Alabama radio station; those letters also stood for "where warm waters halt", believed to be the first clue in Forrest Fenn's poem about where he hid the legendary treasure. Taking a seat and greeting his driver, Brody closed the door on life as he had known it. It was time for a new start and he was blazing into the future.
This was Part 1 of a fictional story
Please check back later for the other parts. The picture above is a montage made by the author based on images from the Forest Fenn books Thrill of the Chase (One Horse Land & Cattle Co. 2010) and Too Far to Walk (same publisher 2013) and public domain material, including the border photo of the Yellowstone River. Here is a link to Fenn's book; I do not make any profit from recommending it. https://www.collectedworksbookstore.com/product/thrill-chase-forrest-fenn I simply thought the whole saga would provide an interesting background for this novel.