Out Of Time
With all the pain in the world weighing on her neck, Ade slowly lifted her head. First everything came as a jumble of haze and blur, then slowly, her vision cleared, fixing every object in its place; she was in a large building—in the middle of a barn, with the sight of hays piled up at a corner. A lantern was brightly burning at the far end, and tiny stars peeking through holes on the roof would let her know that it was night.
Her mind was a mess as she tried to remember how she ended up in here. She raised her hand to feel the metal chair upon which she was seated; she felt the strap that fastened her to the backrest. That was when memories began trickling in, with every single event leading right to this place. She remembered being struck with something really hard on the head—probably a gun or a crowbar—she remembered her daughter's screams fading away as she was pulled from her home into a waiting vehicle. She remembered this place, the chair, and the strap, and then she remembered the stab. Her shirt had been soaked warm with blood. She had been stabbed about five times, and left for dead. Somehow, she had lurched back from the dead in the darkest of moments, and was just wondering how she'd managed to survive. Something must've woken her up.
Beep.
The sound startled her, and she looked to her right, a device was fixed to the wooden wall, showing timing digits in a red glow, counting down. It dawned on her then that it was this beep which had yanked her away from her unconsciousness. Now the timer was counting down from 7:00 minutes. Her killers were sporty, she knew this from the reports she'd read during her briefing on the ways of the Owelle Cartel. They must've put a wager on her head. That's why they didn't tie her hands, just in case she woke up somehow. If she woke up and escaped, some folks in the gang would win money, if she died, some would lose money; savages.
The timer beeped again: 6:00.
"Shit! A bomb!" she whispered allowed as she began to hastily pull at the strap. It was tight and sticky—turned out to be a duct tape woven round her about six times, fastening her to the seat's backrest. She struggled to get her nails sunk into the duct tape to tear through it. It was tough.
Beep. 5:00
After much difficulty, she found the mouth of the duct tape and puled, unweaving it around her, slowly and painfully. She was sweating and panting heavily.
Beep.
The last bit of duct tape came off. And quickly, she jumped to her feet in a bid to run. But a piercing scream broke through her jaws as she wobbled and crashed to the ground. Her knees had been broken while she was out cold. A club lay smug on the floor beside her, as though telling her "hey bitchy cop, I fucked up ya legs, let's see you can make a run for it!"
Beep.
She whimpered, crawling as fast as she could towards the lantern. All through her pains and agony nothing else was on her mind, except Cherrie. She had promised her six years old daughter that they would move to Lagos by the end of June. She would quit being a cop and be much closer to her. Timi had died of cancer a year ago, making her a widow; it was just Cherrie and her now.
She had been placed on a tight drug case, and was investigating the Owelle Cartel. This cartel was involved with so many dramatic killings in the south east, and information was that they had made camp in Jos, and Ade was placed on the job, with Jones, her partner. This was supposed to be her last investigation, after which she would submit a resignation later. She had barely begun investigation when she got attacked by these folks. She was not too sure, but with the way she was set up in this place, being left with very little chance of survival; it had to be these people. And how did they find out that she was on the case when she had not even started?
Beep.
She reached for the lantern, guiding its rays around to sight a door; she found it still some meters ahead. She crawled on in haste, dragging her body against the sandy floor of the barn. She forged ahead, she had gotten used to the pain now, desperate to survive for no other person but her daughter. Her own parents had left her when she was a kid, and she was not going to let her daughter pass through the same hell that she did. She needed to be there for her, against all odds. Her tears were moistening the floor as she crawled on, clawing her way on.
Beep. Beep. Beep…
The countdown had begun counting down from 1:00 running towards the last second. She paced up, grunting and groaning as her bloodied shirt mixed with sweat and filth. She crawled on, sinking her fingers into the dirt, getting the dirt stuck in her nails. It was now or never.
Her right hand reached for the door and pulled. It yielded to her push. Cold air rushed in, sweeping dust onto her face. The stars still watched. The moon did, too. But there were no clouds tonight.
The device made its last beep. Time froze. Ade closed her eyes as her lips slowly parted to mumble her daughter's name.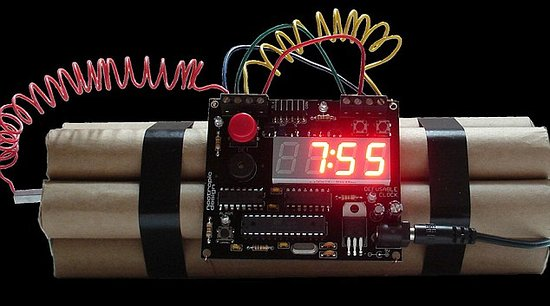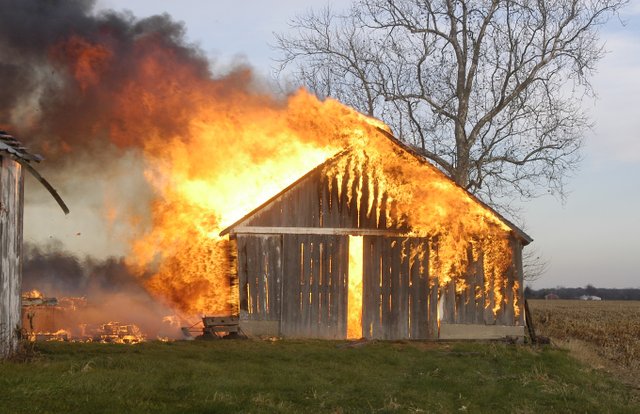 The End.
It's been a while, friends! How y'all doing? Just a piece of fiction to keep things alive here. Been quite busy!