Lost to the Sea -- Fifty word short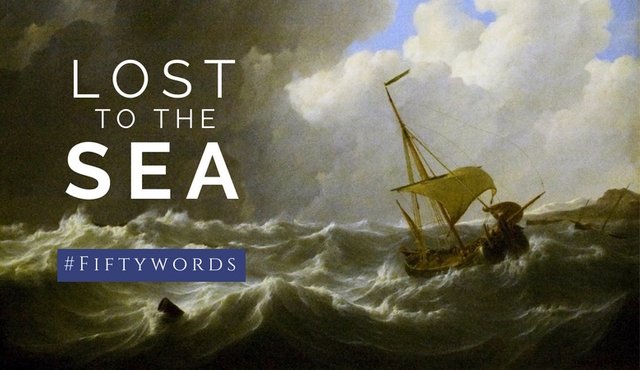 Public Domain painting by Dutch artist Johannes Christiaan Schotel. Original painting was modified by me.
---
Storm-strained sails threatened to break the mast. Olandir remained resolute. A surge knocked him to the deck.
Clouds rolled overhead, mirroring the darkness of the tossing sea where Rán eagerly spread her net below. Olandir reached out for the helm.
This attempt to round the cape would be his last.
---
---
This fifty word short story was written for @jayna's latest prompt: "break." I've enjoyed these writing exercises in the past and was exited for this one as I get back into a rhythm of posting on Steemit.
Why this is such a great exercise isn't because you can throw together a quick little fifty word vignette, hit post, and call it good. It's because making your original idea into the best fifty word short takes work. You cut words getting down to the core of what you're after and try to do more than paint a picture--you capture a pivotal moment. With this prompt, I instantly thought of a ship tossed in a storm and a mast snapping into splinters. But of course, a good story focuses on characterization, and I imagined the breaking going on in that sailor's spirit.
This version of the story is probably my fourth rendition. Maybe fifth? After a couple of live-edit sessions with @jasminearch, @anikekirsten, and @bex-dk I rewound the time-frame, restructured the narrative, and shifted through a couple of different emotional possibilities for the story. Along the way things got tighter, I had to cut a couple of words or a line I thought I really liked, but in the end--with some help--I think I found the best version.