Shoplifters... will steal your heart!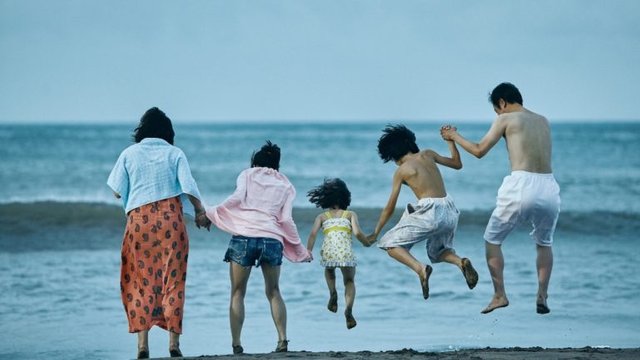 Family happiness must have something to do with being at a beach. Like Roma, which won the Best Foreign Language Film Oscar and handed its director Alfonso Cuaron the Best Director Oscar in 2018, the Shoplifters' family also enjoy being a family at a beach on its one of the key scenes.
Shoplifters, winner of the Palme d'Or at Cannes, was on my list last year, but I somehow put off watching it; probably because of its title evoking the memory of Bicycle Thieves, Vittorio de Sica's 1948 classic. If you haven't seen Bicycle Thieves yet, your loss – it is a real work of art. It is so touching, on the other hand, that I didn't want to torture myself again with a similar plot: A desperate poverty forcing you to steal…
Director: Hirokazu Koreeda
Genre(s): Drama, Crime
Runtime: 121 min
After one of their shoplifting sessions, Osamu and his son come across a little girl in the freezing cold. At first reluctant to shelter the girl, Osamu's wife agrees to take care of her after learning of the hardships she faces.Although the family is poor, barely making enough money to survive through petty crime, they seem to live happily together until an unforeseen incident reveals hidden secrets, testing the bonds that unite them.
I'm glad that I caught it on TV last night - it would almost be my loss not to see it!
Shoplifters has an equally touching but totally different plot.
First, it is not about poverty. It is about family.
I don't want to give out spoilers. Like the rest of us, you should be confused about who is related to whom.
Still, let me say that, giving birth doesn't make you a parent and not all parents give birth!
Love is beyond biology.
Wow, I've just read my last sentence, and... Are you thinking what I am thinking?
Yeah, the film might easily have been too sentimental. Fortunately, the powerful performances and a touch of humor elevate it to something much more complex and striking.
Shoplifters is also about values; but at the end, Hirokazu Kore-eda promises you more confusion about right and wrong.
The tiny details stick in your mind. In fact, I think it deserves a re-watch.
So, hope you give it a shot!