Seven Days of Scares: Day Four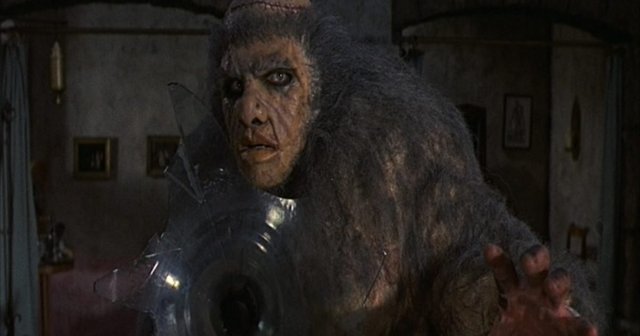 Frankenstein and the Monster from Hell (1974)
Directed by Terence Fisher. Starring Peter Cushing, Shane Briant, Madeline Smith, David Prowse, Patrick Troughton, John Stratton, Charles Lloyd-Pack, and Bernard Lee.
Dr Simon Helder is a big admirer of Dr Frankenstein and his experiments, even dabbling in his own. Helder hires a local undesirable to rob gravels so he might have material for his reanimation experiments, but when the bodysnatcher is caught he quickly gives Helder up. Helder is then convicted of sorcery, the same crime which first led Frankenstein to be imprisoned. Helder gets sent to a institution for the criminally insane.
It is there that Helder discovers the asylum physician is none other than Frankenstein himself, who not only faked his own death, but blackmailed the institutes director to give him the position. Helder is recruited by Frankenstein to help with rounds while he conducts other business, later Helder finds the doctor is up to his old tricks.
The film was actually made in 1972, but not released until 1974. It performed poorly at the box office, which has been attributed to the audience's changing taste in horror, moving away form gothic monster movies and into other sub-genres, such as the Slasher movie with Texas Chainsaw Massacre (1974) and the supernatural, as seen in The Exorcist (1973).
Frankenstein and the Monster from Hell was the seventh, and last, of Hammer's Frankenstein series, as well as the last film by Terence Fisher. Fisher made twenty-nine films for Hammer over the years, starting with The Last Page (1952), and continuing with the likes of The Curse of Frankenstein (1957), The Mummy (1959), Dracula: Prince of Darkness (1966), and The Devil Rides Out (1968).