My 1st DTube Upload: Blanc Noir: My Film Noir High School Video Production. State ATOM Award Winner, Best Secondary Drama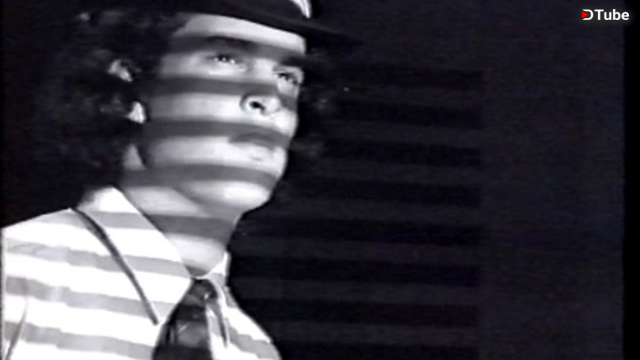 ---
Dear viewers,
After YouTube blocked my Film Noir short story a few days ago - supposedly for copyright infringement for my use of the Peter Gunn theme back in High School - I'm back with a DTube equivalent. Please find below the description from my original post.
I recently revamped an interest in my old video producing endeavours. I was quite in to film and television in high school. All of our work was shot and edited on Super-VHS.
With this piece, you're in for a treat. It was the culmination of our high school studies. We made a black and white spin on the Film Noir genre, complete with the Femme fatale character. The main character, Tracer Bullet, is a sexist throwback who gets away with many lines that he couldn't today. Admitting in the script that he was a 50's throwback allowed us some licence to get away with what we did.
The script, story, videography, editing, everything was our own work. The piece also provides an insight into Brisbane in the 90s. The old busses, the Ford taxis before they all went to hybrid imports. Even the old taxi driver who used to be a very interesting local to speak with. Today, I'm sure you'll agree, things couldn't be more different.
There were a number of locations used in this film, not bad for a few young guys who didn't even have a drivers licence yet. In fact one of the opening scenes was shot from a bus.
We shot at city hall, in drama sets at school and at a local tavern where the water martini was served. Great cooperation!
When you watch it, you may think of the Austin Powers trilogy, but please recall that our work predates those films. We did it first! The film was submitted to a state competition at the time. It was the ATOM awards - Australian Teachers Of Media. We won the category of best secondary school drama. There was an award ceremony at a large theater where we spoke on stage and accepted a trophy that I still have. Even better, our work was compiled in with other winners and actually played at an exclusive screening at a proper movie cinema in the city. We were among other exclusive invitees and watched our work up on the big screen. A real thrill.
How many film references can you spot in the piece? Spartacus is an obvious one but others are more subtle. I hope you enjoy it!
---
▶️ DTube
▶️ IPFS