Stock market news live updates: Stock futures rise as traders await Fed decision, Microsoft jumps after earnings
Stock futures opened slightly higher on Tuesday investors awaited another batch of corporate earnings results and the Federal Open Market Committee's (FOMC) January monetary policy decision.
S&P 500 futures traded higher by about 0.2% as the overnight session kicked off, holding near the index's all-time high. Contracts on both the Nasdaq and Dow also increased.
Late Tuesday, shares of heavily weighted tech stock Microsoft (MSFT) jumped after the company posted fiscal second quarter results that handily topped expectations, driven by accelerating growth in its key cloud and personal computing businesses. But other quarterly results failed to impress Wall Street: Shares of Starbucks (SBUX) fell in late trading after the company's quarterly comparable same-store sales growth declined more than expected due to lingering impacts of the pandemic.
Elsewhere, shares of GameStop (GME) surged by more than 40% higher in the after-hours session after closing higher by 93% earlier. The stock's market capitalization sailed to more than $10 billion as online traders clashed with Wall Street short-sellers yet again. Shares of other heavily shorted stocks including Express (EXPR) and Bed Bath & Beyond (BBBY) also soared in late trading.
Individual stocks aside, the major equity indexes were in a holding pattern on Tuesday as investors awaited more updates on fiscal stimulus out of Washington and the FOMC's latest monetary policy statement. The FOMC will release its statement at 2 p.m. ET on Wednesday, with Federal Reserve Chair Jerome Powell set to deliver a press conference shortly thereafter.
Many economists are expecting this month's FOMC meeting to be yet another buffer meeting eliciting virtually no policy changes, as officials wait to ascertain the strength of the economic recovery once the COVID-19 vaccine is widely distributed and the pandemic comes under control. Powell himself said during public remarks earlier this month that he currently sees the U.S. economy as "far from our goals," and added that the Fed was looking to "be careful not to exit too early."
"I think the key message coming out of tomorrow: It's far too early to talk about normalization from the Fed's perspective, really premature to talk about tapering, and Chair Powell should send a dovish message," Matthew Luzzetti, Deutsche Bank chief U.S. economist, told Yahoo Finance on Tuesday.
On the earnings front, companies including Boeing (BA), Facebook (FB), Apple (AAPL) and Tesla (TSLA) are set to report quarterly results on Wednesday.
6:02 p.m. ET Tuesday: Stock futures open higher
Here were the main moves in markets, as of 6:02 p.m. ET Tuesday:
S&P 500 futures (ES=F): 3,849.5, up 7 points or 0.18%

Dow futures (YM=F): 30,870.00, up 28 points or 0.09%

Nasdaq futures (NQ=F): 13,566.25, up 80.75 points or 0.6%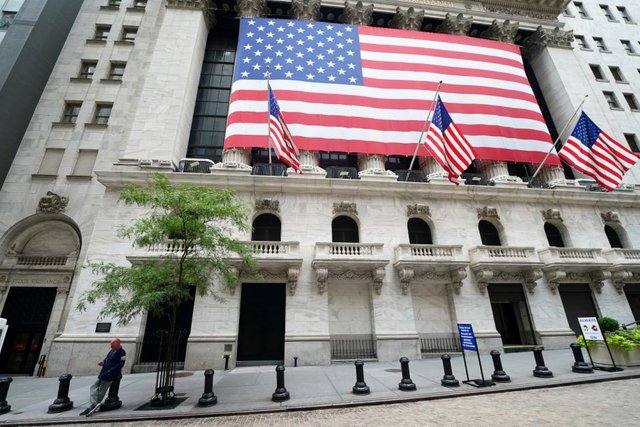 A trader stands outside the New York Stock Exchange in the financial district during the coronavirus disease (COVID-19) pandemic in the Manhattan borough of New York City, New York, U.S., September 9, 2020. Picture taken September 9, 2020. REUTERS/Carlo Allegri