Ultraviolet shoot with Sarah Vella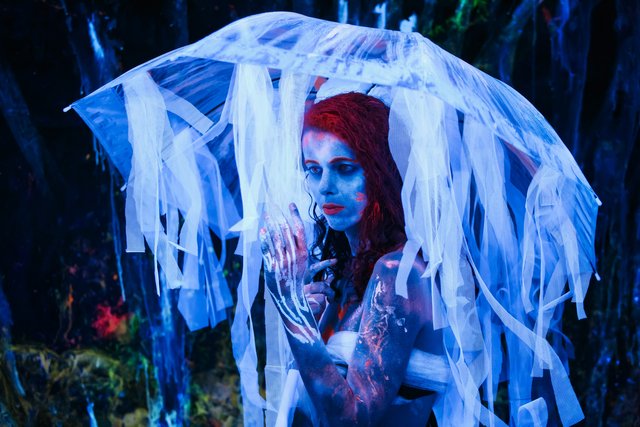 One of the next instalment in my UV/Blacklight photography project is with Sarah - A local Western Sydney based aspiring model that approached me during one of my casting calls. We decided to get very creative and experimental.
I wanted to play around a jellyfish concept which involved painting and decorating the model - Its an idea I've been developing for a while to shoot in the pool but also wanted to see how it'll look on land.
I started with transparent umbrella from Kmart which I painted with white UV acrylic paints then cut up some white netted fabric from Spot into streams for tentacles. I used a party ribbon cut out for the longer tentacles but only being paper based it won't be used in the water.
For airbrushing the model I haven't been able to source white UV bodypaint at the time of the shoot so I used the acrylic UV paint diluted in water to coat on the model. I then mixed it with other body paints to create some soft textures on the skin. As the white paint dried it started to crack which luckily worked for our concept. For the hair we used neon hair spray though needed some more to really stand out so switched to a neon wig halfway through the shoot. The lips we used Proaiir waterproof paints which later had to be dulled down as was a little too intense. Mixing a lot more water with the white UV paint and letting it drip down we were able to create more tentacle like textures on her body and legs.
The backdrop had a lot of dried paint from previous shoots which I recycle and further paint on to create a simple scene.
The lighting is via 2 approximately 65watt 365nm LED lights I been customising myself. They were supposed to be 100watts each but having ordered 100W LED drivers twice off Ebay and the first coming at 50watts and the second at 65watts when tested I decided to give up pursing trying to get correctly specified drivers . Its a major pain and bummer due to the high cost of 365nm rated LED's not running close to its rating. - I'll post my build when I get a chance.
I did get lucky on ebay though and picked up a 400watt UV cannon for $80AUD - These put out more UV light vs LED in cost comparison but are fairly large, fragile and take a while to warm up.
Shooting this project I used Canon 5DmIII and shifting between 70-200mm 2.8L, 100mm 2.8L Macro and 16-35mm f4L IS lenses.
Let me know what you think.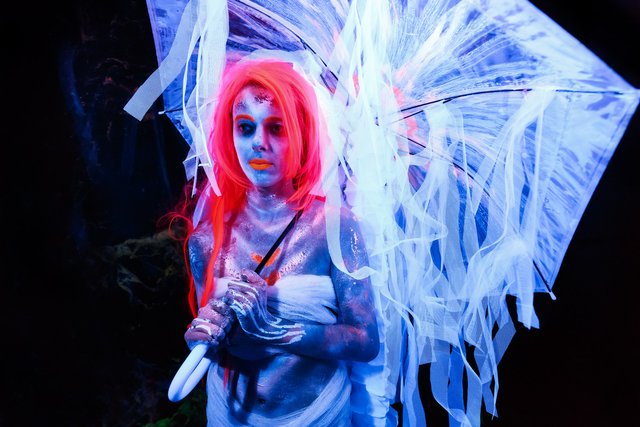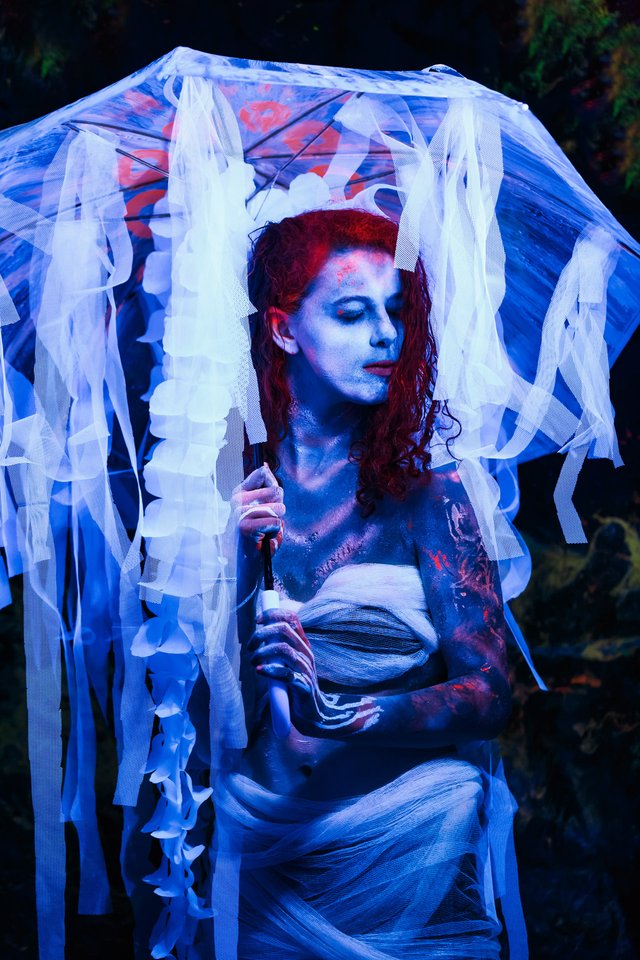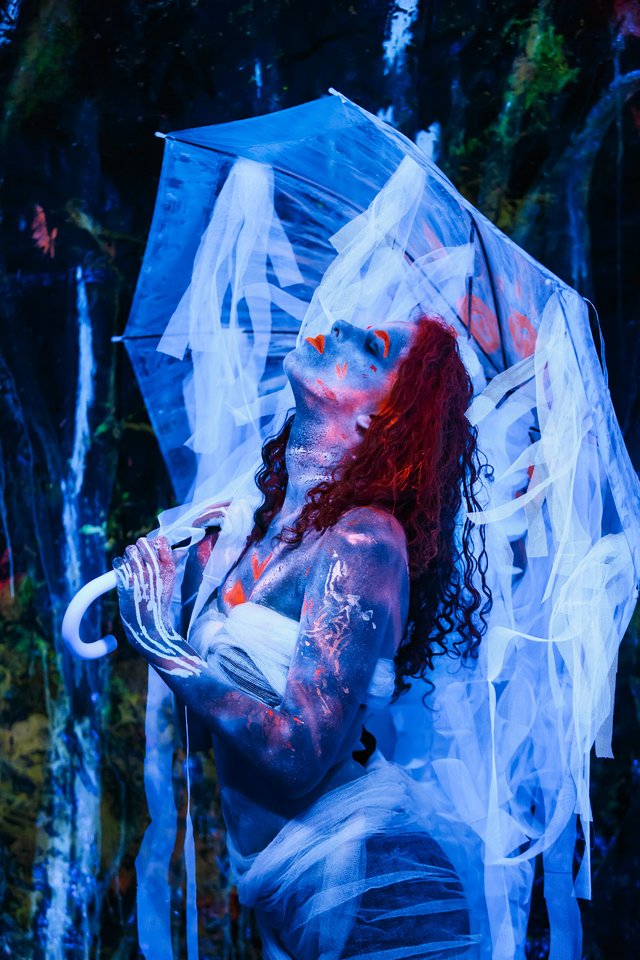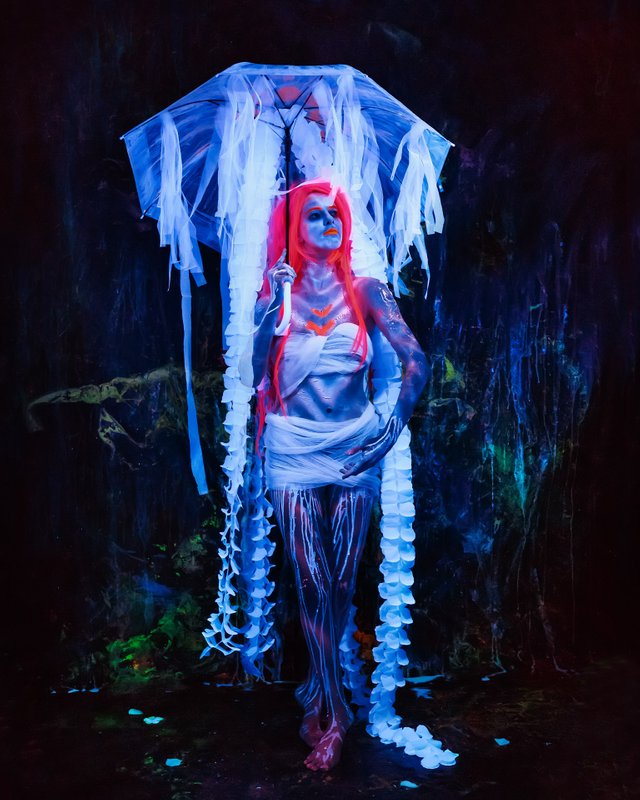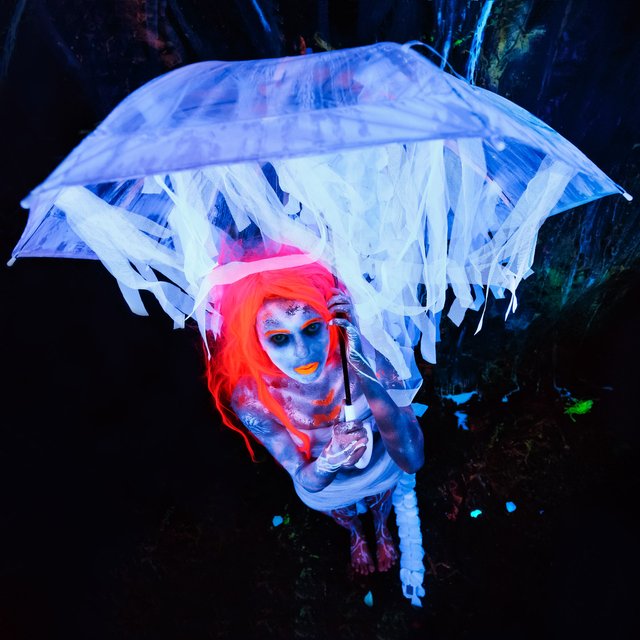 ---
These personal creative shoots are always self funded projects I do for the sake of creating some new art and challenging myself technically and creatively to improve as a photographer/artist. This doesn't come easy with all the burdens that come with trying to make an income in the creative industries so always appreciate the help, support and feedback from others. Always appreciate recommendations to potential commercial clients or sponsors to continue working in this industry and keep these creative projects alive.
Cheers Chris