Finish The Story Contest - Week #66!
A contest with a pot of 10 STEEM, 10 SBI & 1000 SNAX? You're in the right place!
317 @steembasicincome shares awarded till now, plus 22.558 SBD, 340 STEEM, & 11402 SNAX tokens through the contest in 65 weeks!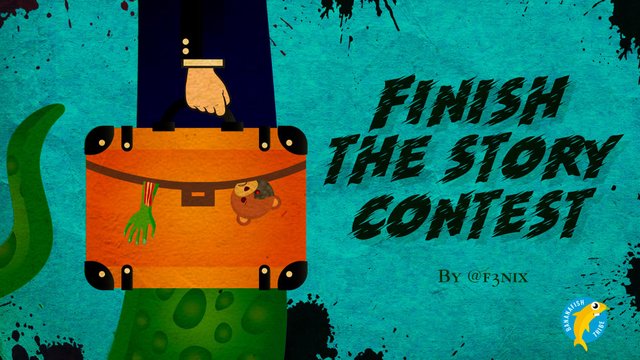 Welcome, voyagers of the fantastic crypto-powered never-ending-stream-of-amazingness, to our 66th Edition of the Finish The Story Contest! It's your pal, @Oivas, with the honor of taking the helm for this round. Last month was a bit of a rough one with most of our ardent community members finding themselves in the middle of the storm (eye of the storm, actually). But we are back. Hope you all are ready to cut loose to delve into a fantasy world where psionic talents are the norm, and exotic creatures roam free.
What treasures await within the mysterious depths of Drosselmeyer's trunk?
1st place: n. 5 STEEM & 500 SNAX tokens
2nd place: n. 3 STEEM & 300 SNAX tokens
3rd place: n. 2 STEEM & 200 SNAX tokens
(Please note there is a minimum of three votes to activate the popular vote reward so don't forget to vote for your favorite story!)
Thanks to @curie's generous funding, we reintroduced this reward! We are looking for an insightful curation comment. It doesn't have to be necessary long or flamboyant.
To receive your SNAX rewards, you'll need to have a SNAX wallet.
For those who like instructions with photos, here's a handy tutorial.

Map of the Bananafish Realms from a squirrelly perspective!
• Share the love and tell a friend about the contest!
• Join the Bananafish Realms discord chat for fresh updates and other amenities.
• Vote, vote, vote your favorite story in the comments below!
• Use the #finishthestory tag.
• Try to post your story as early possible and not at the last moment (or after the results! argh!) to give people chance to read yours before they vote
• Respect the dreadful 500 words limit! o_0
• Help our contest & workshop to grow by giving it some visibility and consider linking back to this post in your entry.
Good luck, brave storytellers!


The Spark
by @oivas
"Don't state the obvious," the human Colonel warned the iron sentinel.
"But I don't remember," a deep metallic din protested. Though called iron sentinels, these were state-of-the-art humanoids made of titanium-mercury alloy. They could withstand the blast of a thousand RDX and come out without a scratch.
"What was that?" Colonel Arlong had never witnessed a sentinel raise its voice, least of all, protest. A forty-ton humanoid towering fifteen feet over the Colonel in a dim-lit interrogation room was definitely not a foe that the Colonel expected to antagonise.
"Sorry, sir. I didn't mean to.."
"You didn't mean to what?" Arlong ensured that he maintained an upper-hand. The sentinels were smart AI and could sense human emotions from miles. If they ever sensed fear, then only the Almighty would have to intervene to save the human bosses from the sentinel's wrath. After all, these were created to exterminate humans; the enemies of the bosses.
The sentinel's blue lights, substituting for eyes, stayed focused on the colonel. They didn't blink. They never did. "I was about to fire, but the screams of the younger human brought back some memories."
"Memories? You have no memories. You have no consciousness. None of the sentinels have. All that you are made up of is a clock, gears and Radium-powered cells."
"I don't know. I was unable to open fire. It felt like my son," the C-10Z01 looked away. That was another unusual expression. Machines don't look away, and they don't have children.
"Alright, this has gone too far. We need to investigate your synapse," the Colonel got up, and so did the sentinel, " and you will not resist the link."
"What will happen?"
"That's none of your look-out C-10Z01," the Colonel was curt. "Take him out."
Two more sentinels walked in and grabbed C-10Z01. The machines walked out with loud dins and thuds following their moves.
The colonel lit his cigar, and even before he exhaled, words poured out, "what did we just witness?"
"I don't know, sir," Jennifer, the resident sentinel architect, responded.

Let's grow together!
The wise pectin-packed Bananafish wants all of its beloved people to benefit from rich upvotes. The more of us join the trail or delegate SP, the more our vote on your entries is worth.
Unity is strength, if you would like to contribute to the cause, click here to delegate 25 SP, 10 SP or find out here how to delegate an amount of your choosing!
Following the voting trail is an effortless way to make sure you always support the other participants to the Bananafish contests, automatically upvoting the posts (but not the comments) @bananafish upvotes. It only takes a few minutes to join, you can find all the instruction on how here. So check it out and make the most of your voting power while supporting your fellow bananites!
Let's raise a glass to @foffelius, @steelochlaver, @f3nix, @marcoriccardi, @anixio, @gwilberiol, @calluna, @ntowl, @dirge, @seesladen, @theironfelix, @letalis-laetitia, @vdux, @felixgarciap, @tristancarax, @khasa, @stever82, @brisby, @drazeus, @robinsonr810, @michaias who are already in the trail.

Join the fun! Here is how this contest works:
• An unfinished fiction story or a script is posted.
• You finish it with your own post (use the #finishthestory as your first tag) or a comment in the comment section. A limit of 500 words is recommended.
• WIN 10 STEEM, 10 @steembasicincome shares & 1000 SNAX to the writers with the best endings.
The submission deadline: Wednesday - November 6th, 2:00 AM EST (U.S. East Coast time zone). Results will be announced by Thursday - November 7th, at or before 7:00 AM EST (U.S. East Coast time zone). You may vote your favorite story until the results are out!

A special thanks to @gwilberiol, @dirge, @tristancarax, @theironfelix, @raj808, @brisby, @maverickinvictus, @cyemela, @marcoriccardi, @hidden84, @calluna, @oivas, @ntowl, @f3nix, @felt.buzz, @khasa and @vdux for their precious delegations, making this project a reality! If you like this contest..SPREAD THE GOSPEL! We're grateful for your resteeming and word of mouth. Everything helps to grow together!
GOOD LUCK, BRAVE STORYTELLERS!