Take a look at my tremendous conflagration
I have the extraordinary pleasure of enjoying what I do for a paycheck. I did make a post about it once, but in case you've just stumbled upon this I'll let you know that I am an Aircraft Rescue Firefighter.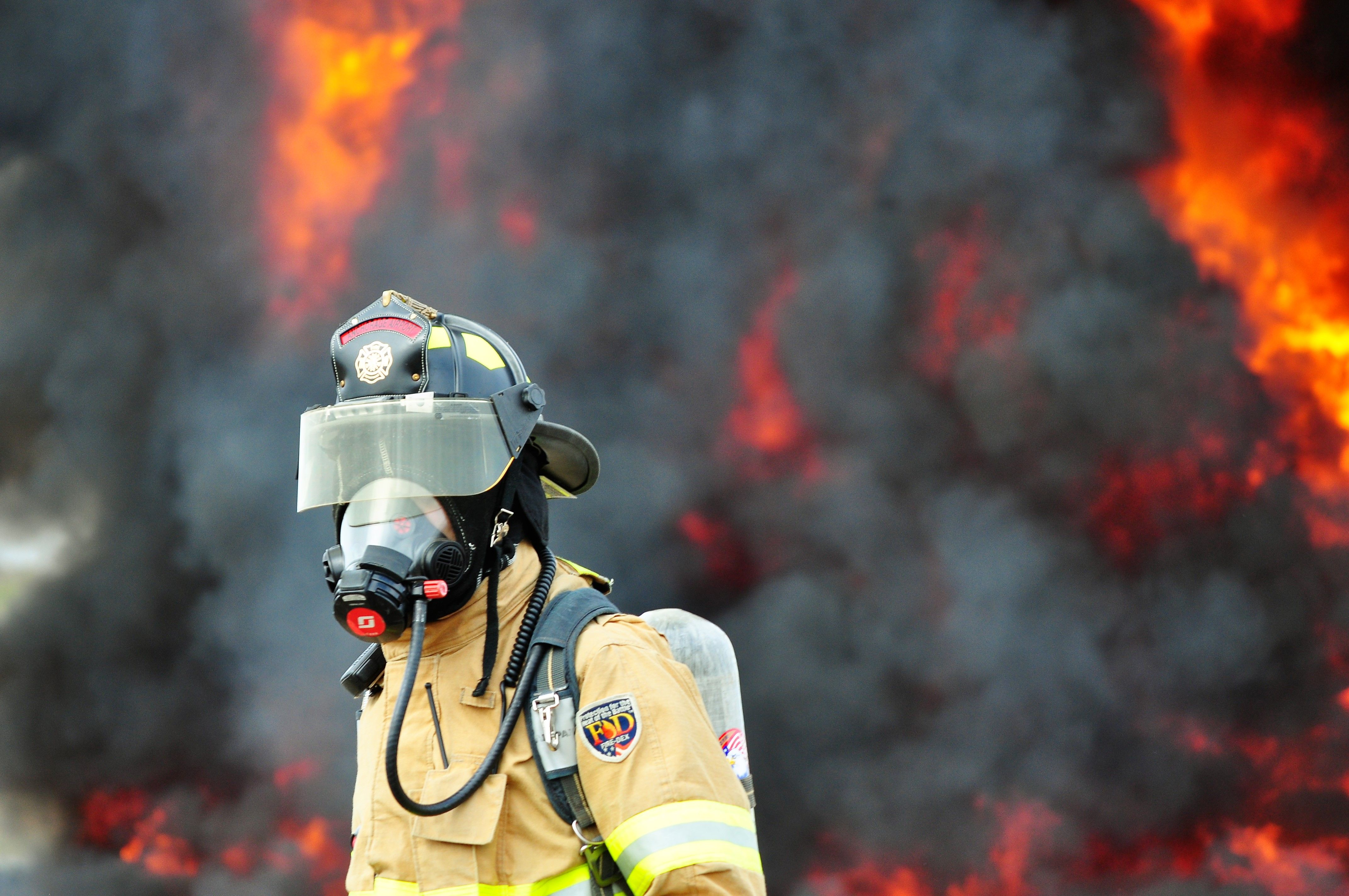 That's me with a towering inferno at my back like I just don't care.
The discipline of Aircraft Rescue and Firefighting involves a lot of training in order to keep our skills sharp. The aviation industry is very safe, so real world responses are infrequent. The only aircraft crashes I have responded to are General Aviation: relatively small aircraft like the popular Super Cub, some version of Cessna, or the larger Beaver. Our department serves the world's busiest seaplane base in addition to the International airport, so most crashes involve the private, civilian pilots who take-off and land there.
And when it comes to putting out fires, it's commonly airfield maintenance equipment that catches ablaze, not aircraft.
While most days pass by safely—or with only minor incidents—we remain vigilant, constantly aware of the potential to respond to "the big one" at any moment without warning. The plethora of Boeing 747 cargo aircraft flying through the airport can carry over 200,000 liters of fuel. The passenger 737 adds a large number of people possibly needing rescue to its 26,000 liters of fuel.
Those enormous amounts of fuel behave in unique ways and present unique challenges when it catches fire, so to prepare for this we set a massive fuel fire once a year to practice our techniques (also, the annual training fires are required by the FAA).
This year I was assigned to the ignition team: two firefighters who walk into the pit of 1,800 liters of diesel fuel to start the fire. I had not had this assignment in prior years since it's usually given to senior firefighters who are also instructors... which I suppose describes me nowadays.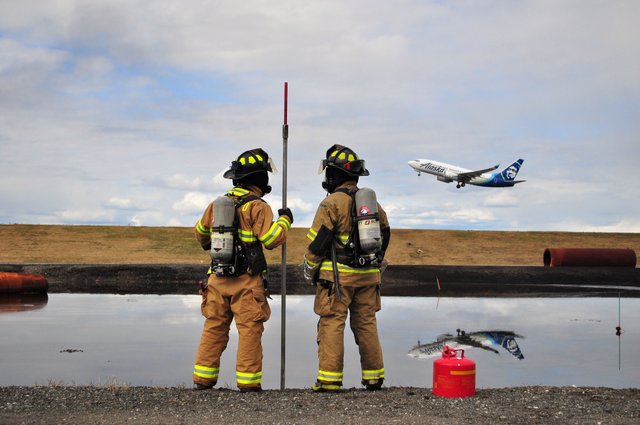 After a tanker pumps the diesel fuel into the pit through a pipe system the ignition team enters. One member has a tank of regular gasoline while the other follows with a torch rod. I make sure to give him some space, since our two items have quite a reaction with each other.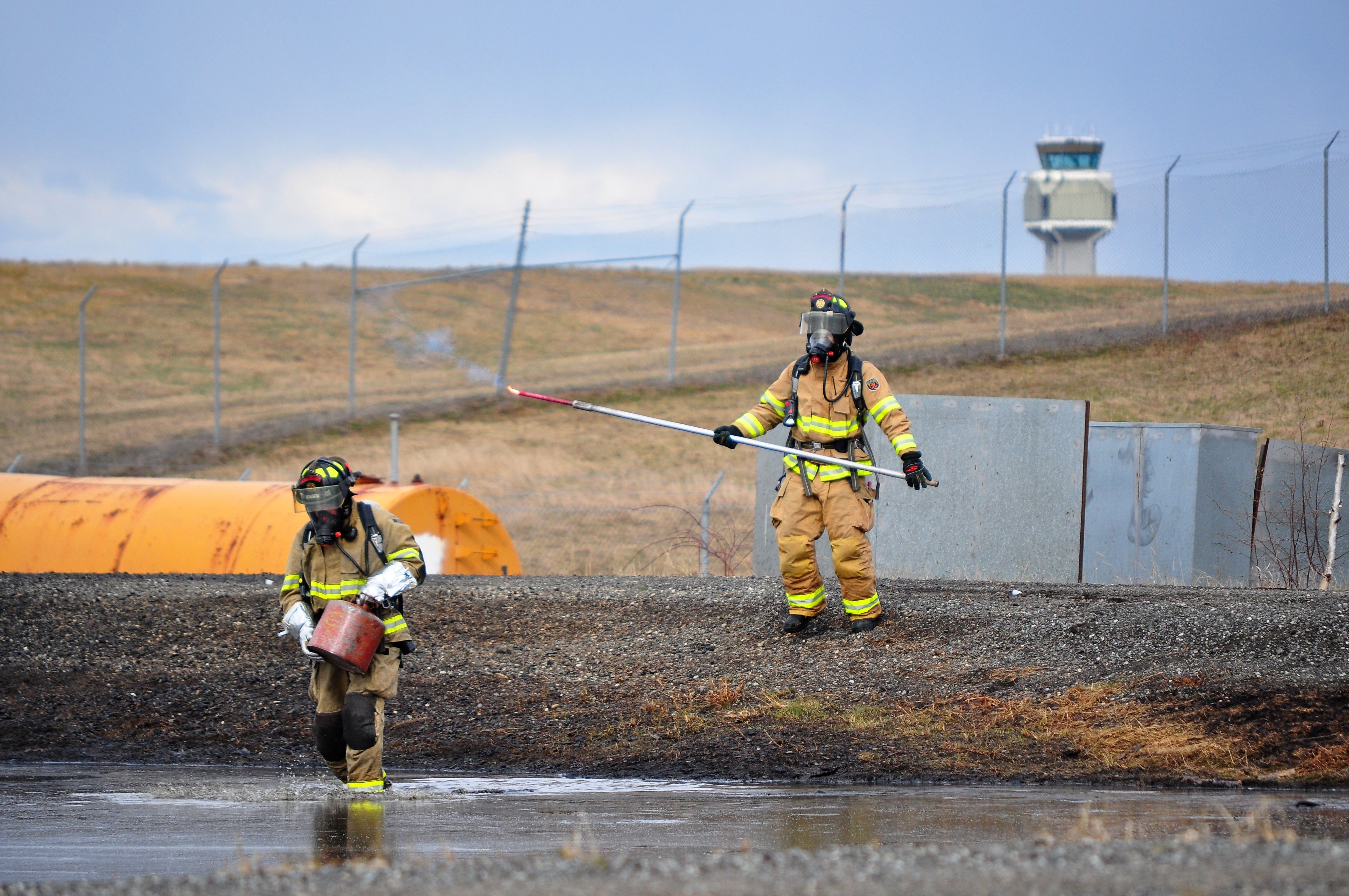 I'm the one with the flare at the end of a long stick. My tiny little flame is the seed for something much bigger.
So why does a guy carrying a can of gas walk into all that diesel followed by a guy holding a torch?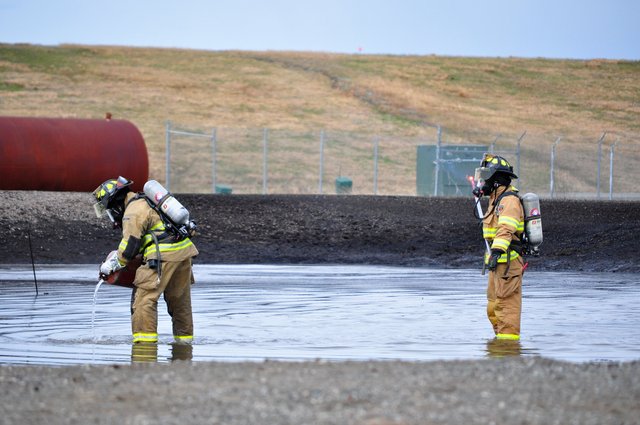 Gasoline and diesel fuel have very different flash points. The fumes of gasoline will ignite at a much lower temperature than diesel—any temperature found on our planet except for maybe Antarctica in the heart of winter. Diesel fumes on the other hand will not ignite unless they reach 126 °F (that's 52 °C for my brothers and sisters elsewhere in the world).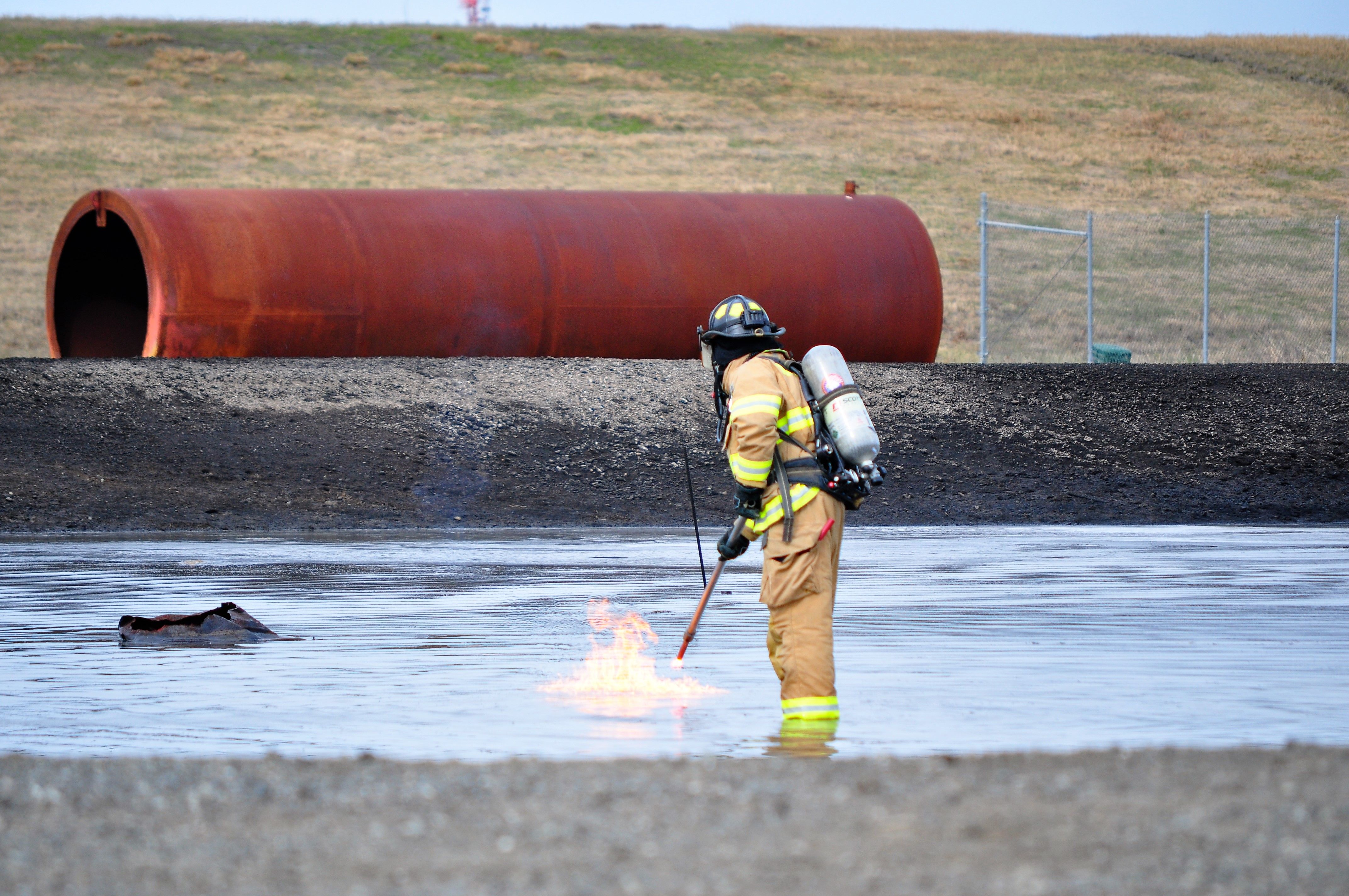 I could touch the surface of that diesel with my torch all I want, but it will not ignite since it's nowhere close to 126 degrees outside. My partner pours a small pool of gasoline, which I ignite easily with the flare.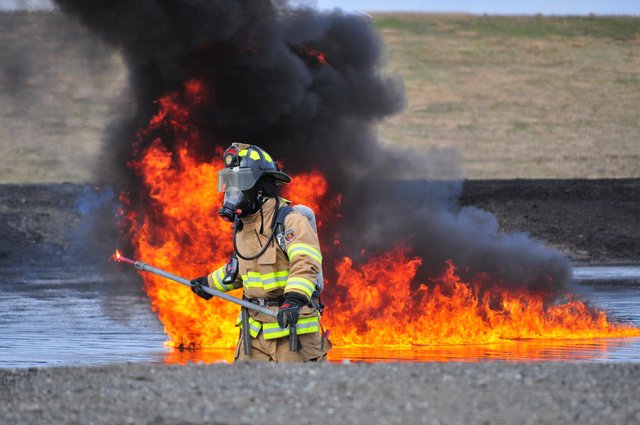 The burning gasoline raises the temperature of the diesel. When it reaches its flashpoint, the flame will spread over the diesel fuel, slowly creeping across the surface as it brings the temperature up.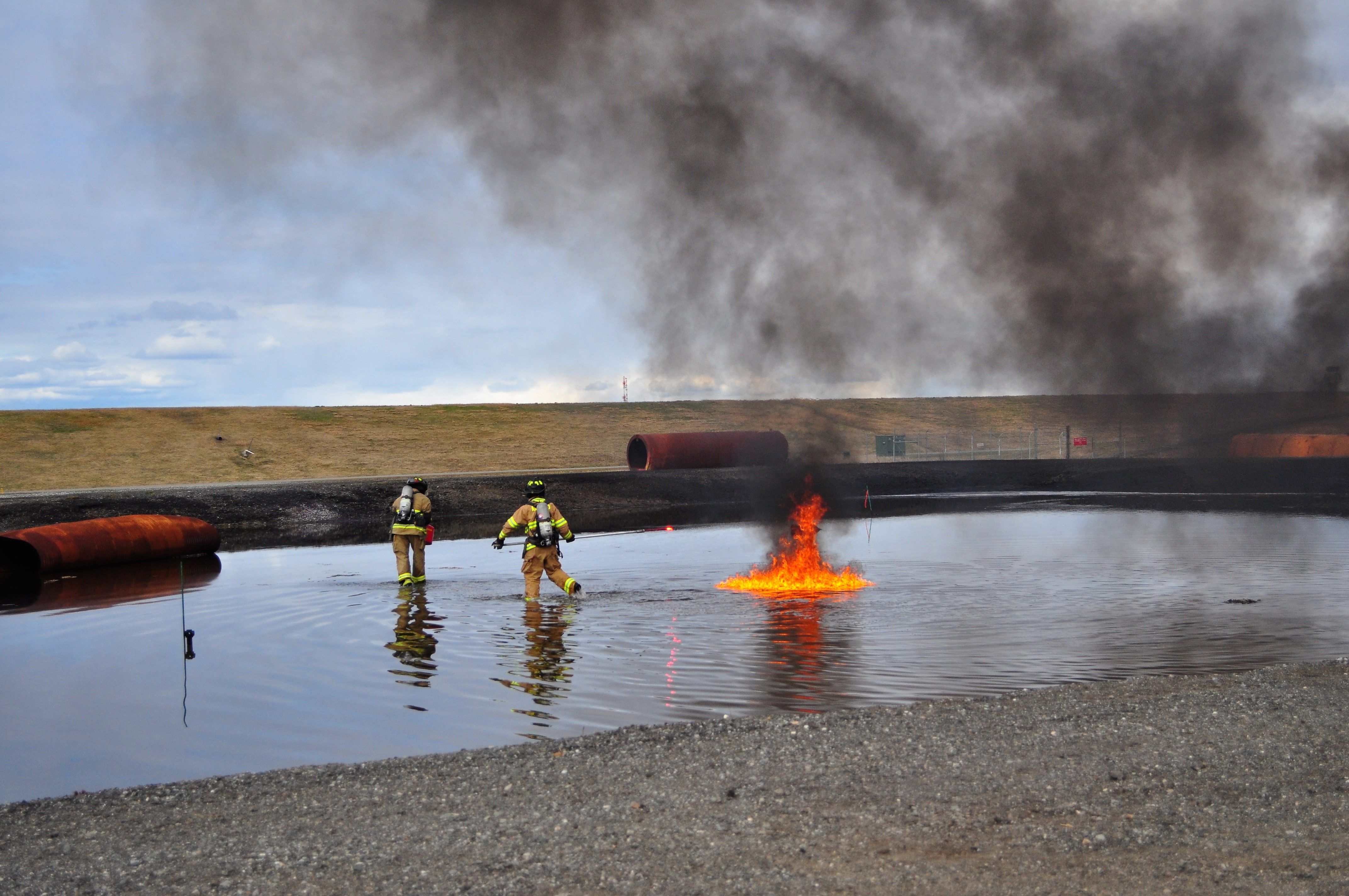 This doesn't happen too quickly, so we light one or two other small spots, adding more heat to encourage the diesel to reach that magic temp. Of course, once it gets going the blaze is on, so we don't waste our time in there either.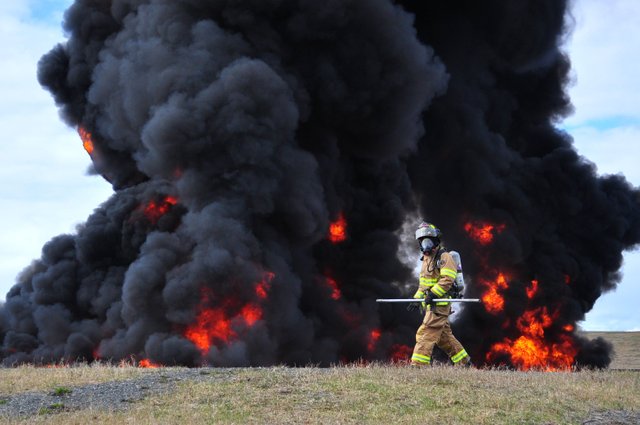 It's a challenge getting the timing right. The wind pushes the fuel across the surface, so when you're walking through the pit you need to read the wind and make decisions on where your starting spots will be in order to achieve the largest possible inferno. It's hard to not feel like there's a little bit of an art to it, and on this particular fire I had refined my methods.
I called for the ignition team to exit and the trucks began their response to quench the amazing beast I had built. It's amazing to stand next to this tower and feel the incredible heat. I could hear the fuel violently boiling like sizzling fat on a roasting pig. The smoke rolled high above me and the flames bloomed in and out of the black veil. Flames dance in smaller fires, but when an inferno is this large they move like churning waves.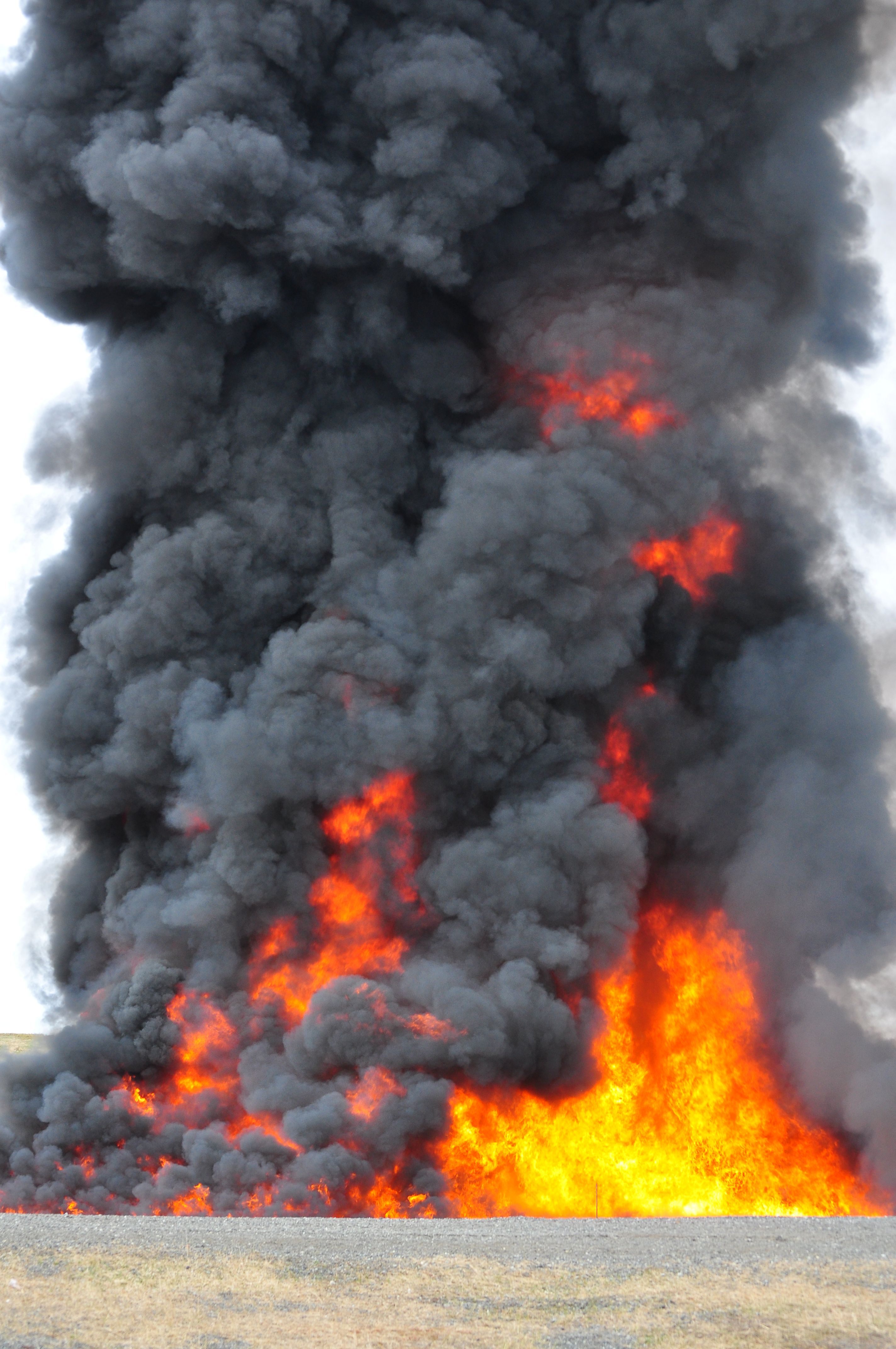 I built five fires that day. This was the biggest one.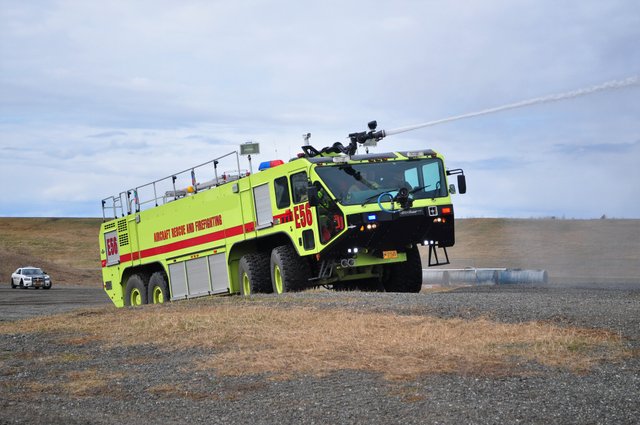 Two Oshkosh 4500 Strikers manned by my shift-mates arrived on the simulated scene. The 4500 represents the amount of water carried by the apparatus.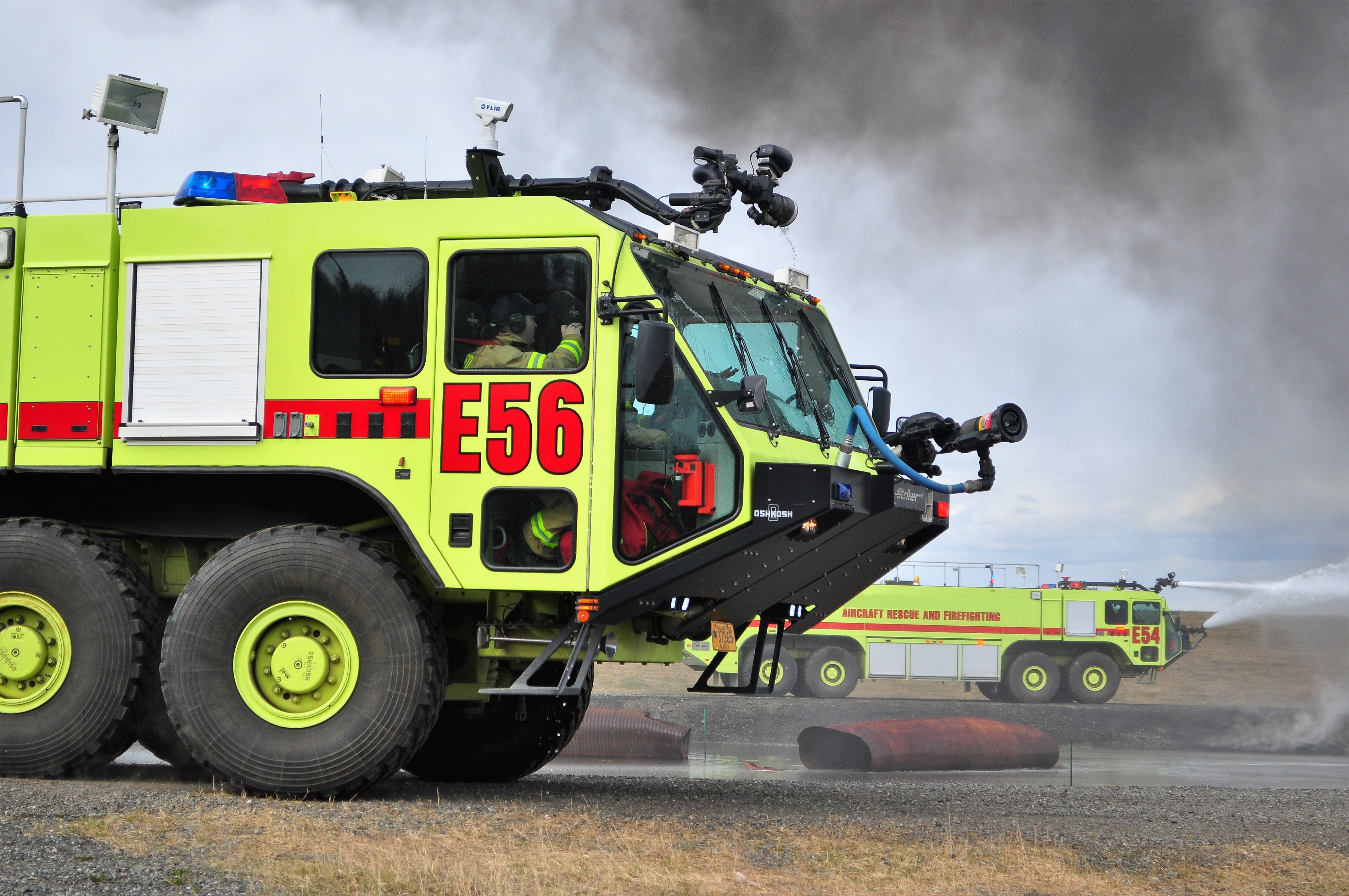 With a combined nine-thousand gallons of water it still took considerable effort to extinguish the fire. I smiled. Not just because I built an amazing fire that's beautiful and frightening at the same time, but because it was providing my coworkers with a great training experience.
The wind will commonly push the fuel to one end of the pit, making the fire smaller and easier to put out. This was the most dynamic fire of the day, and rather than the engine crews rolling up and it putting it out in a couple of minutes, this one put up a fight.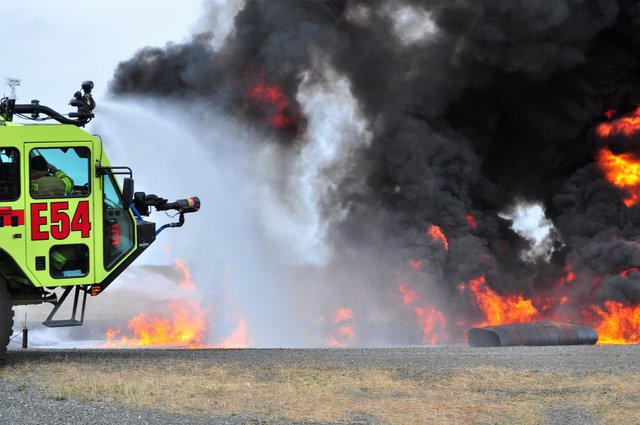 In a real emergency we would use a foam agent called AFFF which is exceedingly effective. But that would be too easy for training (and make lighting additional fires much more difficult), so for these fires we only use water which allows us to actually work the fire and learn from its behavior.
Another thing you might find interesting: each year we alternate fighting the fires with our apparatus turrets and walking in with hand carried hoselines.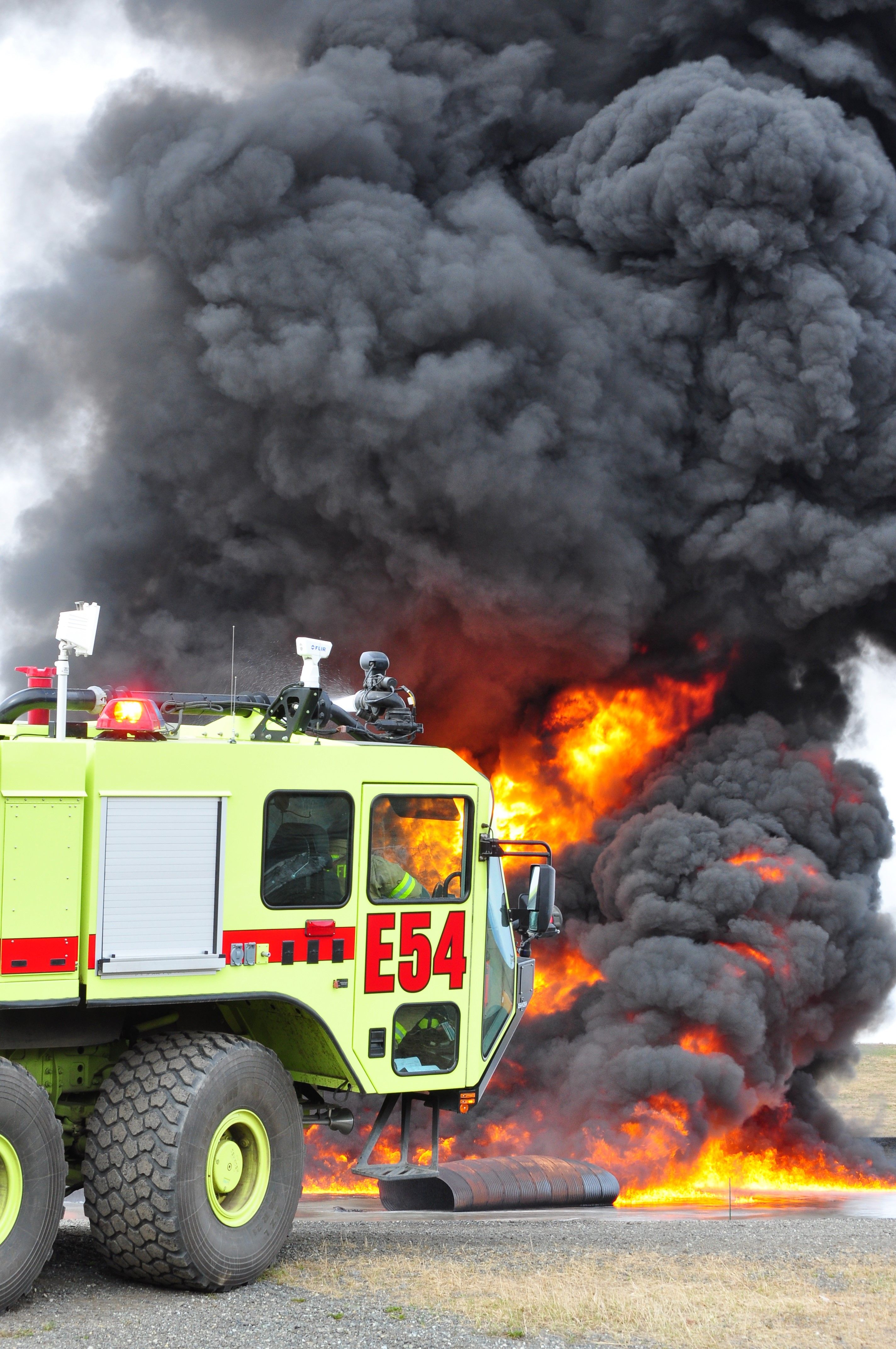 These apparatus are specifically designed for aircraft rescue firefighting, and you can see how they're an effective tool for the job. Typical fire engines hold much less water, as they function using an extensive network of fire hydrants—an endless water supply. Well, you can't put hydrants on an airfield, so we have to bring our water with us. These training fires are still a fraction of the potential size of blaze that can result from an aircraft emergency.
I hope you enjoyed these photos and the glimpse inside the type of training we do to prepare for one of the worst case scenarios we might have to deal with while on the job.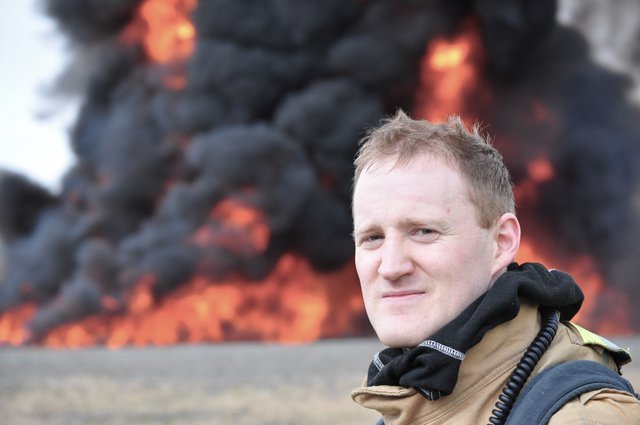 I couldn't pass up the chance to get a photo without my SCBA (Self Contained Breathing Apparatus) mask on. That's a special hair-style that can only be created by working with all that gear on and then ripping it off in dramatic fashion. No hair-product necessary.
---
---

I'd like to take a moment to mention The Writer's Block. If you're a writer looking to improve and get involved in a free network of peer editors, please click the image to the left. A bastion of fiction, non-fiction, and poetry, TWB is a wonderful community offering an abundance of opportunity and fun. Special thanks to @AnikeKirsten for offering her edits on this piece.