Stop Hurting Yourself!!
So I was at the gym today and I looked over to see another gym goer working out, and his workout pained me!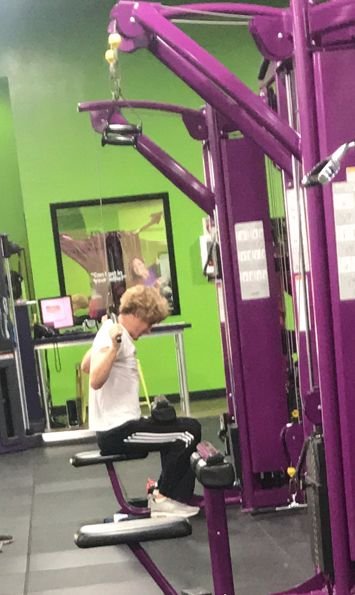 This is a picture of the workout he was doing.
DISCLAIMER: I am not in the medical field, I am not a trainer and this is just my advice from things I have read and my own personal experience.
Ok, now that we have that our of the way, this exercise is a variation of a Lat Pulldown. Lat pulldows are great back exercises and are probably one of the most used back exercises in the fitness industry, but this is the completely wrong way to do them and we are going to talk about why.
Notice in the picture that while being fairly level with this guys back, both of his elbows are behind his back. This is not a good thing for the long term health of his shoulders, and in fact I watched him rubbing his shoulders after he finished this set like he was in pain. Now from my research the reason this angle of the shoulders is bad is, because the rotator cuff is a very fragile joint. When you move your arms in a backwards angle like he is it pinches the nerves in your shoulders. This not only can cause pain right away, but it can lead to long term shoulder issues.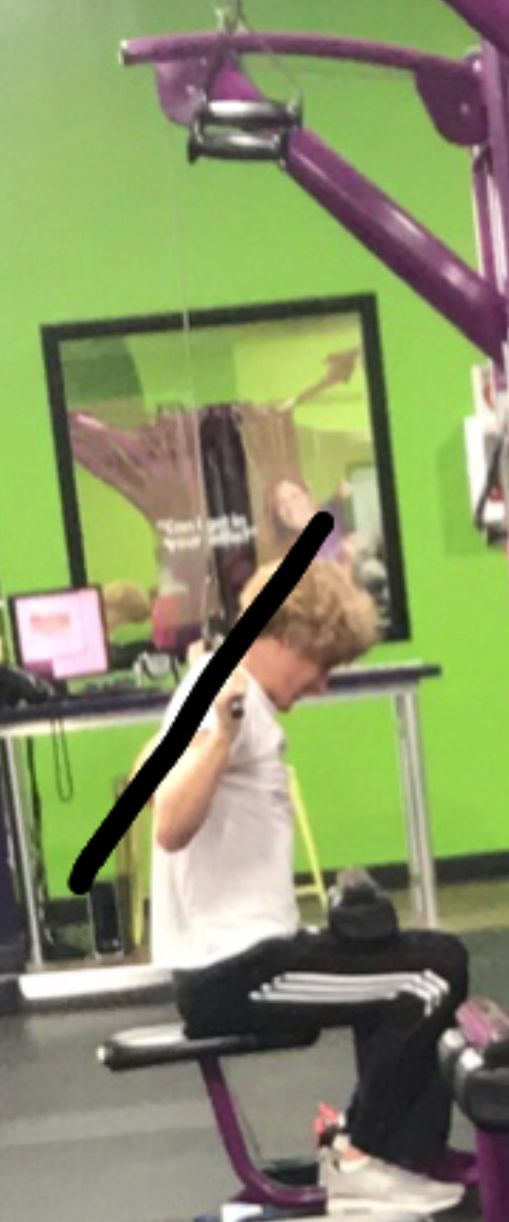 Alright, issue number 2. The line in the picture above is the line that his neck/spine is at. While working out you always want to try and keep your spine in a neutral and straight position. Any strain on your neck or spine can cause long term back problems or can cause serious back injuries. I had a friend recently that tweeked his neck working out and I has cause a lot of pain and thousands of dollars in medical bills. Having a healthy spine is one of the most important things in fitness. If you don't take care of your spine, you will constantly be in pain and will a hard time doing anything physical at all.
While Lat Pulldown's are great, please save yourself and don't do them like he is with the bar behind your head.
Below is a picture of the way you should do Lat Pulldown's.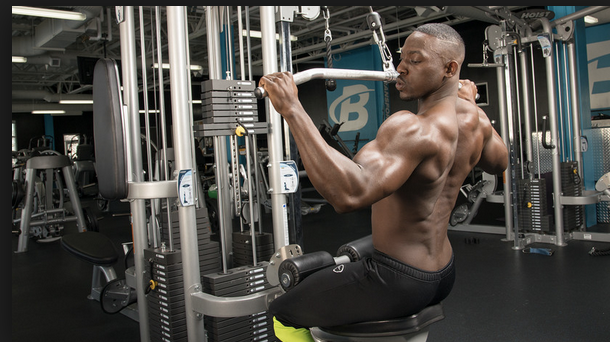 Notice how his elbows are in front of his body, his head and neck is in a neutral position, and his chest is up and out.
Keep your shoulders and back healthy!