The Benefits Of Taking A Spin Class: 7 Reasons To Try Spinning!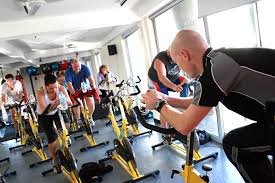 One of the most popular fitness classes around has to be Spinning. Spin classes are now offered at almost every fitness center and gyms around.
The advantages of doing a spin class can help you blast through body fat, give you better cardio, and much more.
Here are some of the benefits Spinning can give you.
1 - Better Cardiovascular Fitness
Spinning can improve your cardio by strengthening your lungs and heart. Having better cardio will allow you to pump blood that is oxygenated through the body faster. Ultimately, this will lead to better endurance and a increase in energy levels. This makes for longer and more intense workouts.
2 - Increased Fat Loss
An average spin class can have you blasting through many calories. This makes spinning a great option for weight loss. Doing just 2 spinning class per week on a consistent basis will have you on your way to losing weight.
3 - Easy On The Joints
Doing a spin class will place very little pressure on your joints. The smooth cycling motion protects your hips and knees from any impact. This lowers the risk of muscle sprains, muscle tears, joint pain, and joint injuries.
4 - High Energy Atmosphere
If you find that you are struggling to get motivated to workout, a spin class can help with that. The loud music, vibrant atmosphere, and encouragement from other spin class members, will create a high energy environment that will have you getting the most out of your workout.
5 - Risk Of Injury Is Low
As I mentioned before, spinning is easy on the joints and has the risk of injury in class very low. Being on a bike will give you stability and you won't have to worry about hurting yourself doing certain moves.
6 - Stronger Core and Legs
Spinning is more than just a great cardiovascular workout. It can also help strengthen the core and legs. Cycling with a large amount of tension or at a high intensity will engage all the muscles located in these areas.
7 - Great For All Levels
Anyone can enjoy spinning, regardless of their level of fitness. If you are a beginner you can go at your own pace and if you are more advanced, you can increase your tension and intensity.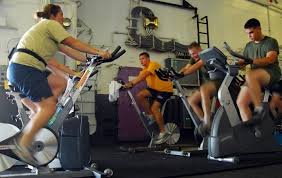 Final Thoughts
Spinning has many great health benefits that you can get.
So, go find a Spinning class near you and start enjoying these benefits today!
Do you spin? What are your thoughts on Spinning?
Leave a comment below!
My previous posts:
How Your Dog Can Help You Get Healthy
Do You Eat Quinoa? 8 Reasons Why You Should Be!
It's My 1 Year Anniversary On Steemit! Keep On Steeming On!
Written with StackEdit.