Oops, I forgot to write down my steps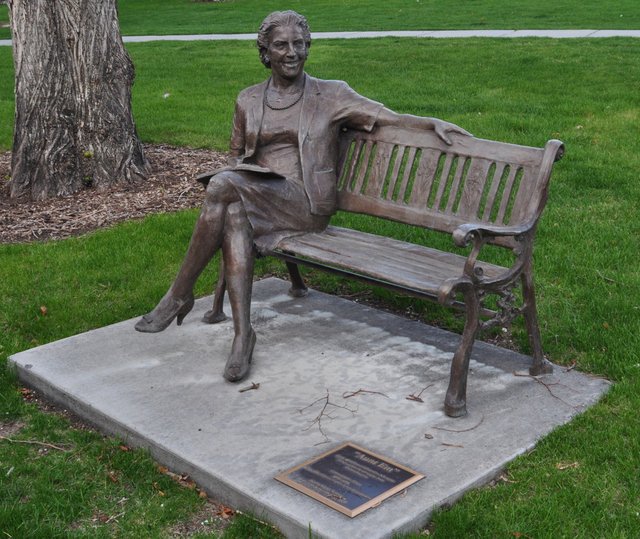 The picture at the top is the Aunt Em statue at Westminster University in Salt Lake City.
Ooops, I forgot to write down my steps for April 19. My step counter has a seven day memory. My plan was to write down my steps for the previous week every Monday. I was busy on April 26th. When I finally set down to record the steps on April 26th the counter had already clicked over.
I remember having 12,900 steps on the missing day. I was really sad that I missed reporting it.
A strange thing about my steps. When I am actually doing stuff, my steps fall short. The table shows the last 16 days. There are two days where my steps are below 10K. On both of those days, I was too busy running errands to do an uninterrupted walk. On the days that I was most active, my steps fell short.
What I am supposed to do? Stop being active so that I can achieve my activity goal? I don't think that is a good idea.
| Date | Steps |
| --- | --- |
| 2021-05-05 | 14,173 |
| 2021-05-04 | 10,444 |
| 2021-05-03 | 13,273 |
| 2021-05-02 | 9,523 |
| 2021-05-01 | 11,113 |
| 2021-04-30 | 10,001 |
| 2021-04-29 | 13,008 |
| 2021-04-28 | 13,034 |
| 2021-04-27 | 11,904 |
| 2021-04-26 | 11,831 |
| 2021-04-25 | 11,007 |
| 2021-04-24 | 9,241 |
| 2021-04-23 | 10,239 |
| 2021-04-22 | 12,804 |
| 2021-04-21 | 12,261 |
| 2021-04-20 | 12,869 |
| Total | 186,725 |
The picture below is a climbing wall at Westminster: