Pin the Flag on the Donkey Today!
Warning: This post has been spammed with NSFW content in the comments. To view this blog with moderated comments use STEEMPEAK.com: https://steempeak.com/flagthedonkey/@lyndsaybowes/pin-the-flag-on-the-donkey-today
There's a new mule in town folks and he's just dying to play. Known best as the Thought Police, little @beaniesanders has been reeking havoc upon his town for months. He began to hang around with Farmer Tim's Sheep too much and has now completed his Pinocchio type transformation, into a Donkey!
This ass is ripe for some Flags.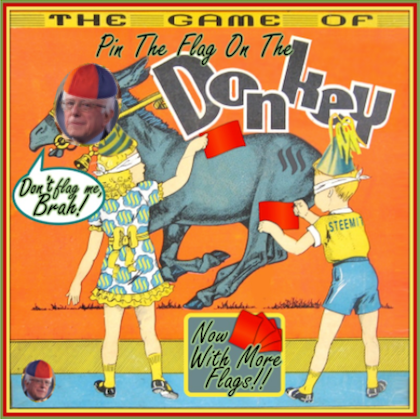 An evolving list of all @berniesanders alt accounts that he uses to flag/spam/harass Steemians:
@thesundaypaper
@surroundsound
@sandycrack
@tyroneburton
@duenorth
@lynnlewis
@normabates
@anaflowers
@mikemichaelson
@dudubrown
@catinabox
@moniquegardner
@moniquegardner
@hubertreyes327
@swipernoswiping
@rightneardabeach
@dullpencil
@colesmith
@coalforchristmas
@joycestewart
@michaelcookiii
@williecarter
@blankpaper
@shakenmartini
@judyscott2002
@wetandwild
@slipperyandwet
@lakeswimmer
@ralphgriffin
@papertowel
@ronaldthomas
@sandcrab
@ashleydiaz
@randyhill
@negativenelly
@staypositive
@kenyettachisholm
@oldgoldbug
@beckyjackson
@ionizer
@arthurdoyle
@pestcontrol
@emmacastillo
@stankass
@audreyreid
@kristavaldez
@billiehill
@adrienneriley
@randowhale
@rewardpoolrape
@cryptonewsone
@createschaos
@theghost
@sockpuppet
@steemittroll
@chatterbox
@theterrorist
@yougotflagged
@sativa
@nextgen1
@jacktheripper
@jeffreydahmer
@elchapo
@steemservices1
@steemservices5
@steemservices3
@indica
@charlesmanson
@nogalert
@lovesbutts
@beachcomberbrad
@bobburns1984
@fuckinridiculous
@runlikethewind
@robert.buttkiss
@ifeellikeacouch
@illegalalien
@nojobbob
@notthemama
@doggy.style
@cryptophobic
@cryptophobia
@looksoutawindow
@fidgetynerd48
@noturbabydaddy
@atalltree
@nivean
@fatdaddy12
@txdwk4
@w6gmwp
@ut8jjjzqwp
@tkpxdym8jp
@wgcqeef
@rzyfpre
@vhnpriz
@triscuit
@vacuumcleaner
@anon.traveler
@cyprus.slagel
@zachariahburki
@deadparrotband
@thebungle
@mcintoshapple
@sunny.wilmar
@azrunner13
@milagrojettxoxo
@levigamer
@sippycup
@crypto.jesus
@bottleofwater
@bigcrybaby
@jorge.gonzalez
@erikabishop72
@zekesmith
@dukewhistle
@ch405
@cl4w
@r34p3r
@thrareit
@smorr
@vilf
@thred
@alexeyandreevich
@repinyegorovich
@dengsong
@dingwuying
@zhuhuan
@luoping
@typicalwhiteguy
@schmoopie
@geraldbutler
@shebacard
@rolandehitchcock
@crisper
@sharonpeters
@norbit
@clairebutler
@couchcushion
@miguelmann
@reginawaters
@brownpaperbag
@nextgencrypto100
@nextgen10
@nextgen3
@nextgen2
@z8teyb289qav9z
@ngc
@thecyclist
@abusereports
@nextgencrypto
@ilovespam
@thedelegator
@randomthoughts
@rawdog
@engagement
@iflagtrash
@danknugs
@theyeti
@thesloth
@the.bot
@ozchartart
@bloom
@trailmaster
@shitpostnotify
@lyndsayblowes
@yourbotsucks
@kimjongpoo
@introduce.bot