Cornbread Chili Poke Bake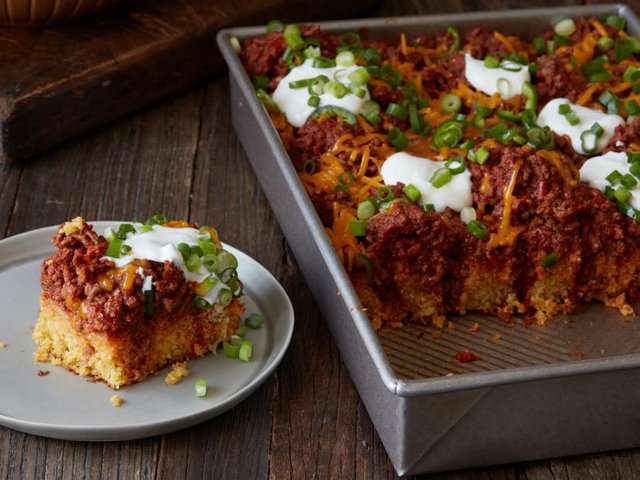 Level: Easy
Yield: 12 to 15 servings
Total: 1 hr
Active: 45 min
INGREDIENTS:-
CORNBREAD:
Nonstick cooking spray, for the baking dish
3 cups stone-ground cornmeal
1/4 cup sugar
1 tablespoon baking powder
1 tablespoon kosher salt
1 teaspoon baking soda
2 cups buttermilk
1 cup vegetable oil
4 large eggs
CHILI:
1 tablespoon vegetable oil
1 small yellow onion, grated
1 pound ground beef (80/20)
2 tablespoons chili powder
2 tablespoons tomato paste
1 tablespoon kosher salt
2 teaspoons chipotle chile powder
2 teaspoons ground cumin
One 28-ounce can crushed tomatoes
1 cup shredded Cheddar
1/2 cup sour cream
1 jalapeno, halved, seeded and thinly sliced
2 scallions, thinly sliced
DIRECTIONS:-
For the cornbread: Preheat the oven to 375 degrees F. Coat a 9-by-13-inch baking dish with cooking spray.

Whisk together the cornmeal, sugar, baking powder, salt and baking soda in a large bowl. Whisk the buttermilk, oil and eggs in a medium bowl. Fold the egg mixture into the cornmeal mixture until well combined. Pour into the prepared baking dish and bake until the edges are golden brown and the center bounces back when pressed with a finger, 25 to 30 minutes.

For the chili: Meanwhile, heat the oil in a large saucepan over medium-high heat. Add the onions and cook until slightly softened, about 5 minutes. Add the ground beef and cook until no longer pink, about 5 minutes. Add the chili powder, tomato paste, salt, chipotle powder and cumin and cook until the spices begin to fry. Add the tomatoes and bring to a boil. Reduce the heat to low and simmer until slightly thickened, about 20 minutes.

Once the cornbread is baked, use the handle of a large wooden spoon to poke 35 holes into the cornbread, making sure that the spoon goes all the way to the bottom of the baking dish.

Spoon the chili on top of the cornbread and spread evenly with the wooden spoon while pressing the chili into the holes. Top with the cheese, dollops of sour cream, jalapenos and scallions. Cut into 15 pieces and serve immediately.