Homemade veggie burgers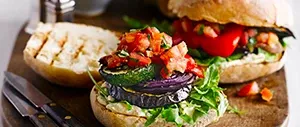 The idea behind these genius allotment vegetarian burgers is that you can grow many of the ingredients yourself, so adapt and add what you've got in your garden.
INGREDIENTS:
aubergine 1/2, sliced
courgette 1, sliced
red onion 1, sliced
red pepper 1, seeded and cut into 4 pieces
oil
thyme leaves 2 tsp
tomatoes 2, seeded and finely diced
basil 1/2 bunch, shredded
red wine vinegar 2 tsp
hummus 4 tbsp
ciabatta buns 4 small, toasted
rocket a handful
METHOD:
STEP 1
Heat the oven to 220C/200C/gas 7. Toss the aubergine, courgette, red onion and pepper with 1 tbsp oil, the thyme leaves and season. Tip onto a large baking sheet on one layer and roast for 15 minutes until softened and starting to char. Peel the skin off the pepper once roasted.
STEP 2
Toss the tomato with the basil and vinegar, and season.Add a tbsp of hummus to each bun base, then add some rocket. Pile up the roasted veg, then add the tomato salsa and the bun tops.
Hope you like the recipe...
STAY SAFE STAY CONNECTED.