Savory Corn Pudding Recipe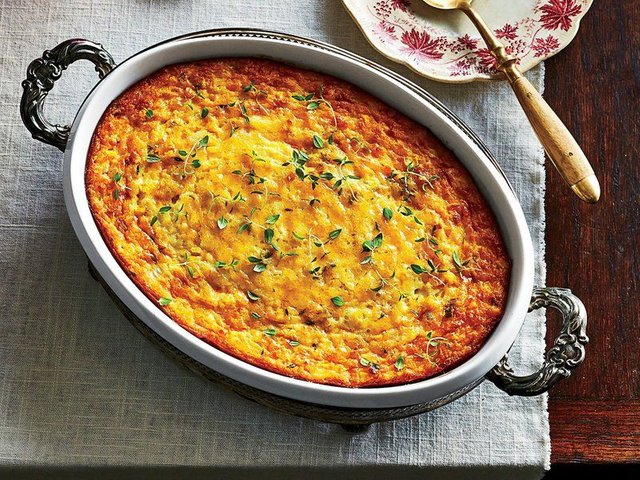 Corn pudding fits in perfectly with all of the classic casseroles, like green bean and squash. This corn pudding recipe puts a savory spin on the traditional recipe with the addition of chopped onion and fresh thyme. We're loving it for reunions, potlucks, and holidays.
Active Time
25 Mins
Total Time
55 Mins
Yield
Serves 12 (serving size: 1 cup)
Corn pudding is a staple Southern side dish at any holiday gathering. Corn pudding fits right in at Thanksgiving amongst old-school favorites like mashed potatoes and green bean casserole, and a warm dish of corn pudding is always welcome at Christmas and church potlucks. Although corn pudding is technically a casserole, it has a rich, soft texture that's almost dessert-like. This corn pudding recipe puts a savory spin on the classic with the addition chopped onion and fresh thyme. If you usually look to replace heavy cream in recipes to cut calories, corn pudding isn't one you should alter. For the fluffiest, creamiest consistency, heavy cream is the best ingredient for the job. Even the pickiest eaters in your family will gobble this savory side dish up this Thanksgiving. A tip from the Test Kitchen: When the pudding is done baking, it should be golden brown around the edges and slightly jiggly in the center. Test for doneness by inserting a knife into the center of the pudding—it should come out clean.
How to Make It
Step 1
Preheat oven to 350°F. Stir together flour, sugar, baking powder, and salt in a small bowl until blended. Whisk together eggs, cream, and melted butter in a medium bowl until blended.
Step 2
Heat canola oil in a large skillet over medium-high. Add corn and onion, and cook, stirring often, until onion is softened, about 5 minutes. Stir in 1 Tbsp. thyme. Remove from heat, and let cool slightly, about 5 minutes. Stir flour mixture and corn mixture into egg mixture. Spoon into a 13- x 9-inch (3-quart) baking dish, and bake in preheated oven until set and golden brown, about 40 minutes. Let stand 5 minutes before serving. Sprinkle with remaining 1 Tbsp. thyme.
Ingredients
3 tablespoons all-purpose flour
2 tablespoons granulated sugar
2 teaspoons baking powder
2 teaspoons kosher salt
6 large eggs
2 cups heavy cream
1/2 cup salted butter, melted and cooled
2 tablespoons canola oil
6 cups fresh corn kernels (from 8 ears)
1/2 cup chopped sweet onion (from 1 onion)
2 tablespoons chopped fresh thyme, divided
**Chef's Notes
Make It Ahead
Bake as directed, let cool, and then cover and chill up to 2 days. Reheat covered with foil.
***source:- https://www.southernliving.com/recipes/savory-corn-pudding-recipe